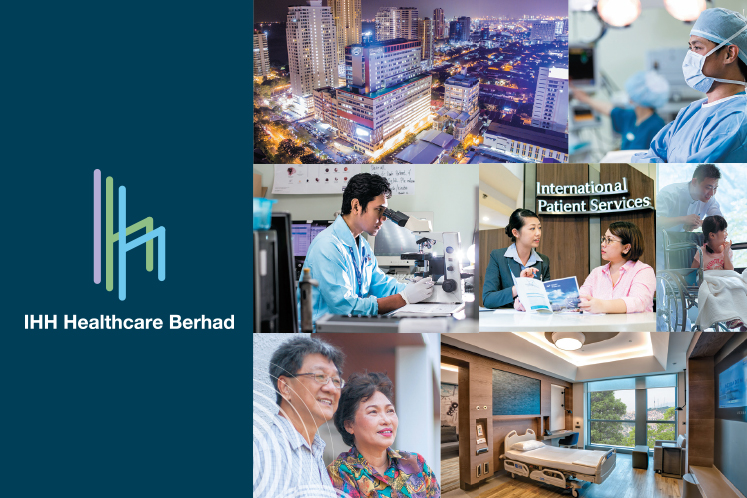 KUALA LUMPUR (Feb 27): IHH Healthcare Bhd's fourth quarter net profit jumped 403% to RM509.42 million from the RM101.26 million it posted a year ago, as the group recorded stronger operational performance and foreign exchange gains from Acibadem Holdings' non-Turkish Lira loans.
Revenue rose 10% to RM3.17 billion from RM2.89 billion a year ago, on sustained organic growth from its existing operations and the continuous ramp up of the Gleaneagles Hong Kong Hospital and Acibadem Altunizade Hospital (both opened in March 2017).
"The acquisition of Amanjaya (acquired in October 2018) and Fortis (acquired in November 2018) also contributed to the increase in both the group's 4QFY18 revenue and Ebitda (earnings before interest, tax, depreciation and amortisation).
"Excluding the effects of the strengthening ringgit, the group's revenue and Ebitda increased 28% and 33% respectively in 4QFY18 over the same period last year," IHH said in its bourse filing today.
Its 4QFY18 Ebitda was also boosted by a RM50.4 million revaluation gain on PLife REIT's investment properties, compared with RM6.4 million revaluation gain in 4QFY17.
For the full financial year ended Dec 31, 2018 (FY18), however, the group's net profit fell 35% to RM627.69 million from RM969.95 million a year ago, despite revenue rising 3% to RM11.52 billion from RM11.14 billion.
The group said in a separate statement that the lower net profit was mainly because of higher net forex losses for Acibadem's non-Lira loans, and because FY17 had benefitted from a one-off gain on the disposal of its stake in Apollo Hospitals.
Excluding the impact of exceptional items, it said net profit would have come in at "a record high of RM1,027.6 million for the full year 2018, up 73%year-on-year, boosted by foreign exchange gains arising from the stronger US dollar on the group's USD-denominated cash balances".
IHH Managing Director (MD) and Chief Executive Officer (CEO) Dr Tan See Leng said while 2018 was marked by macro uncertainties, the group has delivered distinct progress in executing its strategy as it looks ahead in 2019.
"A key achievement for the group was completing the acquisition of a controlling stake in India's Fortis. We have since assumed board control and completed the RHT acquisition as planned. Now, together with the Fortis management team, we are focused on implementing key initiatives we have jointly identified to restore its performance over the medium to long term," said Tan.
The group recommended a final dividend of 3 sen per share in respect of its FY18, subject to shareholders' approval.
Shares in IHH closed lower by four sen or 0.7% to RM5.66 — with 37.23 million shares traded — giving it a market capitalisation of RM49.98 billion.