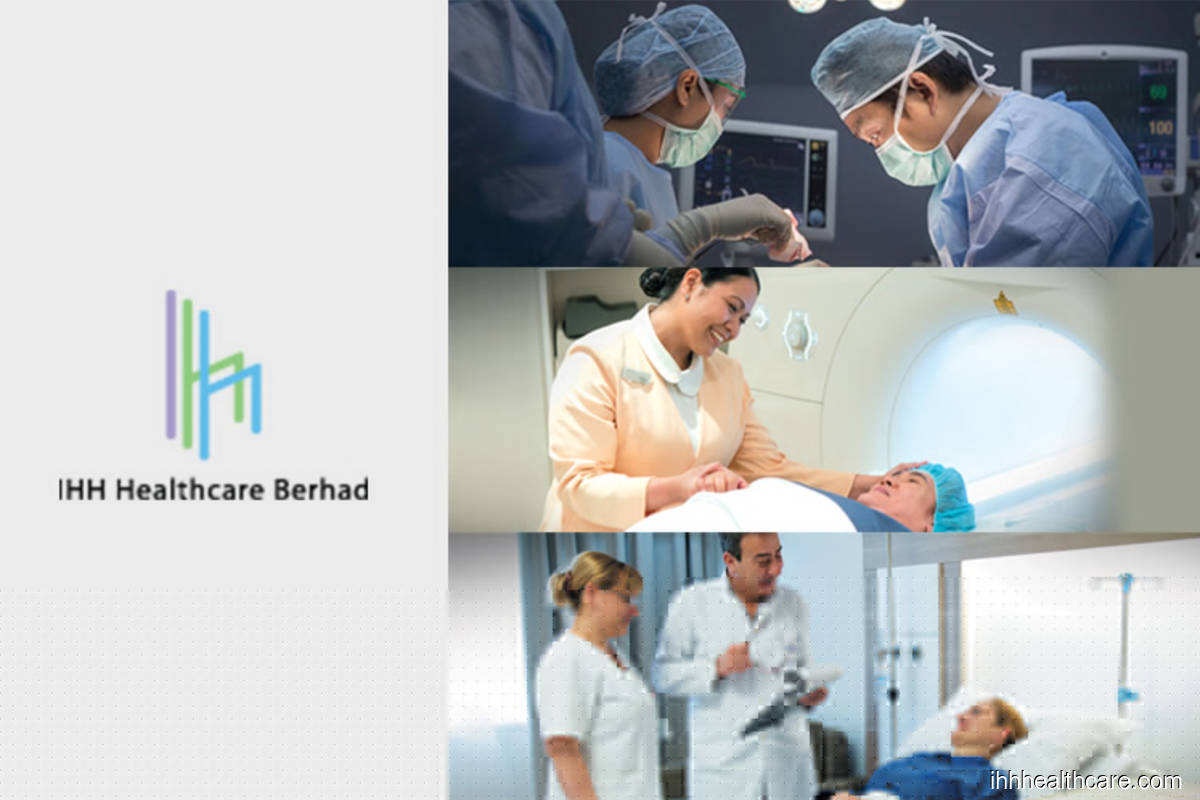 KUALA LUMPUR (Feb 26): Hospital operator IHH Healthcare Bhd expects its Gleneagles Hong Kong Hospital to break even in terms of earnings before interest, tax, depreciation and amortisation (EBITDA) for its current financial year, providing the financial hub does not stay in a protracted lockdown.
IHH managing director and chief executive officer (CEO) Dr Kelvin Loh said revenue from the hospital grew 11% quarter-on-quarter, following higher inpatient revenue as a result of higher occupancy rate, with inpatient admission increasing 8% q-o-q.
Compared to a year ago, the hospital revenue's contribution increased 46%, while EBITDA losses narrowed 81% to RM9.4 million. Inpatient admission increased 35% year-on-year. "Average occupancy in the fourth quarter was at 63% for about 200 operational beds," Loh noted.
For the financial year ended Dec 31, 2020 (FY20), the group's Greater China operations (of which its Gleneagles Hong Kong Hospital is a part of) saw a total revenue contribution of 5% to the group, with EBITDA contribution at -5%.
In the bourse filing detailing its results, the hospital operators' Greater China operations under its Parkway Pantai segment posted narrower losses, with a loss of RM491.73 million in FY20, from RM506.67 million in FY19.
According to its website, its Greater China hospital operations include Gleneagles Hospital Hong Kong, Gleneagles Hospital Chengdu, Parkway Hospital People's Square  which is a Specialty & Inpatient Center, and Parkway Shanghai Hospital.
As for its plans in other countries, Loh said Malaysia operations will be focused on driving bed occupancy and by extending its reach to the middle-income segment here. In Singapore, it will be focusing on driving revenue higher by positioning its hospitals there as a super-specialisation hub.
As for its operations in India, which are hospitals run by Fortis Healthcare Ltd, Loh said the operator will continue to drive cost savings and ramp up productivity. As for the group's Turkey, Europe and Central and Eastern Europe Operations (CEE), Loh said the group aims to grow via cluster strategy, and de-risk growth by expanding contributions denominated in euros.
Singapore is the group's largest earnings contributor in terms EBITDA, accounting for 47% of its FY20 EBITDA of RM2.87 billion, followed by its Turkey and CEE operations (28%), Malaysia (19%), India (7%), other operations (such as those in Brunei) (4%), and Greater China (-5%).
On whether he expects the group to post better earnings in FY21, Loh said: "We continue to seek growth, as mentioned, we will grow in a capital-efficient way, by way of our expansion strategy course; we try to fill up beds where we have bed capacity and then we look on to expanding even around our existing facilities on land that we might have. Of course, we remain open to acquisitions, particularly worthwhile acquisitions on our existing clusters."
During his presentation earlier, Loh said the group was encouraged to see patient admission recovering from June, and that it was optimistic of a continued longer-term recovery, even if there will still be short term impact from Covid-19.
He added that the group's diversified top-line earnings across the 10 markets it operates in provide more resilience, as key markets are at different phases of recovery, with targeted strategies and outlooks in place for each market to ensure sustained earnings growth. At the same time, it will be creating new revenue streams and improving its case mix.
The group will also strive to keep a tight hold on costs, practise capital discipline, while reducing forex exposure, he added.
For FY20, IHH's net profit dropped 47.62% to RM288.88 million from RM551.48 million in FY19, while revenue declined 10% to RM13.4 billion from RM14.91 billion.
Shares in the hospital operator closed 0.2% or a sen lower at RM5.08 today, valuing it at RM44.59 billion. It saw 7.03 million shares done.