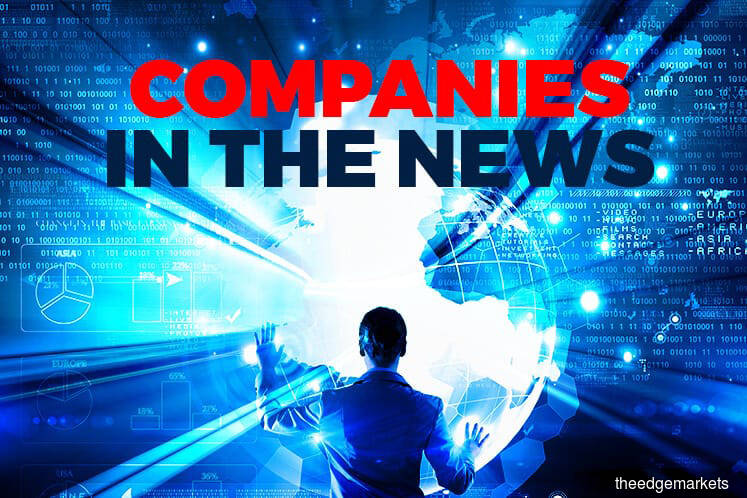 KUALA LUMPUR (Nov 19): Based on corporate announcements and news flow today, stocks in focus for Wednesday (Nov 20) may include the following: IHH Healthcare Bhd, Dagang NeXChange Bhd (DNeX), Berjaya Sports Toto Bhd (BToto), Magnum Bhd, Petronas Gas Bhd (PetGas), Kuala Lumpur Kepong Bhd (KLK), Batu Kawan Bhd, Omesti Bhd and Sunway Construction Group Bhd (SunCon).
IHH Healthcare Bhd has clarified that its 31.1%-owned associate Fortis Healthcare Ltd has no intention of selling its 56%-owned diagnostic arm SRL Ltd, according to analysts who participated in IHH's teleconference yesterday.
Today, Hong Leong Investment Bank Bhd analyst Farah Diyana Kamaludin wrote in a note that there has been speculative news on IHH facilitating the planned sale of up to a 44% stake in SRL. 
"However, we understand that Fortis has no intention of selling SRL," Farah Diyana said.
Dagang NeXChange Bhd's (DNeX) 60%-owned Innovation Associates Consulting Sdn Bhd (IAC) has secured a three-year contract worth RM42.75 million to re-engineer the Inland Revenue Board's tax self-assessment system. Under the contract, IAC will be responsible for software and support services for the development of the application, as well as software maintenance. 
Berjaya Sports Toto Bhd (BToto) reported a net profit of RM66.96 million on the back of a RM1.44 billion revenue for its first quarter ended Sept 30, 2019 (1QFY20). It also declared a first interim dividend of four sen per share, amounting to RM53.88 million or 80.5% of attributable profit in the first quarter, to be paid on Jan 9 next year.
Magnum Bhd achieved a net profit of RM48.01 million in the third quarter ended Sept 30, 2019, (3QFY19), compared with a net loss of RM70.51 million in the last corresponding quarter, as its investment holding and others division — which was impacted by a RM44.2 million tax penalty last year — recorded lower losses. Revenue, however, dipped 2.2% to RM652.10 million from RM667.11 million, as gaming sales fell on less number of draws and the effect of the 6% service tax, as compared to the "zero" Goods and Services Tax effect last year.
Its board of directors declared a third interim dividend of four sen per share for the financial period, bringing its total dividend declared to-date for FY19 to 13 sen, compared to 11 sen in 2018.
Petronas Gas Bhd's (PetGas) third quarter (3QFY19) net profit fell 13.6% to RM431.59 million from RM499.81 in the last corresponding quarter, due to lower gross profit plus higher finance costs. Notwithstanding the weaker quarter, its board declared a third interim dividend of 18 sen per ordinary share, amounting to RM356.2 million. This brings total dividend declared so far for FY19 to 50 sen — an amount which is the same as the preceding year.
Quarterly revenue dipped 4.5% to RM1.338 billion from RM1.402 billion in the previous year, mainly attributed to lower revenue from Gas Transportation and Utilities segments.
Kuala Lumpur Kepong Bhd (KLK)'s net profit for the fourth quarter ended Sept 30, 2019 (4QFY19) rose 37% year-on-year (y-o-y) to RM175.02 million from RM127.99 million, despite weaker plantation and property development segments, as its manufacturing business improved. Revenue, however, shrank 9% to RM3.8 billion from RM4.19 billion.
For the full year ended Sept 30 (FY19), KLK's net profit recorded a marginal 1% y-o-y increase to RM617.51 million from RM609.37 million, despite revenue retreating 16% to RM15.53 billion from RM18.38 billion in FY18.
Batu Kawan Bhd, which counts KLK as a main subsidiary, saw its net profit for the fourth quarter ended Sept 30, 2019 (4QFY19) rise 25% to RM96.70 million from RM77.25 million a year ago, lifted by its manufacturing segment, higher other operating income, better share of results from associates, and lower income tax expenses.
Net profit for the full year FY19 came in little changed at RM363.50 million versus RM365.68 million in FY18, though revenue dropped 15% to RM16.05 billion from RM18.95 billion.
Omesti Bhd's 51%-owned unit has bagged a contract worth RM71.47 million to rent computer equipment to the Inland Revenue Board of Malaysia (IRB). The contract is subject to a formal contract agreement to be entered with IRB in not more than four months from the letter of award acceptance date, which was Nov 18 (Monday).
Sunway Construction Group Bhd's (SunCon) net profit slid 8% to RM33.48 million in the third quarter ended Sept 30, 2019, from RM36.39 million, no thanks to lower revenue from its construction segment. Revenue fell 28% to RM402.58 million from RM557.32 million, as a majority of SunCon's existing projects are just at their initial stage. The company also attributed the lower revenue to the delay in Light Rail Transit Line 3 (LRT3) package GS0708, due to client's cost optimisation measures.
Meanwhile, its cumulative profit for the first nine months of FY19 fell 9% to RM97.69 million, from RM107.93 million last year, while revenue declined 21% to RM1.28 billion from RM1.63 billion.