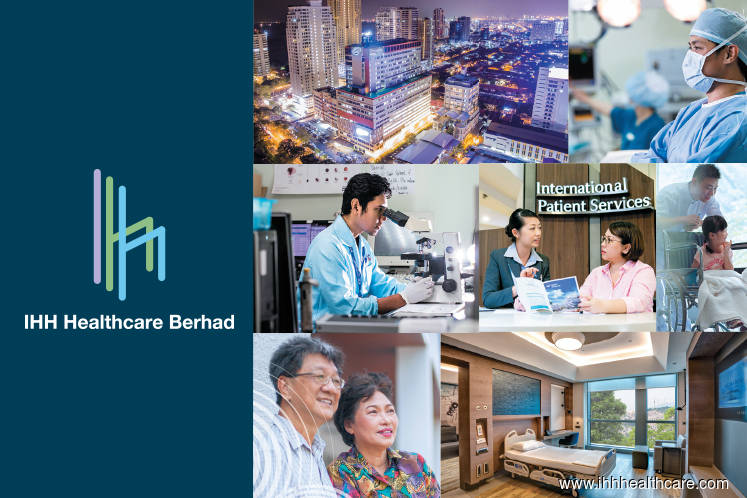 KUALA LUMPUR (Feb 28): Shares in IHH Healthcare Bhd rose in active trade to a seven-month high after the group posted a 403% increase in its fourth quarter ended Dec 31, 2018 (4QFY18) yesterday.
As of 10:27am, IHH rose by 15 sen or 2.65% to RM5.81, with 1.14 million shares being traded.
While this is well above the group's one-year low of RM4.54 on Nov 13, 2018, it is still below the group's peak of RM6.30 on May 22 last year.
According to Bloomberg, the counter's target price stands at RM6.18, with 22 analysts making calls on the stock.
As of today, analysts have posted 15 buy calls, five hold calls and two sell calls for the stock.
Yesterday, IHH Healthcare said its 4QFY18 net profit jumped 403% year-on-year to RM509.42 million, from RM101.26 million, on the back of stronger operating performance driven by foreign exchange (forex) gains from Acibadem Holdings' non-Turkish Lira loans.
Quarterly revenue rose by 10% to RM3.17 billion from RM2.89 billion in the year-ago quarter, due to organic growth from existing operations and the ramp up of Gleneagles Hong Kong Hospital and Acibadem Altunizade Hospital.
However, its net profit for the full financial year ended Dec 31, 2018 (FY18) decreased 35% to RM627.69 million, from RM969.95 million a year ago. Full-year revenue rose 3% to RM11.52 billion from RM11.14 billion previously.
Its lower FY18 net profit was attributable to higher net forex losses for Acibadem's non-Turkish lira loans and that FY17 benefit from one-off gain from the disposal of the group's stake in Apollo Hospitals.