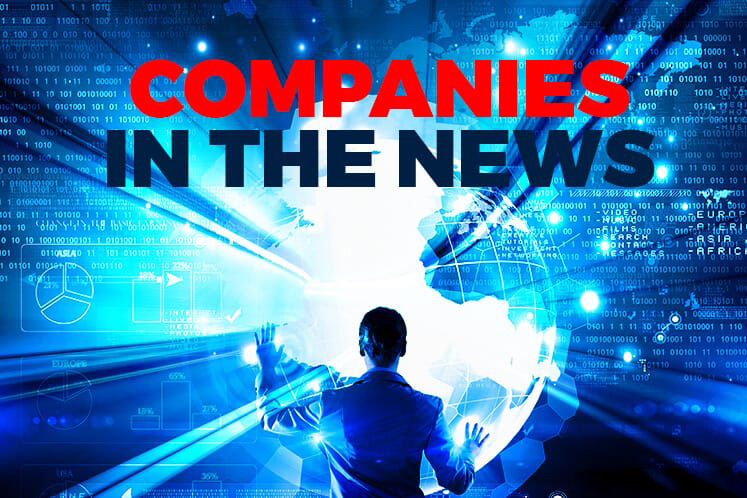 KUALA LUMPUR (Mar 26): Based on corporate announcements and news flow today, stocks in focus for Tuesday (Apr 17) may include the following IHH Healthcare Bhd, ACME Holdings Bhd, Bina Darulaman Bhd, RHB Bank Bhd, Kelington Group Bhd, NWP Holdings Bhd and Southern Steel Bhd.
IHH Healthcare Bhd said today that the board of directors of India's Fortis Healthcare Ltd has indicated its inability to engage with IHH regarding its takeover offer.
It said that is because Fortis has entered into binding agreements with Manipal Health Enterprises Pte Ltd, Manipal Global Health Services and TPG Asia.
IHH also confirmed that it had on April 11 issued a strictly non-binding letter to the board of Fortis, expressing IHH's interest to participate in Fortis and its affiliates in a suitable manner.
"At this juncture, IHH has not entered into any discussions, negotiations or transactions," it said, adding that the group will make appropriate announcements to Bursa should there be any further material development on this matter.
Meanwhile, it was reported in the Indian Press that Fortis' board will be meeting on April 19 to decide on all the bids received.
Supptech Holdings Sdn Bhd, the largest shareholder of Penang-based ACME Holdings Bhd, has continued to pare down its stake in the company with another off-market trade.
Supptech sold 41.94 million shares, representing an 18.24% stake, to Inspire Sense Sdn Bhd in an off-market transaction on April 11. The block of shares was exchanged at 34 sen per share, a 0.5 sen premium to its closing price of 33.5 sen per share that day.
The stake exchange cut Supptech's interest in ACME to 20.07%. Supptech is the private vehicle of ACME's chairman Datuk Seri Dr Lee Kuang Shing.
Lee also has a direct stake of 2.6% in ACME, bringing his total interest in the group which is involved in property and manufacturing, to 22.67%.
The acquisition made Inspire Sense the third largest shareholder in ACME. Nada Wangi Sdn Bhd, with its 29.995% — after acquiring 19.99 million shares or a 9.5% stake from Supptech on March 1 — is now the group's largest shareholder.
Bina Darulaman Bhd (BDB) has signed up nine retailers to be tenants at its Axis Neighbourhood Retail Centre within the upcoming Axis Commercial Hub development located in Bandar Darulaman, Jitra, Kedah.
BDB said its wholly-owned subsidiary BDB Land Sdn Bhd has inked a Memorandum of Understanding with CBD Retail Sdn Bhd, CBR Coffee, Bayu Delight Food & Beverage, Pasar Mini Rajas, Mega Z Resources, Tadika Khalifah Unggul Cemerlang, Nida Atfal Sdn Bhd, Big Galleys Cafe Enterprise and WB Health & Beauty Sdn Bhd.
They are operators or proprietors of business brands Petron petrol station, Coffee Books & Rain Café, Kopi & Roti, Wash Studio Laundry, Raja's Grocery, The Little Caliphs, Genius Aulad, Big Galley's Café and WellBeing Pharmacy respectively.
BDB said a lease agreement was also signed with EM Opulence Sdn Bhd for the operation of the petrol station at the hub, which is targeted to commence operations in the fourth quarter of 2019. The businesses in the shoplots are targeted to be opened to the public as early as the first quarter of 2020.
RHB Bank Bhd's Islamic arm RHB Islamic Bank Bhd is collaborating with the Royal Malaysian Customs Department (RMCD) to reduce the usage of cash and cheques through RHB Corporate MyDebit Card.
RHB said the cashless method, launched early this year, would enable business owners to pay local government agencies, including RMCD, Inland Revenue Board, Employees Provident Fund and Social Security Organisation, using the card.
It said the move was in line with Bank Negara Malaysia's Financial Sector Blueprint 2011-2020, which targeted to reduce cheque usage to 100 million by 2020, from 205 million cheques in 2011.
Kelington Group Bhd has secured new orders worth RM77.5 million in the first quarter of 2018 (1Q18), bringing the group's total outstanding orderbook to RM267.3 millon.
Kelington chief executive officer Raymond Gan said the group is also bidding for new projects worth RM500 million across its key operating markets.
Kelington said the bulk, or 85%, of the new orders came from the ultra high purity segment, for the company to provide specialised engineering services for the semiconductor and electronic manufacturing companies. Most of the new contract wins were mainly contributed from China, followed by Malaysia, Singapore and Taiwan.
It added the new contracts will be completed within a year and are expected to contribute positively to Kelington's financial performance for the financial year ending Dec 31, 2018.
NWP Holdings Bhd has terminated an agreement to buy a 30% stake in US-incorporated Aviation AI Inc (AAI).   
NWP said it had decided to terminate the deal which would have been undertaken by its wholly-owned subsidiary NWP Builder Sdn Bhd.
Back in Oct 14, 2016, NWP proposed to buy a stake in AAI to venture into the private charter air transport services business, with the intention of increasing its income.
Separately, NWP announced the appointment of Wong See Ming as group executive director.
It indicated that the 51-year-old Wong was appointed as chief executive officer of the company on Aug 18, 2008, until he was redesignated as group executive director on May 6, 2016.
However, he quit as group executive director of NWP on Sept 28, 2017 and is currently an executive director of NWP Industries Sdn Bhd.   
Southern Steel Bhd has appointed Datuk Ahmad Johari Abdul Razak as an independent and non-executive director, effective today.
Meanwhile, Soon Seong Keat, who previously held a non-independent, non-executive directorship, has resigned "after taking into consideration the provisions of the Malaysian Code on Corporate Governance".
Ahmad Johari, 63, who is caretaker Prime Minister Datuk Seri Najib Razak's brother, is currently an executive director of Ancom Bhd, an investment holding company that provides services to the agricultural and industrial chemicals industry, polymer production and logistics, among others.
He is also the independent and non-executive chairman of Daiman Development Bhd and sits on the board of Daiman Golf Bhd.