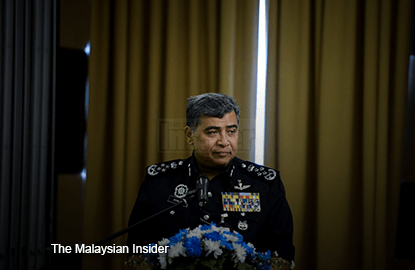 (Nov 26): Inspector-General of Police Tan Sri Khalid Abu Bakar has ordered the arrest of a social media user who allegedly linked the statutory declaration (SD) by the brother of murdered deputy public prosecutor Kevin Morais to Prime Minister Datuk Seri Najib Razak and his wife.
"PCIRC @PDRMsia, kesan dan tahan penama dibawah ini kerana menghasut," Khalid said through his Twitter handle [email protected], with a screen grab of the said posting. (Track and arrest the Twitter user below for sedition)
The offending post on Twitter was allegedly made by a Faisal Rohban who listed out several high-profile deaths and linked them to Najib and his wife Datin Seri Rosmah Mansor.
"Don't they have any work other than to kill people?" Faisal also wrote in the posting.
He had listed out the murders of Mongolian Altantuya Shaaribuu, AmBank founder Hussain Ahmad Najadi and Kevin, as well as the death of private investigator S Balasubramaniam, saying that these are linked to Najib and Rosmah.
This came following claims by Kevin's brother Charles that the DPP's murder was allegedly linked to a charge sheet he was preparing against a "high-ranking government official".
Charles said yesterday that Kevin had confided in him while he was preparing the charge sheet in the Attorney-General's Chambers.
He said the alleged draft charge sheet released by whistleblower site Sarawak Report against Najib had Kevin's initials on it.
In an 18-page statutory declaration, Charles said that two or three months before Kevin's death, the deceased had told him that he was working on a case involving a very high-level government official.
Sarawak Report had claimed that it was this document that had let to the removal of former Attorney-General Tan Sri Abdul Gani Patail's removal from his position.
The site said that Gani was abruptly removed when he was "on the brink" of filing corruption charges against the prime minister.
However, these claims have been dismissed by the current A-G Tan Sri Mohd Apandi Ali, who described them as "preposterous". – The Malaysian Insider