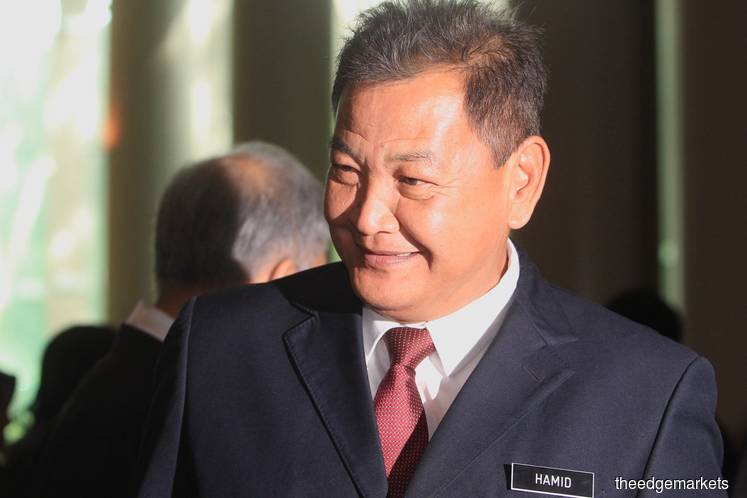 KUALA LUMPUR (Jan 13): The Inspector General of the Police (IGP) is keeping mum over news of the arrest of a Selangor state assemblyman and two ministerial aides at a house party over the weekend. 
"At the moment I am not going to identify [who was arrested]. At the moment, it is safe for me to say that the investigation is currently being conducted," said IGP Tan Sri Abdul Hamid Bador at a press conference at police headquarters at Bukit Aman.
Abdul Hamid refused to answer any further questions over the identities of those who were arrested, as it would prejudice ongoing investigations.  
Social media reports were circulating today that a Selangor state assemblyman and ministerial officers were arrested at the gathering. 
Bernama reported Selangor Parti Pribumi Bersatu Malaysia (Bersatu) chairman Datuk Abdul Rashid Ansari has confirmed the arrest of a state assemblyman from the party by the police early today.
He said the assemblyman was arrested at about 1.30am today, but declined to comment on the reason for the police arrest.
"The party top leadership have been informed of the arrest and they are leaving the matter to the authorities to investigate," he said when contacted by Bernama.
Attempts by Bernama to contact the assemblyman concerned, were futile.
However, the IGP did confirm that 17 individuals were arrested over the weekend at a condominium unit on Jalan Puchong, Kuala Lumpur. 
Of those 17 arrested, only one individual had posted a negative result, following drug testing. 
Of those arrested, 11 are men and six are women, Abdul Hamid said. 
The police had found two containers containing powder believed to be Ketamine amounting to 0.8 grams, and a cigarette believed to contain marijuana. 
In addition, police officers at the scene also encountered gambling chips. 
The 17 individuals were arrested under the Dangerous Drugs Act and the Common Gaming Houses Act, and had their statements recorded at the Brickfields police station. 
Of those arrested, 16 have been released on bail, while one woman, a foreign national from a neighbouring country, is still in custody. 
Once the relevant authorities have continued the investigations, the case would proceed to the courts, Abdul Hamid said. 
The arrests followed a complaint made to the police about the noise made at the house party, the IGP added. 
Read also:
Man arrested not Muhyiddin's special officer 
Bersatu to act against any errant member over drug case — Mahathir