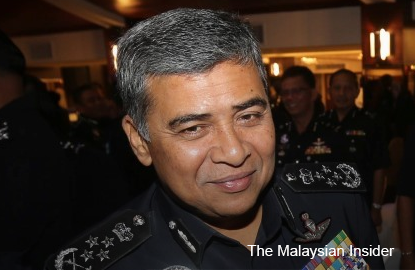 (Sept 14): A press conference today turned fiery after words were exchanged between the Inspector-General of Police and an Al Jazeera journalist over an exclusive report last week on the murder of Altantuya Shaariibuu.
While responding to a question, Tan Sri Khalid Abu Bakar said that police will be probing the international news agency which had "cooked up the story based on hearsay".
"We will be investigating Al Jazeera," the top cop said, before asking if there were any journalists from the agency at the press conference.
After the journalist had identified herself, Khalid told her that the report on Altantuya was based on hearsay and was untrue.
"You are trying to cook up something based on what is not true. You are trying to plant new evidence in the case. What are you trying to do?" he told the journalist.
The Al Jazeera reporter, in an attempt to defend her news organisation, told the IGP that they had no hidden agenda and had tried to present all sides of the case in the video documentary that was broadcast last Wednesday.
"I can assure you we have no hidden agenda and it was based on what the journalist had uncovered," she said.
Khalid then reiterated that the international media agency had come up with the documentary based on hearsay while the journalist, again, told him that the report was made without any ulterior motive.
"You are trying to plant new evidence which has not come up before. That is not good journalism. You are trying to confuse the people."
"Whatever it is, we are commencing our investigations against Al Jazeera. You can answer when we call you up."
The exchange went on for about a minute and only ended after Khalid repeated that the Federal Court had decided in the case and so, such "new evidence" was not welcome.
"The case has already been decided by the Federal Court. Why are you now suddenly introducing something which has never come up before?
"If we allow this, every case... they will come up with something new and what are we to do?" the visibly angry Khalid said.
In the 25-minute long programme, Australian journalist Mary Ann Jolley leads viewers through the once highly controversial and entangled Altantuya saga which was rife with elements of sex, financial scandal, violence and conspiracy.
Altantuya, a Mongolian national was murdered in October 2006 with her body being blown up with military-grade explosives.
Investigations later revealed that the former translator was involved in an affair with Prime Minister Datuk Seri Najib Razak's political adviser Abdul Razak Baginda.
Razak Baginda was charged with abetting in her murder, but was later acquitted.
The Al Jazeera documentary questions whether the two men eventually convicted of Altantuya's murder – Sirul Azhar Umar and Azilah Hadri – were the "fall guys" for others, citing alleged text messages sent by Sirul suggesting a high-level cover up.
Jolley was deported by Malaysian authorities on June 14 eventhough she had not been charged with any crime. She was also not given any reasons for her deportation.
Najib had said that the documentary and the resurfacing of the Altantuya case was a "conspiracy" against him, highlighting the timing of its release, even as he faces calls for his resignation.
Khalid said that police have identified several individuals who had allegedly provided information to Jolley and warned that police were monitoring them.
"We know some people have been feeding her information and we are monitoring them," he added. – The Malaysian Insider