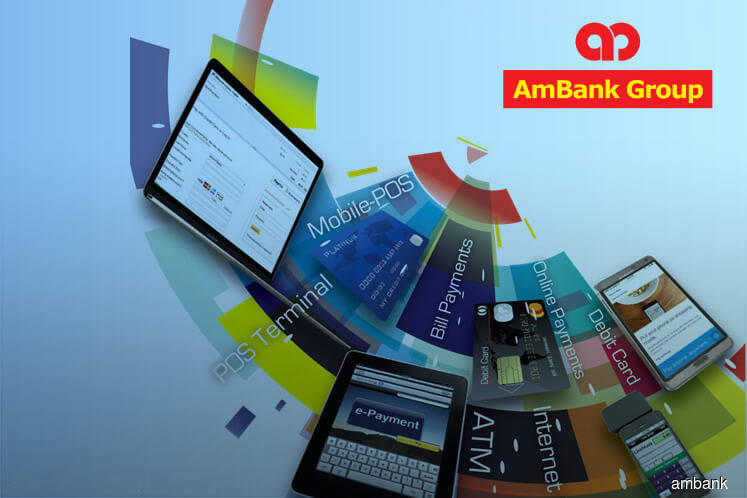 KUALA LUMPUR (Nov 28): AMMB Holdings Bhd's (AmBank Group) second-quarter net profit slipped 6% year-on-year (y-o-y) on higher interest expense and other operating expenses.
The country's sixth-largest lender by assets also recognised an impairment loss on doubtful sundry receivables of RM10.17 million in the current quarter under review.
Net profit fell to RM331.47 million in the three months ended Sept 30, 2017 (2QFY18) from RM352.63 million a year ago. Earnings per share were lower at 11.02 sen compared with 11.73 sen in 2QFY17.
Quarterly operating income, however, rose by a marginal 1.2% to RM2.13 billion from RM2.1 billion.
The group also declared an interim dividend of 5 sen for the financial year ending March 31, 2018 (FY18), payable on Dec 28.
The weak second-quarter earnings dragged its net profit for the cumulative six months (1HFY18) down by 2.4% to RM659.74 million from RM675.63 million a year ago, while operating income recorded a marginal growth of 1% to RM4.21 billion in 1HFY18 against RM4.16 billion in 1HFY17.
In a filing with Bursa Malaysia today, AmBank Group said revenue from interest bearing assets increased by 4.4% y-o-y in 1HFY18, mainly from interest on fixed income securities and customer lending. However, markets-based revenue suffered from the volatility in the market and recorded a reduction of RM57.3 million over the same period last year.
"Interest income from securities grew mainly from trading securities and investment in unrated corporate bonds and sukuk offset by reduction in available-for-sale securities. Interest income from customer lending benefitted from the robust growth in the core segment of residential mortgages which maintained its momentum, term and revolving loans," it added.
Net interest margin improved to 1.99% in 1HFY18 compared with 1.93% in 1HFY17 due to a reduction in average cost of funds. Total operating expenses recorded an increase of 5.3% y-o-y, while the group's cost to income ratio increased slightly to 57.2% in 1HFY18 from 55.6% a year ago.
In a separate statement, AmBank Group chief executive officer Datuk Sulaiman Mohd Tahir said the group recorded a modest 2.3% y-o-y improvement in total income of RM1.95 billion in 1HFY18.
The group's loans and financing base grew 2.2% year-to-date (YTD) since March 31, 2017 to RM93 billion, underpinned by a 10% YTD increase in mortgage loans and a 7.6% YTD increase in small and medium enterprise loans.
Sulaiman expects Bank Negara Malaysia will maintain its overnight policy rate (OPR) at 3%. "We believe the normalisation rate for OPR is around 3.5%, suggesting there could be two rate hikes, with the first possibly in 1Q18 and second either in 2H18 or 1H19.
On the group's earnings outlook for 2HFY18, Sulaiman said net interest income is expected to continue to deliver steady growth, while non-interest income from investment banking and money market activities is expected to be lumpy.
"Wealth management, cards and corporate banking will continue to drive non-interest income in 2HFY18.
"We expect credit cost to continue to normalise with reduced recoveries relative to FY17. Impairment allowances are expected to be at levels that are reflective of our loans growth," he added.
AmBank Group will remain committed to its FY18 strategic priorities and will continue to grow quality assets, improve its deposit mix, maximise its fees and optimise its risk-adjusted returns while improving its service delivery, said Sulaiman.
"We remain steadfast in achieving our Top 4 aspirations while delivering optimal returns to our shareholders," he added.
At 3.46pm, AmBank Group shares were down 8 sen or 1.89% at RM4.15, with 1.4 million shares done, giving it a market capitalisation of RM12.6 billion.