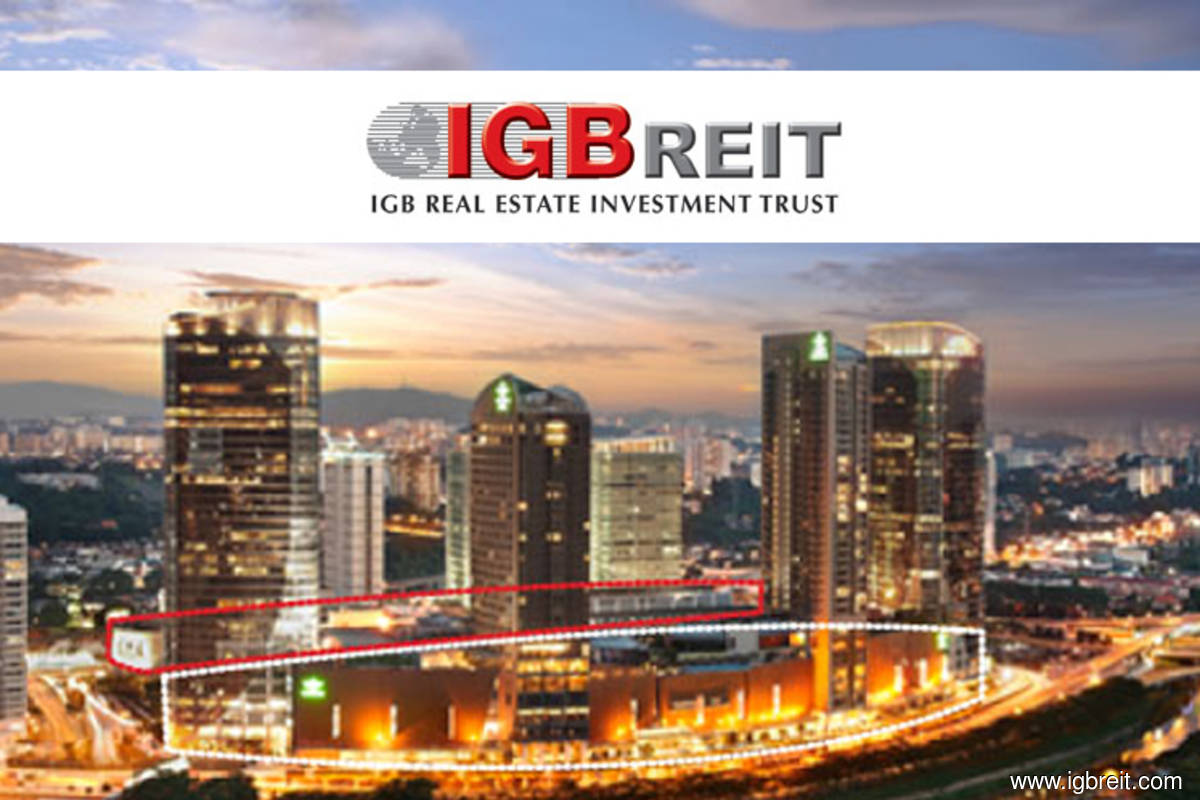 KUALA LUMPUR (Oct 27): IGB Real Estate Investment Trust (REIT), which owns Mid Valley Megamall and The Gardens Mall here, is not short of "buy" calls despite a dip in its latest quarterly earnings.
While the REIT's earnings were broadly within analyst expectations for the third quarter ended Sept 30, 2020 (3QFY20), three among seven research houses covering the stock — namely Hong Leong Investment Bank (HLIB) Research, CGS-CIMB and RHB Research Institute — maintain their "buy" calls for the REIT.
RHB Research Institute analyst Loong Kok Wen said in a note today that the REIT's earnings met her expectations as 3QFY20 business activity improved significantly, leading to minimal rental assistance given out for the quarter.
"While we look at the swift recovery positively, the new wave of positive Covid-19 cases in Selangor is likely to lead to subdued 4QFY20 earnings. However, we believe the impact will be cushioned by the closed borders, which should support domestic spending," said Loong, who trims her target price (TP) for the REIT to RM1.87 from RM1.90 previously.
However, she cuts her FY20 earnings forecast by 8%, believing that rental assistance will pick up again with the recent spike in cases.
HLIB Research analyst Nazira Abdullah also noted that the REIT showed a strong recovery in 3QFY20, thanks to its robust asset quality and premium locations.
"We believe IGB REIT's low exposure to tourists (less than 10% for international tourists) and its establishment were the reasons for the strong recovery in 3QFY20," said Nazira, who maintains her TP of RM2.01 for the REIT.
Meanwhile, CGS-CIMB analyst Sharizan Rosely said the Conditional Movement Control Order (CMCO) in Kuala Lumpur, Selangor and Putrajaya is likely to disrupt the recovery of its malls in the second half of the year.
However, he believes that its flagship malls, with their "superior occupancy rates and diversified tenants", will likely stage a stronger recovery after the CMCO, ahead of other urban malls.
Nevertheless, he forecasts a lower positive average rental reversion of +1% (from +2.5% previously) for FY20 and an average occupancy rate of 94% (97% previously).
Sharizan also cuts the REIT's expected distribution per unit for FY20-FY22 by 7%-16% as he anticipates weaker rental income due to the CMCO, coupled with weaker net profit income margins and lower occupancy rates.
He lowers his TP to RM1.85 from RM1.98 previously. He explained that the price is supported by its decent dividend yields of 4.3% to 5.3% for FY20 to FY22.
Others 'neutral' amid spike in Covid-19 cases
Meanwhile, the four other research houses were "neutral" on IGB REIT, largely due to the recent spike in Covid-19 infections.
Despite their "neutral" call, Affin Hwang Capital analysts Azhani Hashim and Isaac Chow raise their TP to RM1.72 from RM1.71.
"We were pleasantly surprised by the strong recovery of IGB REIT following 2QFY20's lows. As we were too conservative in our forecasts previously, we raise our FY20-FY22 earnings estimates by 1%-20%," they said.
Maybank IB Research analyst Kevin Wong, who maintains his earnings forecasts for the REIT, expects the trust to selectively offer rental support to underperforming tenants in the coming quarters.
However, beyond the near-term challenging outlook, he continues to favour the REIT's malls, which are prominently located in high-footfall and multiple-catchment areas.
"Its gross gearing remained relatively low at 0.23 times (at end-3QFY20), which would support long-term acquisition plans," said Wong.
Meanwhile, PublicInvest Research and MIDF Research remain cautious about the REIT's outlook.
PublicInvest analyst Tan Siang Hing said while IGB REIT's rental would continue to recover, consumer sentiment is still very weak, with recovery possibly derailed by the new wave of cases.
He noted that the REIT's rental income was affected by rental support programmes, and it could suffer more expected credit losses and a possible impairment of fair value for investment property due to the extended movement curbs.
Meanwhile, MIDF analyst Jessica Low pointed out that several cases of Covid-19 were reported in Klang Valley malls lately, while the CMCO had reduced the number of shoppers.
"In a nutshell, we revise our FY20-FY21 earnings forecasts by -6.8%/-2% as we expect lower footfall to hurt rental income," said Low.
She revises down IGB REIT's TP to RM1.66 (from RM1.70) due to the subdued outlook for retail malls in the Klang Valley in the near term, and expects its dividend yield to be below 3.6% for FY20.
IGB REIT announced yesterday that its net property income for 3QFY20 fell 2.85% to RM97.83 million from RM100.7 million a year ago. Gross revenue for the quarter also fell 4.08% to RM130.75 million from RM136.31 million a year earlier.
The REIT attributed the lower gross revenue and net property income for the quarter mainly to lower rental income and car park income arising from the pandemic and resultant movement restrictions.
It has approved a distribution of 90% of its quarterly distributable income amounting to RM74.9 million or 2.11 sen per unit, which will be paid on Nov 27.
IGB REIT closed up four sen or 2.42% at RM1.69, valuing the group at RM6.05 billion.