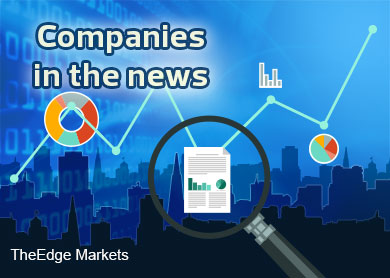 KUALA LUMPUR (Nov 5): Based on corporate announcements and newsflow today, the companies that may be in focus tomorrow (Thursday, Nov 6) could include the following:
Puncak Niaga Holdings Bhd and Gamuda Bhd stocks may be back in the limelight again as the federal government announced that it has allocated an additional RM3 billion to help the Selangor state government to take over the state's water concessionaires, according to  Energy, Green Technology and Water Minister Datuk Seri Dr Maximus Ongkili.
The minister said the additional fund is based on the premise that "Langat 2 must go on".
"The federal government told Selangor that if you want water this time we will help you (Selangor). You negotiate with the concessionaires under my supervision on a willing buyer willing seller (basis)," he said in Parliament today.
"I have confidence in the new MB (Selangor) Azmin Ali. We have yet to meet. Let him settle down and I [will] wait for his call if he wants to talk. It is up to Selangor to offer. I only provide the fund for them or whatever is required," he added.
Tenaga Nasional Bhd, which share price has marched to record high recently, may see knee-jerk reaction on news that Onkili said there would not be any hike on electricity tariff until June 2015.
This may not go down well with investors raising concerns that the government has yet to implement the imbalance cost pass through (ICPT) and incentive based regulation (IBR).
Under ICPT, the fuel cost will be reviewed every six (6) months and any changes (upward or downward) in the fuel cost due to the fluctuation in the fuel prices (namely gas, LNG, coal and alternative fuel) will be passed through in the end-user tariff.
Integrated software provider IFCA MSC Bhd saw its net profit jump more than five folds to RM8.53 million for the third financial quarter ended Sept 30, 2014(3QFY14) from RM1.56million a year ago, contributed by all business units, notably its goods and services tax (GST) compliance upgrade business.
Revenue for 3QFY14 rose 68.7% to RM25.75 million from RM15.25 million.
IFCA MSC said its GST compliance upgrade business accounted for 14% or 8.4 million of total revenue.
Perisai Petroleum Teknologi Bhd's net profit plummeted 90% to RM2.23 million in the third quarter ended Sep30,2014 from RM23.4 million in the previous corresponding quarter.
The company blamed the significant drop in net profit to the absence of charter for its mobile offshore production unit (MOPU), Rubicone.
Perisai also attributed the lower net profit to higher finance cost that included a medium term note interest of RM3.1 million.
Quarterly revenue however jumped 31% to RM44.7 million from RM34.1 million a year earlier,due to its new build jack-up drilling rig, Perisai Pacific 100 (PP101), which commenced operations in August this year.
Perisai  shares closed down 3 sen today to RM 1, giving it a market capitalization of RM1.19 billion.
MPHB Capital Bhd's proposed disposal of a 49% stake in insurance firm Multi-Purpose Insurans Bhd (MPIB) has been approved by Bank Negara Malaysia (BNM).
Multi-Purpose Capital Holdings Bhd (MPCHB), a wholly-owned unit of MPHB Cap, will sell its 49% stake or 49 million shares in MPIB to an unrevealed interested party.
BNM gave the approval, via a letter dated today, which also approved the grant of options to the interested party by MPCHB.
Nevertheless, BNM said it required new applications to be submitted from both parties, prior to exercising the call option or put option.
MPHB dropped six sen today, giving it a market capitalisation of RM1.64 billion.
Information, Communication and Technology (ICT) distributor ECS ICT Bhd saw its net profits for the third quarter ended Sep 30, 2014 (3QFY14) rise nearly 38% to RM7.28 million from RM5.28 million in the same quarter last year due to a stronger sales growth recorded.
Revenue for 3QFY14 increased by almost 14% to RM392.01 million, from RM344.19 million in 3QFY13 mainly due to stronger sales of personal computers(PCs), notebooks and smartphones.
For the nine months ended Sep 30, 2014(9MFY14) the group recorded a jump in net profits of 14.11% to RM19.58 million, from RM17.16 million in the same period last year, and revenue had increased by 18.1% to RM1.13 billion in 9MFY14 as compared to RM964.99 million in 9MFY13.
The group attributed its year to date increase in performance in net profits and revenue due to the higher sales recorded in its ICT distribution  and ICT services segment.
ECS ICT shares dropped two sen today to RM 1.43, giving it a market capitalization of RM257.4 million
YFG Bhd has reduced the impairment figure in its revised  audited financial statements for the year ended June 30, 2014 (FY14) to RM 5.1 million from RM8.48 million previously, thus resulting in a reduction of RM3.38 million for  its FY14 losses .
YFG said that the loss after tax figure in its FY14 revised audited financial statements fell to RM11.04 million, as opposed to RM14.42 million in the initial audited financial statements it had submitted to Bursa Malaysia on  Oct 31.
In an earlier filing, YFG had said that impairment adjustment of RM8.48 million, which has been reduced to RM5.1 million, today relates to a project which was temporarily suspended on Oct 21.
YFG shares closed down 1 sen today to 8.5sen, giving it a market capitalisation of RM51.8million.  
Mitrajaya Holdings Bhd said its unit Pembinaan Mitrajaya Sdn Bhd has secured a construction project worth RM401.88 million from a unit of the UEM Sunrise Bhd group.
The project involves the construction of main buildings and external works for two blocks of condominiums at Mont' Kiara, Kuala Lumpur.
The contract is expected to be completed by August 2, 2017 and is expected to contribute positively to future earnings, said Mitrajaya.
Mitrajaya closed up 3 sen today to RM1.01, giving it a market capitalization of RM398.1 million.
Boustead Heavy Industries Corp Bhd (BHIC)'s net profit for its third financial quarter ended Sept 30 this year(3QFY14) has tumbled 34.8% year on year to RM10.39 million from RM15.93 million, primarily due to a lower share of profit from its joint venture companies and higher losses from its chartering segment.
Revenue was largely flat at RM82.14 million, up just 1.2% from RM81.16million in 3QFY13, while its earnings per share shrunk to 4.18 sen from 6.41 sen a year ago.
BHIC shares closed down 1 sen to RM2.34 today, giving it a market capitalization of RM581.4 million
IOI Corporation Bhd, Perdana Petroleum Bhd and SapuraKencana Petroleum Bhd (SKPetro) are at risk of being designated as "non compliant" when the Securities Commission(SC) publishes its semi-annual review of Shariah compliant securities at the end of November, according to RHB Research.
In its research note today, RHB said that it expects the three companies to be designated as non-compliant as they each have debt that exceeds 33% of their total assets, which is against the Syariah Advisory Council of the SC's requirement that debt should not exceed 33% of a company's total assets .
RHB Research explained that investors in "Syariah compliant securities" which are subsequently re-classified as "Syariah non-compliant" are required to dispose of the stocks within a month, unless the market price is below investment cost.
Meanwhile, RHB identified four stocks that could be included in the Syariah-compliant list, which are Esthethics International Group Bhd, Pantech Group Holdings Bhd, SKP Resources Bhd and Padini Holdings Bhd.
OCK Group Bhd has transferred its listing to the main market of Bursa Malaysia from the ACE Market today.
The group had proposed the transfer of its securities in May this year, together with a bonus issue of up to 177.08 million new shares on a two-for-one basis.
OCK closed at RM 1.43 today, giving it a market capitalization of RM488.9 million.
Malaysia Marine and Heavy Engineering Holdings Bhd's (MMHE) net profit rose 7.3% to RM39.09 million in the third quarter ended September 30, 2014(3QFY14) from RM36.43 million a year earlier.
MHB said that its profit had risen mainly on deferred taxes as both its offshore and marine segments registered lower profits.
Revenue for the quarter surged to RM539.79 million against RM449.67 million previously.
For its offshore business segment, MMHE said it had been awarded a few new projects, which were expected to contribute to the group's financial performance in the coming financial year.