This article first appeared in The Edge Financial Daily, on April 19, 2019.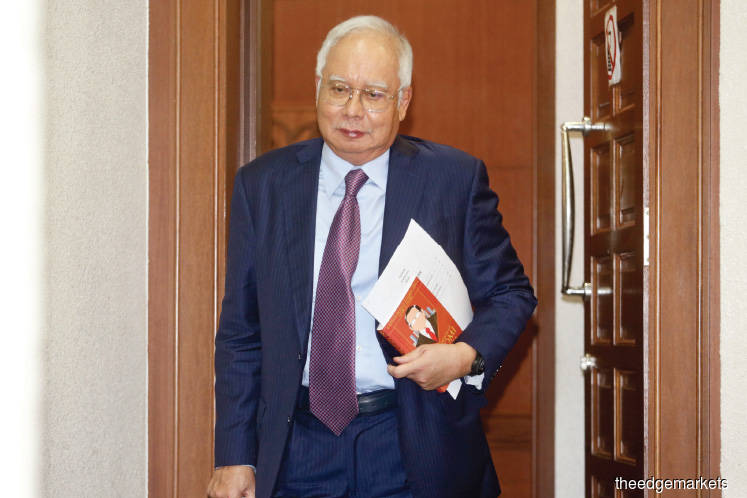 KUALA LUMPUR: The High Court here is expected to obtain the seized communication documents linked to the bank accounts of Datuk Seri Najib Razak and SRC International Sdn Bhd on Monday next week when the ex-premier's graft trial resumes.
In particular, the documents contain communication between AmBank relationship managers Joanna Yu, Daniel Lee and Krystale Yap pertaining to the bank accounts which were the subject of the AmBank raid in July 2015.
The documents will be produced by Bank Negara Malaysia investigation officer Ahmad Farhan Sharifuddin.
Farhan was unable to produce the documents yesterday as "he couldn't find them", lead defence counsel Tan Sri Muhammad Shafee Abdullah told reporters.
"He was trying to locate [them]. He couldn't find [them]. Yet. But I'm sure by Monday he will be able to get [them]," said Shafee.
"If he doesn't find [them], we will find [them] for him. Because we have got copies now. Trust me," he added.
When asked if his copies will be admissible in court, Shafee avoided the question and asked why there was no issue when news publications and blogs published them.
"If these copies are supposed to be with the bank, why don't you ask how Wall Street Journal and Sarawak Report [were able to publish them]?
"If journalists do it (obtain these documents) it's okay ... If a defence lawyer trying to defend using a legitimate document, you make it an issue," he chided.
The trial, which entered its fifth day yesterday, will pause today amid a meeting in relation to the proposed separation between the prosecution office and the Attorney-General's Chambers. It will resume next Monday morning.