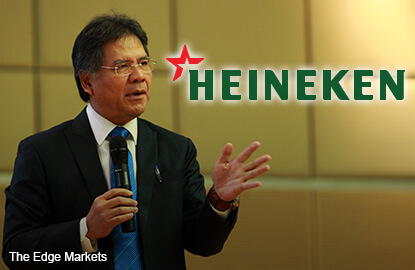 KUALA LUMPUR (Dec 1): Heineken Malaysia Bhd has appointed Datuk Seri Idris Jala as its new chairman effective Jan 1. He replaces Tan Sri Saw Choo Boon, who is stepping down from his post on Dec 31, 2016.
Idris, who served as a Minister without Portfolio in the Prime Minister's Department for six years, is currently the managing director (MD) of the Big Fast Results (BFR) Institute and chief executive officer (CEO) of the Performance Management and Delivery Unit (Pemandu) in the Prime Minister's Department.
"Idris is a renowned transformation guru in turning around companies' performance through his big fast results methodology and transformational strategies that are innovative, rigorous and relevant to today's demands," the group said in a filing with Bursa Malaysia today.
"He has continuously delivered sustainable socio economic reforms which, in 2014, saw Bloomberg place him among the top 10 most influential policy makers in the world," it added.
In addition, Idris is an expert resource speaker at the Harvard Health Leaders' Ministerial Forum and a Visiting Fellow of Practice at the Oxford Blavatnik School of Government. He also served on the advisory panel for the World Economic Forum (WEF) on New Economic Growth and also on the advisory panel of World Bank.
Idris was also the former CEO and MD of Malaysian Airline System Bhd for three years, where he was brought on board to turn around the national carrier which was in crisis brought about by a prolonged bout of losses from operational inefficiencies.
He had also spent 23 years at Shell, holding senior positions including as vice-president of Shell Retail International and vice-president of business development consultancy, based in the UK.
Saw, meanwhile, at the request of Heineken Malaysia's management, agreed to continue to support the group as advisor beginning Jan 1.
"On behalf of Heineken Malaysia, the board and management would like to extend their sincere appreciations to Saw for his contributions to the Group and they look forward to his continued contributions in his new role as an advisor in [the group]," said the group.
Heineken shares closed 0.4% higher to close at RM15.84 today, valuing it at RM4.77 billion.