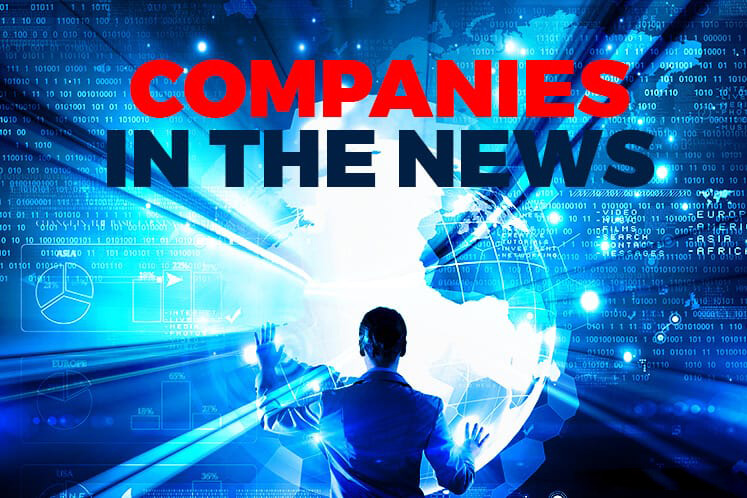 KUALA LUMPUR (Oct 15): Based on corporate announcements and news flow today, stocks in focus on Tuesday (Oct 16) may include Ideal United Bintang International Bhd, Hovid Bhd, Aturmaju Resources Bhd, KiP REIT, Berjaya Media Bhd, Xian Leng Holdings Bhd, Diversified Gateway Solutions Bhd and DBE Gurney Resources Bhd
Ideal United Bintang International Bhd's substantial shareholders Tan Sri Ooi Kee Liang and his spouse Puan Sri Phor Li Wei plan to inject their three private property companies into the group to bolster its current portfolio of development projects and enhance its profile as a property developer by participating in more projects which are profitable.
The group said it has entered into an agreement with Ooi and Phor for the acquisition of Modular Platinum Sdn Bhd, Ideal Homes Properties Sdn Bhd and Premium Flame Development Sdn Bhd for RM353.09 million.
It also plans to undertake a proposed private placement of up to 393.08 million new shares or 30% of its shareholding to raise RM200.5 million. The proceeds will be used for development costs of the three property projects.
Minority shareholders of Hovid Bhd have been advised to accept the takeover offer by Fajar Astoria Sdn Bhd and Hovid managing director David Ho Sue San for the rest of the shares in the Ipoh-based pharmaceutical company for 38 sen per offer share and 20 sen per offer warrant.
In its independent advice circular to Hovid shareholders, AmInvestment Bank Bhd said it is of the view that the offer to acquire Hovid is "fair" and "reasonable". As at Oct 9, the offer shares comprised 173.11 million shares or 20.95% of the total issued shares.
According to AmInvestment Bank, the offer is deemed fair as the 38 sen offer price represents a 6 sen or 18.8% premium over the ascribed equity value of 32 sen per share.
It also finds the takeover offer to be reasonable as Hovid shares had not traded above the offer price from Oct 6, 2016 till Sept 13, 2018.
Loss-making Aturmaju Resources Bhd plans to raise up to RM10.1 million via a renounceable rights issue to fund its diversification into the provision of information technology solutions and services.
Aturmaju said the proposed diversification is part of the group's plans to diversify its business activities and to provide another stream of revenue to reduce its dependence on its core existing business in the resource-based timber-related business.
Under the minimum scenario, a total of RM4 million is expected to be raised from the corporate exercise, of which RM2.8 million will be used for development costs of ERP solutions, RM500,000 for working capital and the rest for estimated expenses pertaining to the rights issue.
In a maximum scenario, a total of RM7.7 million will be used for development costs of ERP solutions and another RM1.7 million for working capital.
KIP Real Estate Investment Trust (REIT) announced a marginal 3.3% year-on-year growth in net property income for its first quarter ended June 30, 2018 to RM9.94 million, from RM9.62 million previously, as rental fee and occupancy rates eked out modest improvements.
The retail REIT said its gross revenue grew 2% to RM15.59 million, from RM15.3 million, attributable to the increase in occupancy rate which grew from 83% a year ago to 86.3% in the quarter under review.
The total comprehensive income attributable to unitholders stood 4.6% lower at RM7.26 million in the quarter under review, compared with RM7.66 million earlier. The fund explained this was due to higher management fee charged at 0.6% of its total asset value, compared with 0.4% in the same quarter last year.
The management declared an interim distribution per unit of 1.45 sen per unit, amounting to RM7.33 million, payable on Nov 13, representing a 100% distributable income.
Berjaya Media Bhd (BMedia) has disposed of a 0.23% stake in Berjaya Corp Bhd (BCorp) for RM3.04 million or 27 sen per share.
This brings BMedia's shareholding in BCorp to an 0.84% stake. BMedia said the proceeds arising from the disposal will be used immediately for working capital.
BMedia said the disposal of 11.26 million shares was done on Oct 10 in the market. It had acquired the BCorp shares in 2010, whose average carrying value was 27 sen per share as at Oct 10.
Ornamental fish breeder and trader Xian Leng Holdings Bhd will participate in the construction of a 500-unit multi-storey flat at Ulu Melaka in Langkawi, Kedah under the 1Malaysia People's Housing Programme.
It has entered into a Memorandum of Understanding  with TH Mestika Sdn Bhd for the project. TH Mestika is the sub-contractor of the project.
TH Mestika will be responsible for the planning and design of the project as well as provision of machineries and equipment for the construction works while Xian Leng will provide resources and services for the construction works.
Diversified Gateway Solutions Bhd is proposing a share capital reduction exercise to wipe out its accumulated losses.
The group said the proposed capital reduction will result in the reduction of the share capital from RM160.05 million to RM60.05 million, which will give rise to a credit of RM100 million to be utilised to set off the accumulated losses of the group.
It said as at March 31, its accumulated losses amounted to RM102.61 million.
Additionally, the group is also proposing for the consolidation of every 2 existing shares into 1 new consolidated share held on an entitlement date to be determined late.
For illustration purposes, it said based on the last transacted market price of the shares as at the last practical date, the theoretical adjusted reference price of the consolidated shares upon completion of the proposed share consolidation would be 11 sen from 5.5 sen.
Doh Properties Holdings Sdn Bhd, the biggest shareholder of DBE Gurney Resources Bhd, will be returning all DBE shares and warrants acquired under its conditional mandatory takeover offer after it failed to secure more than 50% of the voting shares of the group.
As at 5pm today, the closing time for the offer, Doh Properties and parties acting in concert held about 38.34% of the voting shares of DBE and thus did not fulfil the acceptance condition.
The takeover offer was triggered in September, when Doh Properties, through open market acquisitions, increased its shareholding in the integrated poultry group to 33.02% from 32.89%.
The offer for the shares was set at 3.5 sen apiece, representing a 7.36% premium to DBE Gurney's five-day volume weighted average price of up to Aug 30 of 3.26 sen.