This article first appeared in The Edge Malaysia Weekly, on November 6, 2017 - November 12, 2017.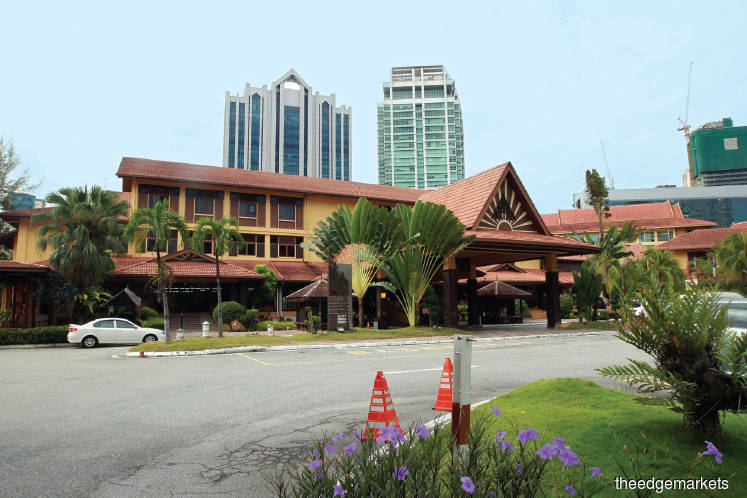 LITTLE-known Hedgeland Realty Sdn Bhd has submitted a proposal to City Hall to develop the prime 11.04-acre Kompleks Kraf Kuala Lumpur site in Jalan Conlay into an integrated development comprising retail, office, hotel and serviced apartments, documents show.
The iconic building, which is a one-stop craft centre and tourist destination, may be demolished to accommodate six towers — the lowest at 25 storeys and the highest at 70 storeys — that will house 500 hotel rooms and 2,240 serviced apartments, among others.
Industry players estimate the gross development value (GDV) of the project at RM6 billion.
Hedgeland's submission to Dewan Bandaraya Kuala Lumpur (DBKL) has piqued the industry's curiosity as it suggests that the government may have disposed of the land. If so, how much did the government sell the land for and who is Hedgeland?
According to valuers contacted by The Edge, the freehold, 480,902 sq ft parcel — known as Lot 335 and located in the vicinity of the prized Bukit Bintang area and close to an MRT station — could fetch between RM2,800 and RM3,000 psf. This means the land is worth between RM1.35 billion and RM1.44 billion. Some players say this may be a conservative figure as KSK Group had purchased its 3.95-acre Jalan Conlay land, which is within walking distance of Kompleks Kraf, for RM3,573 psf in 2014. And 11 months ago, Malaysian Resources Corp Bhd (MRCB) sold its one acre in Jalan Kia Peng, located within a stone's throw of Kompleks Kraf, for RM4,132 psf to Mass Rapid Transit Corp Sdn Bhd (MRT Corp).
A title search conducted on Lot 335 at the Kuala Lumpur Federal Territory Lands and Mines Office reveals that the land is registered in the name of the Federal Lands Commissioner. However, it is not unusual for the transfer of government land to take time, sometimes even years.
Meanwhile, a search on the Companies Commission of Malaysia's website shows that Hedgeland was incorporated in October 2015. The company's business is described as real estate while the nature of its business is described as buying, selling, renting and operating self-owned leased real estate, such as land, the wholesale of a variety of goods without any particular specialisation and the construction of buildings.
The shareholders of the company are listed as Radijah Abdul Razak and Aziah Musa, who each own 50% in the RM2 company. Their names have appeared frequently in the announcements of listed companies buying new companies, suggesting that both women may be company secretaries.
The directors of Hedgeland are 43-year-old Irfan Hamid Abdul Hamid and 39-year-old Rizwan Hamid Abdul Hamid. They were both appointed on Nov 11, 2015.
Not much is known about the duo except that they are involved in a sports-based family business that has been around for 91 years. Together, the two operate Syarikat CarnCo Sdn Bhd. Rizwan owns 75% of the company and Irfan, 25%.
A year ago, The Edge reported that a listed property developer may have emerged as a front runner to acquire the Kompleks Kraf land and that it was believed to be seeking a partner to jointly develop the land as its size would require deep pockets and the right party to share the risk with. Interestingly, a year later, industry sources continue to say that a listed entity is still involved and may be courting a government-linked investment company to undertake the project. Attempts by The Edge to reach Irfan and Rizwan at their sports store in Petaling Jaya, Selangor, to obtain further details failed.
As for development plans for the site, documents seen by The Edge show that Hedgeland has proposed to convert the land use from residential to commercial, although a land title search shows that the land use is not specified.
Hedgeland plans to build two office towers — 70 storeys and 55 storeys high — a 25-storey hotel, a 50-storey block with 700 serviced apartments and two 55-storey buildings with 770 serviced apartments each. These blocks are expected to sit atop a nine-storey podium with four floors of retail space and a parking zone.
Other development submissions in Jalan Conlay
Hedgeland's move suggests that concerns of a glut of office space and a potential oversupply of retail space and serviced apartments in the capital city have not stopped people from submitting development plans to City Hall for approval.
Others players in the immediate vicinity that have done so include Kelana Ventures Sdn Bhd and Armani Hartajaya Sdn Bhd. Kelana Ventures is controlled by Tan Sri Syed Mokhtar Albukhary while Armani Hartajaya is linked to Tan Sri Desmond Lim Siew Choon.
These business tycoons plan to build five towers offering, in total, 2,199 serviced apartments and 710 hotel rooms and a sizeable retail area on a combined 204,579 sq ft of space (roughly the size of three football fields).
Syed Mokhtar's land, known as Lot 342, measures 150,609 sq ft and used to house the Seri Melayu Restaurant. Kelana Ventures plans to build three blocks — 59, 74 and 88 storeys high with five basement levels — comprising 1,245 serviced apartments, a 476-room hotel and retail space. The three blocks will sit atop a 13-storey podium, three floors of which have been earmarked for retail and nine floors for parking. The five basement floors will have retail space and parking bays too.
As for Lim's parcel, which used to house the Chulan Square retail outlets, Armani Hartajaya plans to build a 77-storey block with 954 serviced apartments and 234 hotel rooms on an eight-storey podium with a two-floor retail gallery. This parcel measures 53,970 sq ft or a third of Lot 342.
Ongoing projects in Jalan Conlay/Jalan Bukit Bintang enclave
Should these applications for 4,439 serviced apartments, 1,210 hotel rooms and a huge amount of retail space in the Jalan Conlay/Jalan Bukit Bintang enclave by the three parties be approved by DBKL, the developments will add to two ongoing projects in Jalan Conlay that are being undertaken by KSK Land Sdn Bhd and Pelaburan Hartanah Bhd (PHB).
KSK Land's 3.952-acre development with a GDV of RM5.4 billion is known as 8 Conlay. It will comprise two towers of branded residences called YOO8 that will be serviced by Kempinski, and a Kempinski hotel and hotel suites. There will be 1,062 branded luxury residences, 260 hotel rooms and 300 hotel suites in total. This project is targeted for completion in the second half of 2020.
PHB's wholly-owned subsidiary, Conlay 301 Sdn Bhd, meanwhile, plans to build three office blocks — 41, 47 and 54 storeys high — on an eight-storey podium comprising retail space and parking. PHB had originally planned to build 729 serviced apartments on the site but later switched to office blocks. The freehold, 6.8-acre or 296,427 sq ft parcel is listed as Lot 301.
Based on Hedgeland's proposal, the Kompleks Kraf building is likely to be relocated. In March last year, this piece of land was in the limelight when MRT Corp said traders at the handicraft centre affected by the MRT Sungai Buloh-Serdang-Putrajaya Line will be relocated to a new complex in Dataran Merdeka Underground.
However, more recent talk indicates that they will be relocated to Bangunan Sultan Abdul Samad in Jalan Raja, opposite Dataran Merdeka.