This article first appeared in The Edge Malaysia Weekly, on November 25, 2019 - December 01, 2019.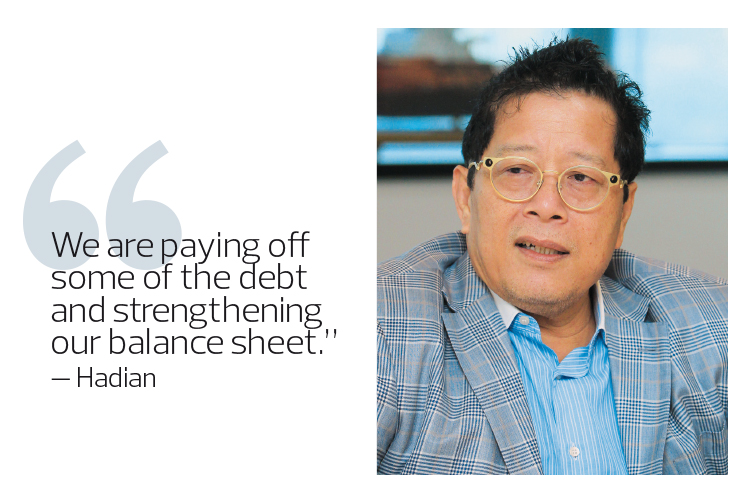 Photo by Mohd Shahrin Yahya/The Edge
LOSS-making offshore support vessel (OSV) player Icon Offshore Bhd expects to sail into profitability by the first quarter of 2020 if its shareholders back its cash call exercise aimed at slashing its debt by over a third.
Managing director Datuk Seri Hadian Hashim tells The Edge that if the cash call exercise proceeds, Icon's annual finance costs would be reduced by about RM18 million.
"We are different from other OSV players in that the debt restructuring is on the tenure usually, whereas we are actually paying off some of the debt and strengthening our balance sheet," says Hadian in his first interview since he took the helm of Malaysia's largest pure-play OSV player on Sept 3.
He adds that focus will then shift to rejigging the business model while squeezing efficiencies to stay competitive in a changing oil and gas landscape. Icon's order book currently stands at RM650 million, which Hadian says will sustain the company for the next three years.
The finance cost savings may be enough to immediately return Icon to the black based on the annualised figures of its year-to-date performance. In the first six months of the financial year ending Dec 31, 2019 (1H2019), finance costs were RM19.1 million, which more than wiped out RM13.39 million in profits from operations.
Icon's shareholders will vote on the cash call exercise in an extraordinary general meeting scheduled for Nov 26, just days before its 3QFY2019 financial performance is due to be released.
On the upcoming results, Hadian says the numbers are "looking good" but declines to elaborate.
"We have seen daily charter rates improving by 7% to 8% over the past few months," he adds.
The cash call exercise comprises multiple components. Icon proposes to consolidate its outstanding shares by a factor of 50 to 1 and issue rights on a 60-to-1 basis with free warrants.
It also proposes to issue new shares plus warrants worth RM171,976.29 to one creditor as partial settlement. Largest shareholder Ekuiti Nasional Bhd (Ekuinas), which holds a 42.28% stake, had already committed to subscribe for RM183 million. Full shareholder backing would raise RM250 million.
It remains to be seen whether its other shareholders will also back the cash call. The second largest shareholder is Urusharta Jamaah Sdn Bhd, a finance ministry vehicle set up to acquire distressed investments from pilgrim fund Lembaga Tabung Haji, with 8.8% equity interest.
Notably, Ekuinas' commitment of RM183 million will add to the RM435.9 million already invested into Icon since 2012, though the government-owned private equity (PE) fund would have recouped more than RM500 million from Icon's listing.
For Ekuinas, an exit from its investment in Icon is overdue as its returns are calculated based on internal rate of return (IRR) — the longer the investment duration, the lower the IRR becomes.
The PE fund's investment horizon is typically three to five years whereas its investment clock hit seven years this month.
Icon aims to use the cash to pay off 36% of its RM650.51 million debt, reducing the balance to RM412.99 million. The proposals are part of its scheme with the Corporate Debt Restructuring Committee that seeks to reduce its gearing from 9.16 times to 1.14 times. Icon tells The Edge that about RM170 million will go towards repaying a short-term facility from Maybank.
Last Thursday, Icon closed at 5 sen, giving it  a market capitalisation of RM58.86 million, down 60% over the past year. It listed on Bursa Malaysia at RM1.85 in May 2014, raising RM945 million.
'In talks'
Icon's next challenge is repositioning its pure-play business model as the market is increasingly favouring integrated solutions providers.
The conventional way was building capabilities across the value chain — organically or via mergers and acquisitions. But one way forward is to form partnerships instead, says PricewaterhouseCoopers (PwC) in its Oil and Gas Trends 2018–19 report.
"In a dynamic market, the owner-operator model is a handicap; the costs incurred under this construct outweigh the value generated. Companies need to parlay their own exceptional capabilities into true partnerships with other best-in-class companies to stitch together an ecosystem of expertise," says PwC.
Locally, Petroliam Nasional Bhd (Petronas) — which is a main source of contracts for the local oil and gas industry — is no exception. Hadian acknowledges the need to expand service offerings to stay competitive.
"Do I want be a pure-play? No. And we have seen enough reasons why, during the last few years, it's tough to be a pure-play ... it doesn't give you the flexibility," he says.
From Hadian's perspective, Icon needs to complement its fleet with technical expertise on the project management side. He says Icon is now in talks with several parties on forming partnerships but nothing has been firmed up.
With the next cycle of contracts from Petronas looming, rejigging the business model may seem to be an urgent priority. According to the Petronas Activity Outlook 2019-2021 published in December 2018, the next cycle of marine vessel contracts will begin by 2021.
The next Petronas Activity Outlook report, which will be published by early December, will shed more clarity on Petronas' exploration appetite, say industry insiders.
As for Hadian, he says one encouraging trend is that oil majors have showed promising signs of increasing their spending on upstream exploration recently after some subdued years to replace reserves.
When asked about Icon's ageing fleet, Hadian says it is not a concern as the average age of active vessels is roughly eight years. As a yardstick, the ceiling age for Petronas is 15 years, he adds.
Icon has 18 anchor handling tug and supply vessels (AHTSs), three accommodation workboats, three anchor handling tug vessels (AHTVs), four straight supply vessels, two platform support vessels (SSV) and one utility vessel.
From the fleet, four AHTSs, two SSVs, one AHTV and the utility vessels are laid up while the others are active.
Note that in FY2018, Icon impaired RM419.9 million of its fleet's net book value. That led to a net loss of RM449 million on revenue of RM199.7 million, its biggest full-year loss amid record low revenue.
Its annual report states that the massive impairment was recognised as oil and gas market conditions had remained difficult.
"We are also looking at what else we can do to improve our operational reliability and the way we do business going forward in terms of the procurement process," says Hadian.
Among others, the initiatives included reducing the amount of spare parts held in stock and outsourcing stock-keeping to vendors to reduce cash being locked up in inventory.
"We want the vendors to keep stock for us so that these will no longer be on our books. We are looking at the 'just-in-time' approach — when I need it, it's there," Hadian explains.
He says he is confident that there will be no disruption as the vendors maintain stocks for major oil companies and are also widely distributed near where Icon operates.
In early 2020, Icon will also pilot a sensors-based, intelligent asset management process to find ways of improving its fleet management and maintenance. The pilot, involving one of its AHTS vessels, will run for six months.