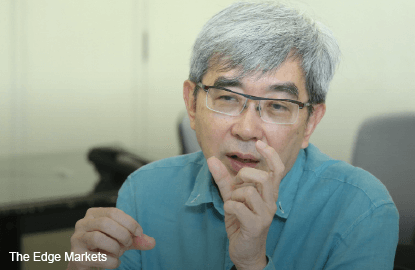 This article first appeared in digitaledge Weekly, on September 21 - 25, 2015.
City of London Investment Management Co Ltd (CLIM), which holds a   13.92% in icapital.biz Bhd's (ICAP), has been the chief complainant of the closed-end fund's performance of late. It has publicly questioned the fund manager Capital Dynamics Sdn Bhd's (CDSB) stock selection ability, market timing, ICAP's high cash position and "unfavourable" advisory and management fee paid to CDSB.
But, ICAP's designated person Tan Teng Boo argues that CDSB's credibility as a fund manager must not be judged based on CLIM's "fabricated" complaints or ICAP's performance over a short period, such as three years. Investment decisions for ICAP, he asserts, are made based on the philosophy of value investing.
Despite an annualised return of 11.56% for the fund's net asset value (NAV) and 9.04% return on the fund's market price as at July 8, 2015, CLIM is grumbling.
For the financial year ended May 31, 2015 (FY2015), ICAP's net asset value per share dropped 5% to RM2.90. At the same time, its stock price fell 8% to RM2.32 and now trades at a double-digit discount to its NAV. ICAP's 2015 annual report says the fund has made no purchases since May 31, 2014.
Based on the annual report, the fund made heavy investments on Bursa Malaysia in 2006 and again in the market meltdown of 2008/2009, after the US sub-prime loans saga exploded. "We were buying so aggressively in 2009 until my broker called to ask if I was sure what I was doing," says Tan, who made a killing in pouring money into stocks on Bursa Malaysia then.
In FY2007 and FY2009, ICAP's cash stood at 15.58% and 10.51% respectively, the lowest levels since the fund's inception. However, its cash level has since increased annually, exceeding the 50% mark in 2013 when the country held its 13th general election.
Tan says CDSB has only bought "a few hundred thousand" Wellcall Holdings Bhd and Vitrox Corp Bhd shares so far. As at July 8, the cash level stood at 66.52%.
CDSB's caution in 2013 may not have been misplaced but it is worth noting that the FBM KLCI rallied after the 13th general election and eventually reached an all-time high of 1,892.65 points before a crash in global oil price triggered its decline. Having seen the post-election rally, ICAP's conservative approach during this period seems to have drawn CLIM's criticism on CDSB's market timing and stock-picking abilities.
To this, Tan says, "A value investor does not do market timing."
He adds that CDSB has not been drawn into making more investments in Bursa because "stocks are not cheap" and are trading in a "high risk but low returns" environment. That is no way a value investor would invest in this kind of environment, he says.
Moreover, the fund manager is highly choosy when it comes to picking stocks. Corporate governance is one criteria to consider in Tan's investment decisions. He takes the view that blue-chip stocks and companies in the oil and gas, property and plantation sectors are overvalued and generally shuns construction firms. He also ignores sectors like furniture and rubber gloves, which are exposed to "transient" themes like foreign exchange exposure.
Unsurprisingly, the fund manager is accused of being paid too much for doing so little. In FY15, CDSB's investment advisory and management fees came up to RM6.37 million or 1.5% of the fund's NAV. But Tan defends himself, saying that other fund managers in the region are being paid higher fees.
Meanwhile, Tan points out that CLIM has been accumulating more shares in ICAP even though it isn't pleased with the fund manager's performance. "This is something that I don't understand," he says.
In rebutting CLIM's complaints, Tan says CLIM should not blame CDSB for the wrong investment decision it had made.
"CLIM fund managers met me in February 2011 in Singapore. We had a conference call in July 2013 and another in August 2014. I have been worried and pessimistic about Malaysia for the past two to three years. I have told CLIM (during these meetings) that I would not invest in Malaysia," he explains.
"When CLIM invested in ICAP in 2010, they knew that our cash level was on the high side at 30%. Our cash level will go up and down depending on whether the market is overvalued or undervalued. Our investment philosophy allows us to have either 0% or 100% cash. They knew it and they still invested [in ICap]," he adds.
CLIM entered ICAP when the ringgit was trading between 4.62 and 5.4 against the pound sterling compared with 6.56 now.
"Even though ICAP's share price hasn't gone up or down that much, on currency, they have lost 30%. They ([CLIM] will be asked [by shareholders] what they are going to do with it. But, it's their mistake for buying at that point in time," says Tan.
CLIM has said that it will oppose the reappointment of ICAP's chairman, Datuk Ng Peng Hong @ Ng Peng Hay, and two other directors at the next AGM. If it is successful, ICAP could be looking at a significantly new board of directors. It would not be far-fetched to say that a board heavily influenced by CLIM would try to recommend some kind of capital distribution.
Tan's defence against his harshest critic is straightforward — those who subscribe to the "value investing" philosophy that ICAP embraces must not succumb to the temptation of such instant gratification.
As the man puts it, "There will come a point when you have a lot of good stocks selling at good prices. That is the stock market [to invest in]. Now, I am a lonely bear but when I am a lonely bull, I will buy. That time will come but I do not know when."