This article first appeared in The Edge Malaysia Weekly, on April 23, 2018 - April 29, 2018.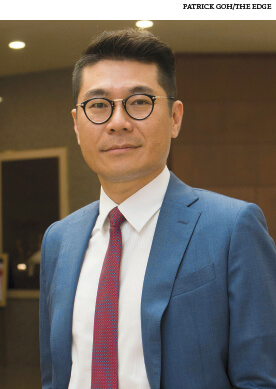 Chew says Ibraco expects revenue for FY2018 to be double that of the previous year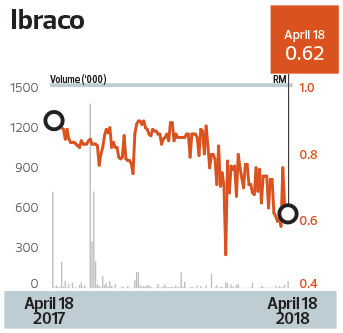 DESPITE missing expectations last year, Kuching-based developer Ibraco Bhd remains bullish on its financial prospects this year.
For the financial year ending Dec 31, 2018 (FY2018), managing director Datuk Chew Chiaw Han says the property player is "expecting double the revenue" compared with the previous year.
He tells The Edge via email that the revenue lift would mainly come from clearing unsold property stock and incoming revenue recognition from its construction unit.
On Feb 28, Ibraco announced a revenue of RM126.6 million for FY2017, down 20.26% year on year, to a five-year low. Net profit nearly halved to RM14.04 million from RM27.07 million the previous year.
Its earnings made up only 62% of consensus analyst estimates, according to a TA Securities report dated March 1.
When  the developer spoke to The Edge last August, it outlined expectations of an earnings rebound in FY2017 after a challenging FY2016 that marked its first revenue decline in seven years.
Among others, it was eyeing a boost from its RM302.64 million airport construction job in Mukah. Work on the 36-month contract — its maiden airport construction job — was expected to begin from mid-August.
Revenue contribution was expected to begin in 4QFY2017, to the tune of RM30 million to RM45 million.
However, revenue recognition from the airport job was slower than expected in that quarter, TA Securities notes.
"Delays in the Mukah airport project last year was due to a shortage of materials. However, the current progress has caught up and is on a par with the scheduled work programme," says Chew.
Meantime, the airport construction also bumped Ibraco's expenses up because of higher staff costs as well as the formation of an auxiliary police team.
The revenue recognition speed bump in Mukah threw a spanner in the works as Ibraco was in the midst of transitioning into newer property projects.
In FY2016, 69% of its revenue came from its Tabuan Tranquility mixed-use development but the project was already in its final phases by then.
Its ongoing projects were still in the early stages last year and revenue recognition for them would only begin this year, the developer had previously said.
A key revenue driver this year will be Continew, a RM400 million residential-cum-commercial development that marks Ibraco's maiden foray outside of Sarawak.
Launched in February last year and slated for completion in 2022, the project accounts for RM148.5 million or 55.62% of Ibraco's total unbilled sales of RM267 million at the moment.
Meanwhile, unbilled sales from various Tabuan Tranquility phases amount to RM88.5 million.
The take-up rate for Continew is currently at 45%, Ibraco says.
The developer is also looking to clear unsold units in several projects completed last year.
Specifically, it is focusing on inventories of condos at Tabuan Tranquility and apartments at its Stutong Heights project.
At the time of writing, only 71% of the 178 Tabuan Tranquility condos had been taken up. The condominium phase had a GDV of approximately RM141 million.
Meantime, 12% of the 497 Stutong Heights apartments (GDV RM143 million) remain available, according to the developer.
If an earnings lift materialises, it may boost Ibraco's share price, which has been declining in recent years.
TA Securities estimates that for FY2018, Ibraco could clock in RM322.5 million in revenue and RM35.9 million in net profit.
If the developer hits those targets, it would mean a record high in terms of turnover as it has not breached the RM300 million revenue threshold before, based on Bloomberg data going back to 2001.
Last Wednesday, the stock closed at 62 sen, about half its last peak of RM1.20 at end-December 2015.
Based on Bloomberg data, only two research houses — TA Securities and Hong Leong Investment Bank — track the stock, and their target prices are 80 sen and 93 sen, respectively.
Over the past year, Ibraco has declined by 31.35% to a market capitalisation of RM307.77 million as at last Wednesday.
Meantime, the developer also had to delay some of its planned launches last year owing to a challenging property market. Among them was the launch of its flagship project NorthBank, a 123-acre development  that sits on the biggest land parcel within Ibraco's 628-acre land bank.
"In view of the weak market sentiment, we have revised some of the approved plans (especially for NorthBank) to incorporate current market demands," says Chew.
The revision was also partly in response to an announcement by the Sarawak government in November that the development density would be increased for Kuching, Sibu, Miri and Bintulu.
The density was raised from 8 units to 10 units per acre for landed developments, and for high-rise properties, from 24 units to 30 units.
Overall, NorthBank has residential, commercial and office components with an estimated GDV of RM1.5 billion. The mixed-use development was initially slated for launch at end-2017 but was only rolled out at end-March.
The first phase of NorthBank, called Nova 72, offers 50 double-storey terraced houses priced from RM775,000 and 14 double-storey semidees with prices starting at RM1.5 million.
All units were taken up on the first day of launch, says Ibraco.
"The approvals came late, hence [the company]was not in time to launch in 2017 but has scheduled to launch [some phases] in 2018. With the overwhelming response from the launch of first phase of NorthBank, we are confident of encouraging response for the remaining phases," Chew adds.
In an April 4 note, Hong Leong Investment Bank notes that the full take-up of Nova 72 reflects "the overall improved sentiment in the property market in Kuching" and bodes well for the rest of NorthBank.
The developer's targeted 2018 property launch pipeline amounts to RM315.7 million in gross development value (GDV).
Apart from NorthBank's Nova 72, which has a GDV of RM73.6 million, a major upcoming NorthBank phase launch is that of 298 apartment units, scheduled for 3QFY2018, with a GDV of RM126.6 million. Two other phases, offering 33 commercial shoplots and 102 townhouses respectively, are slated for launch in the fourth quarter and have a combined GDV of RM90 million.
If things go well for Ibraco this year, what can shareholders expect by way of dividends?
The developer says it does not have a dividend policy and will weigh a myriad of factors such as earnings, capital commitments and the company's financial health.
In FY2017, it declared an interim dividend per share of 2 sen, compared with 3.5 sen in the preceding two financial years.
"Nevertheless, over the years, the group has remained consistent in dividend payouts," Chew says.
Save by subscribing to us for your print and/or digital copy.
P/S: The Edge is also available on Apple's AppStore and Androids' Google Play.