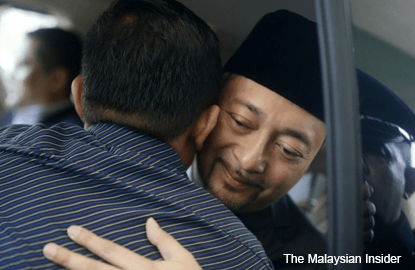 KUALA LUMPUR (Feb 3): Datuk Seri Mukhriz Mahathir says he was removed as Kedah menteri besar because of his criticism of Prime Minister Datuk Seri Najib Razak over the 1Malaysia Development Bhd (1MDB) and RM2.6 billion donation.
Mukhriz told a press conference in Wisma Darul Aman today that those were the real reasons Umno no longer wanted him to lead the state.
"The real reason this action was taken against me was because of the criticism I voiced out against the prime minister, just as he admitted himself.
"The criticism refers to the 1MDB scandal and the RM2.6 billion donation and the burden of living costs on the people due to the GST," he said, shortly after announcing his resignation as menteri besar.
Mukhriz today said he would not quit politics and would carry on working for the people.
"No, it's in my blood. If people still want me, I will continue."
Mukhriz, the son of former prime minister Tun Dr Mahathir Mohamad, was seen sympathetic to former deputy prime minister Tan Sri Muhyiddin Yassin, who was sacked in July last year over his criticism of Najib's handling of the 1MDB affair.
Mukhriz's removal followed a press conference on January 20 led by state Umno liason deputy chief Datuk Seri Ahmad Bashah Md Hanipah, who urged Mukhriz to be removed citing his weak performance as menteri besar.
Bashah will be sworn in as menteri besar tomorrow.