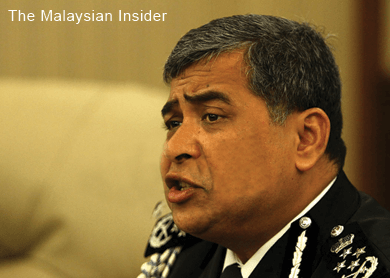 (Nov 26): Tan Sri Khalid Abu Bakar today denied he had been in touch with late deputy public prosecutor, Kevin Morais, over the murder of Ambank founder Hussain Ahmad Najadi.
"I have never spoken to the late Kevin," the Inspector-General of Police said adding that Charles Morais was lying.
"Where did he get the story that I spoke to Kevin," Khalid said in Ipoh today after giving out honorary medals to police commandos who served in "Ops Daulat", an operation to rid Lahad Datu of intruders.
He was responding to an 18-page statutory declaration (SD) that Charles produced at a press conference yesterday, claiming the IGP had wanted to know from Kevin on their brother, Richard's involvement in the Najadi murder case.
It stated that Richard had been spotted leaving the Bukit Ceylon area, near where the murder had occurred, in July 2013 and that Khalid wanted to know if Kevin was aware of it.
"Kevin informed the IGP that he had not been in contact with Richard since 2004 and knew nothing of this," Charles had claimed.
Police have declared the case of Najadi's murder in 2013 as closed after the conviction of car repossessor, Koong Swee Kwan last year. Koong is now on death row.
Khalid said he had yet to read Charles's SD but was informed that one of the allegations had involved an exchange between himself and Kevin.
He warned that Charles should have proof to back up all his claims.
"We know who is Charles Morais and his background. We know what transpired when he went to the US.
"So, I want to remind him not to make baseless accusations."
Khalid said that police could compel Charles to reveal the information he has, and would be reaching out to the Atlanta-based resident via the latter's lawyer, Americk Sidhu, if he has returned to America.
He added that police would open a new investigation into Charles's SD as the investigation into Kevin's murder has been completed.
Yesterday, Charles told reporters that he was in possession of a pen drive that Kevin had sent him by courier before he was murdered and that it contained information on the cases he was working on "which implicates certain personalities who currently walk the corridors of power in Malaysia".
Charles had also said he did not believe Kevin was killed merely because he was prosecuting a government pathologist for corruption.
Six men have been charged with Kevin's murder, while pathologist Dr R. Kunasegaran has been charged with abetment.
Kevin's body was found in a cement-filled steel drum in a swamp in Taman Subang Mewah in USJ 1, Subang Jaya, 12 days after his abduction on September 4. – The Malaysian Insider