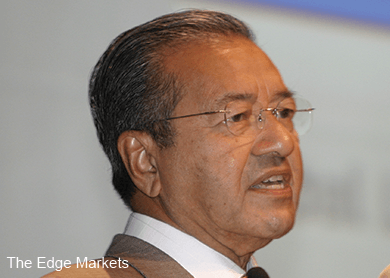 (Sept 1): Tun Dr Mahathir Mohamad today said he had been forced to attend the Bersih 4 rally over the weekend to find solutions for the country's woes.
The former prime minister said in his blog that his stance against street demonstrations remained intact, adding however that the current leadership had destroyed available avenues for recourse.
"I have never agreed with demonstrations because there are other channels to pressure the government when there is an abuse of power.
"We can make police reports, hoping that the police and the prosecutor will take action by bringing the responsible parties to court.
"But now, Najib has dismantled and destroyed government institutions tasked to protect the people's rights," he said.
Dr Mahathir said he was aware that his presence at the recent overnight rally had left many wondering if he had become a supporter of Bersih, the opposition party and its leader Lim Kit Siang, even siding with the Chinese community.
Dr Mahathir, Najib's harshest critic, has repeatedly called for the prime minister's resignation, taking to his blog to pen posts critical of issues such as 1Malaysia Development Bhd (1MDB), Najib's policies and, most recently, the US$700 million (RM2.6 billion) donation from an unnamed Middle Eastern donor.
He pointed out several questionable developments, from the disbandment of the 1MDB special task force to the appointments of officers who had no interest in continuing the probe, which showed that avenues to further investigations into 1MDB and the cash in Najib's accounts no longer existed.
"People were waiting for the outcome of the investigation. Suddenly, the attorney-general was sacked, the Malaysian Anti-Corruption Commission (MACC) chief was told to take leave and the governor of Bank Negara Malaysia was threatened over leakage of information. Thus, the probe ends," he said.
"What's left are newly-appointed officers who are not showing interest to continue the investigations." – The Malaysian Insider