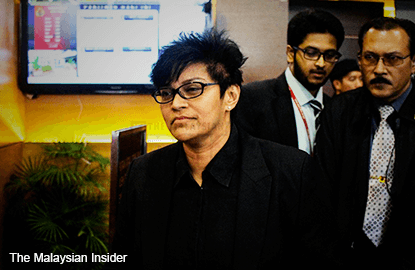 (Dec 3): Minister in the Prime Minister's Department Datuk Seri Azalina Othman today expressed her "sympathy" to PKR's Lembah Pantai MP Nurul Izzah Anwar over the controversy caused by the latter's picture with Jacel Kiram.
Azalina, who moved the motion to refer Nurul Izzah to the rights and privileges committee, which was passed by a bloc vote, said that the committee would be the best way for Nurul Izzah to defend herself.
"We all saw her defending herself and explaining in detail during the debate. I can sympathise with her, I understand.
"But the committee would be the best platform for her to clear her name. She can call all the relevant witnesses to prove her story," she said.
Nurul Izzah has been accussed of mingling with an enemy of the state by taking the picture with Jacel, who is the daughter of the late Jamalul Kiram III, the self-proclaimed Sulu sultan who was the mastermind behind the Lahad Datu incursion in Sabah in 2013. – The Malaysian Insider
MORE TO COME