This article first appeared in The Edge Financial Daily, on June 25, 2019.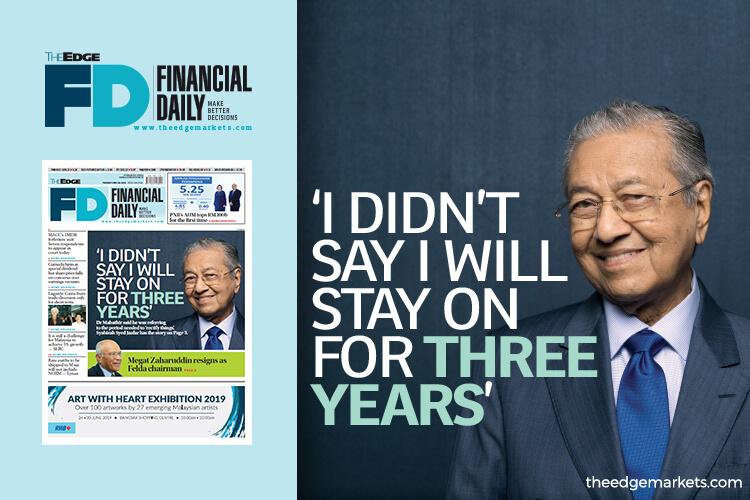 KUALA LUMPUR: Prime Minister Tun Dr Mahathir Mohamad has denied saying he would hand over the premiership to PKR president Datuk Seri Anwar Ibrahim after serving for three years.
"I did not say three years," Bernama quoted him as telling reporters at the Aidilfitri open house of Maju Holdings last night.
Dr Mahathir was reported to have said in an interview with CNBC over the weekend that he "will not go beyond three years" as prime minister.
"As far as I'm concerned, I have made a promise that I will step down and that Anwar will succeed me," the US network cited Dr Mahathir as saying in the interview held on the sidelines of the Asean Summit in Bangkok.
Dr Mahathir was asked if he would stay in office to see out his stated goal of reducing Malaysia's debt from 80% of gross domestic product to 54%, a task which he had said would take three years.
"No, I will not go beyond three years," he replied.
But according to Bernama, when asked by reporters last night why he mentioned three years compared with two years before this, Dr Mahathir said: "I did not say three years; I said I needed a period to rectify things."
In the CNBC interview, the 93-year-old leader said his priority is to enable Malaysia to "resolve this [debt] problem" even after he steps down.
"I'll be a PM to help resolve certain problems. It may take two years or more but the most important thing is solving the problem, then I'll go. I do not want to stay on," Dr Mahathir said.
The transition of power between Dr Mahathir and Anwar has been a contentious issue given that no formal time frame had been set by the former.
Concerns have been voiced by Anwar's supporters that Dr Mahathir may not keep to his promise of handing over power to Anwar.
PKR has, however, pointed to an agreement reached on Jan 7, 2018 for Anwar to replace Dr Mahathir as the prime minister after two years if Pakatan Harapan came to power in the general election four months later.
After Pakatan's victory in the election, Dr Mahathir confirmed that he would hold the position as premier for no more than two years before passing the batton to Anwar.
Earlier this year, Anwar himself also said that he expected to be prime minister in no more than two years' time.
Yesterday, Anwar stressed that there are no problems between him and Dr Mahathir regarding the handing over of the prime minister's post.
He said questions on the date of handing over and related matters were between the two of them.
"The prime minister's (Dr Mahathir) important reply is that what has been signed, promised will be fulfilled," Anwar was quoted as saying by Bernama.
"We should give space to whoever is the prime minister to administer effectively without being disturbed by a timetable on stepping down," he said.
Anwar said that to him and Dr Mahathir, the issue of transfer of power had been settled and they even met "on a weekly basis".