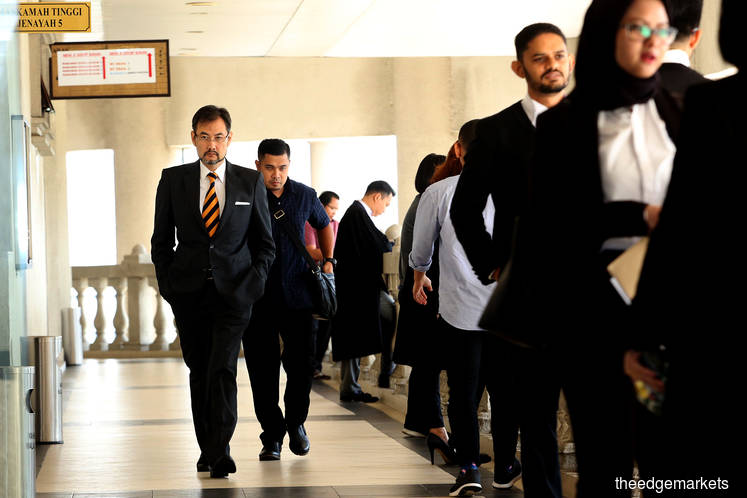 KUALA LUMPUR (Oct 24): Datuk Shahrol Azral Ibrahim Halmi, former CEO of scandal-clad 1Malaysia Development Bhd (1MDB), told the High Court today he had truly believed what Datuk Seri Najib Razak was doing was for the best interest of the country.
This follows what the former premier had said in a meeting that he does not want to destroy the country.
Under cross-examination by lead defence counsel Tan Sri Muhammad Shafee Abdullah today, the prosecution's ninth witness recalled a meeting with senior ministry of finance (MoF) officials where Najib was quoted as saying, "I'm not out to destroy the country".
"That was why I believed him. And whatever he wanted to be done, it was in the best interest of the country. That was the underlying reason behind all the decisions I made in 1MDB," Shahrol said.
"It is important to set the context [as to] why the decision on the PSI (PetroSaudi International Ltd) deal was done quickly and (why) I bulldozed everything through. In a nutshell, I believed this was what Datuk Seri Najib wanted as relayed by Jho Low (fugitive businessman Low Taek Jho). The difference between 1MDB and Datuk Seri Najib didn't exist at the time.
"What he wanted to get done, I needed to get it done," he added.  
Earlier, Shahrol admitted he knew that Low was concurrently advising PSI and the board of directors of 1MDB, even before the joint venture between the two companies were executed.
Shafee pointed to Shahrol that Low had in fact violated the conflict of interest by playing those two roles.
Shafee: You knew this (Low advising PSI) since early September 2009. Don't you think that Low was in conflict of interest?
Shahrol: He has been advising Najib earlier than he has with PSI. So, when he informed me that he was playing the role of adviser to PSI, he told me that he wanted to make a win-win situation for both countries on behalf of PM Najib.
At the time, I took it that Low was a trusted advisor of Najib and the PM knew what he was doing with Low to facilitate the deal, that it was done in the interest of the country.
Shafee: Did you tell the board [of 1MDB] that Low was also advising PSI?
Shahrol: I remember telling the board.
Shafee: Ahh, but it was not in any of the (meeting) minutes?
Shahrol: Yes, you can't find it in the minutes.
Shafee: You dont think it was important to record it in the minutes?
Shahrol: It is similar to a lot of the patterns where certain matters pertaining to Low were taken out. It was not reflected in the minutes, because of instructions from the PM to minimise his involvement on paper in 1MDB.
Shafee: So, you wanted to minimise his involvement formally in 1MDB?
Shahrol: Not that I wanted to minimise, I was instructed to minimise.
Shafee: So you abetted.
Shahrol: I acted on instructions.
Shafee: Did you think that these instructions were wrong at the time?
Shahrol: No.
Shafee: Now?
Shahrol: It would have saved me a lot of grief if we had it in the minutes.
Shahrol doesn't understand 'fiduciary duty'
Shafee then went on to lecture Shahrol of his fiduciary duty as the CEO to the board of 1MDB. During this time, Shahrol was caught not understanding the meaning of fiduciary.
Shafee: You owe a duty to the board as a collective body, do you know what kind of duty is that?
Shahrol: Fiduciary.
Shafee: Do you understand the word 'fiduciary'?
Shahrol: Financial duty.
Shafee: No! That's not what it means. Fiduciary is a duty to be transparent and honest and act in the best interest of the board and the company. Obviously, you didn't understand the word.
Shahrol: Well I was honest and transparent...
Shafee: (Cuts him off) Let Yang Arif decide whether you were being honest or not. How can you not understand directors having fiduciary duty?
Shahrol: Yes, I do.
Shafee: But you didn't know what it means. I'm putting to you, you don't seem to care about your fiduciary duty to the board.
Shahrol: I disagree.
See also:
1MDB-Tanore Trial: CEO accepted 'face value' valuation on PSI assets
The Edge is reporting the proceedings of the 1MDB-Tanore trial live.
Users of The Edge Markets app may tap here to access the live report.