This article first appeared in The Edge Malaysia Weekly, on July 30, 2018 - August 05, 2018.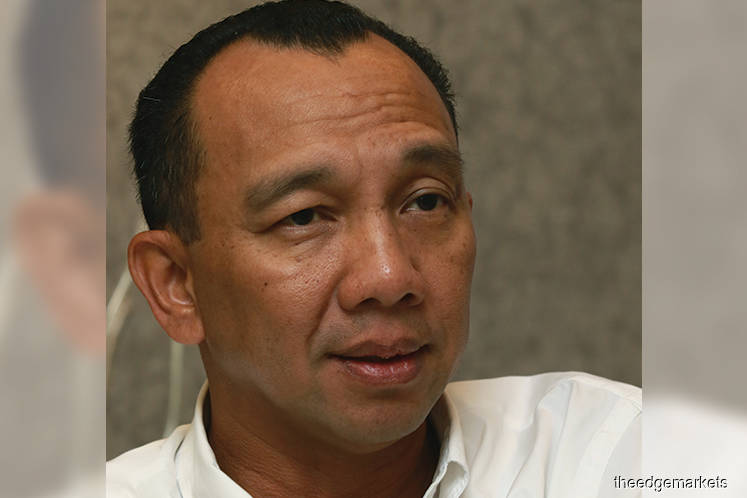 DATUK Rosman Abdullah has always tried to stay below the corporate radar. However, talk of his flagship Putrajaya Perdana Bhd still being linked to Low Taek Jho or Jho Low has pushed him to the surface to clear the air. Rosman, a professional manager, says the company has not had any connection to Low since he fully took over. And he stresses that it was a leveraged buyout, hence he did not fork out a single sen to take over Putrajaya Perdana.
The following is an excerpt from The Edge's interview with Rosman:
The Edge: The recent news on Putrajaya Perdana Bhd has not been positive.
Datuk Rosman Abdullah: My main focus has really been to keep the company going, to ensure its sustainability is not affected in any way. I feel there is a need for me to speak now because from 2015 [until recently], there has not been much news on 1MDB (1Malaysia Development Bhd), not much news about our company.
After GE14 (the 14th general election), there were a lot of reports being rewritten. There was a rewind back to 2015, what happened in 2015 … The moment I saw certain statements that, to me, were factually wrong, I thought it was important for me to come out to ensure the company's interest was protected.
The main point that made me really determined to talk to the press was when I read [the reports on] our company being linked to the ECRL (East Coast Rail Line) and SSER (Suria Strategic Energy Resources Sdn Bhd)…
And also Jho Low?
Yes. ECRL and SSER just by virtue of two of my ex-directors (Datuk Mohammed Azhar Osman Khairuddin and Jerome Lee) being associated with these projects. One of them was associated with SSER and had left [Putrajaya Perdana] in August 2014. At the time, SSER had not even started [yet]. I believe the project only started in 2016 to 2018.
At ECRL, the ex-director of Putrajaya Perdana (Lee), who resigned in October 2015, was linked to the project. There were news reports saying that he 'is' a director [of Putrajaya Perdana] instead of 'was'. [This sounds] as if it's present tense. I think this needs to be factually corrected.
People say you are Jho Low's proxy. Is that true?
That is not right at all. All my dealings with Jho Low were in my capacity as a buyer of Putrajaya Perdana.
At that time, did you know him?
I didn't know him. I was introduced to him by mutual acquaintances. It all came about sometime back in 2012, or 2011 actually. I had always been on the lookout for good businesses I could acquire.
This opportunity was presented to me. I looked at Putrajaya Perdana — it was an extremely good company. I saw the books … the reputation of Putrajaya Perdana as one of the best in the market.
Anyway, we signed the purchase agreement in March 2012 … and keep in mind that at that point in time, Putrajaya Perdana as a group had zero gearing, and cash of RM176 million. My purchase price was RM260 million.
In 2011, the issue of Jho Low, the issue of SRC [International Sdn Bhd], the issue of him allegedly being involved in [SRC] had not become public knowledge. Maybe it had not even happened at that point in time.
So you are not his proxy?
No, I am not his proxy. I am entirely my own man. When you do a leveraged buyout, you don't pay immediately, you can't settle immediately. Even though the agreement was signed in 2012, the bank loan was disbursed in September 2012. The transaction was fully completed and I became the [sole] owner of Putrajaya Perdana only in the third quarter of 2015.
Is that why Lee was a director of Putrajaya Perdana after you took over?
Yes … since I had not fulfilled all my obligations to him (Jho Low). There were directors on the board who were his representatives … the last one being Jerome, who was appointed in March 2014 and left in October 2015.
People have questioned how you could raise the funds to take over Putrajaya Perdana, a large company.
I think it is a valid question but as I said, it's a leveraged buyout — a 100% leveraged buyout. I didn't come up with any money. It was a risk that I took.
Since 2012 until now, Putrajaya Perdana has paid RM94 million in dividends. We also borrowed RM192 million from a local bank, which we were paying [back] from 2012 to 2014. We have paid [off the debts] via the dividends we have received.
The other option was we could sell some shares of the company as we owned 100%. So, when Cendana Destini [Sdn Bhd] sold off 30% of the shares to [Lembaga] Tabung Haji, basically, we had more than enough to settle the loan and the equity loan that I had to settle at that point in time.
What about the funds that made it into the former premier's (Datuk Seri Najib Razak) bank account?
These were transactions that happened before I had full control. I could only get full control after I met all the conditions of the sale.
What about the acquisition of Iskandar Holdings Co Ltd from Unity Capital for RM240 million?
Just like the SRC-related transactions, [it] happened before I took full control of Putrajaya Perdana.
So, as far as Putrajaya Perdana is concerned, it is an investment that is reflected in the company's books, and we have a corresponding loan for the investment. We have an outstanding loan for that and part of the purchase consideration was basically satisfied through the internal funds that we had. So, it (the acquisition) was [through] a combination of bank loans and cash.
Were you the executive chairman when the contentious issues took place?
Yes.
Did Jerome Lee have executive powers as well?
Jerome was first appointed to the board as a non-independent non-executive director in March 2014 and was subsequently requested at that point in time by Jho Low — who, keep in mind, still had control over Putrajaya Perdana at that point in 2014 — to become an executive director in October 2014.
And all the issues, including money being transferred to Najib's account, happened during that time frame when Jerome had executive power in the company?
Yes.
Many people see you as a proxy largely because of your introduction to Jho Low, which came via a well-connected person who is linked to Najib's camp.
I'm a man on my own, and I'm not aware of that perception. I think what is important at the end of the day, if I were a proxy, I would not be here [at Putrajaya Perdana] anymore.
You were cleared by the Malaysian Anti-Corruption Commission?
Yes. If I were a proxy, I would not be here anymore, [but] I'm still around and I have a point to prove that I'm not a proxy. I will continue to be here and I will continue to be a part of Putrajaya Perdana Bhd in its journey.
What about the news of the ECRL contract that stated that CCCC (China Communications Construction Co Ltd) is required to nominate an unrelated company to buy 70% of Putrajaya Perdana for US$244 million?
That's news to me. In fact, I believe there was a statement by MRL (Malaysia Rail Link Sdn Bhd, the ECRL's project and asset owner) a day after, which rebutted the story … There is no such thing.
Save by subscribing to us for your print and/or digital copy.
P/S: The Edge is also available on Apple's AppStore and Androids' Google Play.