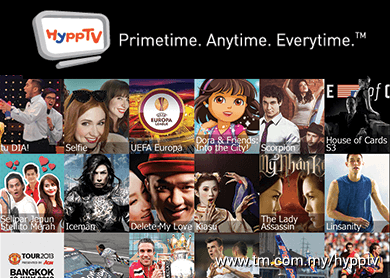 KUALA LUMPUR: Telekom Malaysia Bhd's (TM) pay TV operator HyppTV will continue to collaborate with Malaysian production houses to bring more local entertainment to Malaysian viewers.
TM executive vice-president of new media Jeremy Kung Eng Chuang said currently there were limited Internet Protocol television (IPTV) and cable TV promoting the local entertainment industry.
"This has prompted the group's interest in developing the niche market, to cater to Malaysian viewers in general," Kung told Th e Edge Financial Daily here yesterday after unveiling two new and exclusive local drama series that will be aired on Hypp Sensasi.
"This is also in line with our aspiration of becoming the top TV operator in Malaysia offering unique and exclusive local drama and television programmes, specifically for Malaysian viewers," Kung said.
The two new local dramas are Puteri Gunung Ledang, which will be aired from June 15 (every Monday and Tuesday) and Judoh Sebelah Pintu, scheduled for airing from July 27 (every Wednesday and Thursday).
Kung said some 30% to 40% out of the 880,000 HyppTV's total subscribers subscribed to the Hypp Sensasi package, HyppTV's fi rst Malay entertainment channel.
By introducing more local entertainment products, Kung hoped it could further boost HyppTV subscribers while giving a boost too to the local en
This article first appeared in The Edge Financial Daily, on June 11, 2015.