This article first appeared in The Edge Malaysia Weekly, on April 20, 2020 - April 26, 2020.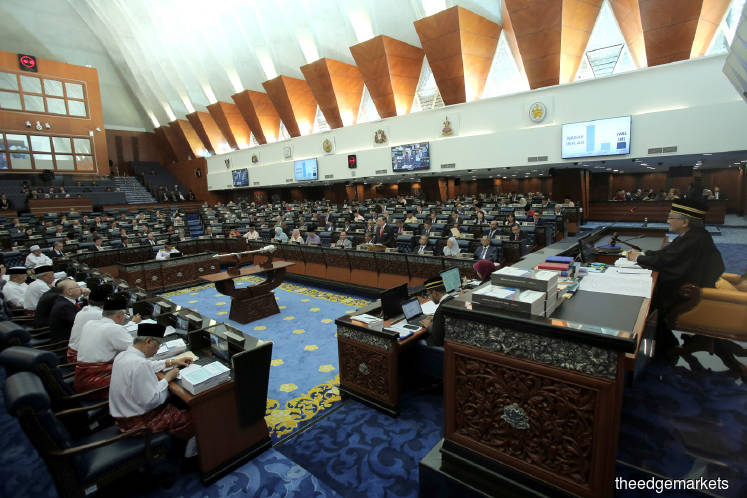 THE government's plan to appoint members of parliament (MPs) to helm government-linked companies (GLCs) may not be such a straightforward task, sources familiar with the matter tell The Edge. It is understood that some GLCs have measures in place to prevent such appointments.
Talk of such appointments escalated after Minister in the Prime Minister's Department (Parliament and Law) Datuk Takiyuddin Hassan said all MPs who do not currently hold positions in government will be made heads of GLCs.
This statement by Takiyuddin has drawn considerable flak, as many feel that appointments to helm GLCs should be on merit and the best suited candidate should be appointed.
While many perceive such appointments to be linked to the previous Barisan Nasional government alone, the Pakatan Harapan government had its share of political appointments.
For instance, Sabah DAP Secretary Chan Fong Hin, who doubles as Kota Kinabalu MP, was removed as chairman of the Labuan Port Authority. Such appointments by PH were not as rampant, though.
As one GLC head puts it, "Politicians should remain politicians — they should be busy enough with their jobs as MPs and not venture out to GLCs, a realm which they are more often than not unfamiliar with."
Socso
According to the Employees Social Security Act 1969, under Section 59 (F) (g), for example, it is stated that a person shall be disqualified from being a member of the Social Security Organisation (Socso) board "if he has become a member of any legislature".
This can be taken to mean literally that an MP cannot be a board member.
An academic points out that, while it may deter the appointment of existing MPs, "such directorships can go to unelected politicians".
Nevertheless, earlier this month, Zakri Khir, CEO of Allianz Malaysia Bhd, stepped down as chairman of Socso, having tendered his resignation to Minister of Human Resources Datuk Seri M Saravanan with effect from April 7.
On Oct 8, 2018, the Council of Eminent Persons under the PH government appointed Zakri chairman of Socso, as he had 30 years' experience in the insurance industry.
Market talk has it that there is a lot of lobbying for Sabak Bernam MP Datuk Mohd Fasiah Mohd Fakeh to take over as chairman of Socso.
To enable MPs to be appointed, a simple majority is needed to amend the Employees Social Security Act 1969.
Under Prime Minister Tan Sri Muhyiddin Yassin, PN has 93 MPs and the support of 18 Gabungan Parti Sarawak MPs, three MPs from Gabungan Bersatu Sabah and two independent MPs for a total of 116 seats, thus giving the alliance a majority of Parliament's 222 seats.
A breakdown of PN's numbers indicates that the largest contributor of seats is BN, with Umno contributing 39 members of parliament, MCA, two, and MIC, one. Muhyiddin's Parti Pribumi Bersatu Malaysia (Bersatu) has 33 seats and PAS has 18.
In total, Muhyiddin's Bersatu MPs make up 28% of PN but seem to have more control of the loose coalition, having the roles of PM and two senior ministers, who are Minister of International Trade and Industry Datuk Seri Mohamed Azmin Ali and Minister of Education Mohd Radzi Md Jidin. Meanwhile, Umno has only one senior minister — Minister of Defence Datuk Seri Ismail Sabri — despite comprising 35% of PN MPs. The fourth senior minister is Datuk Sri Fadillah Yusuf of Parti Pesaka Bumiputera Bersatu of Sarawak.
Some in Umno, such as Pengerang MP Datuk Seri Azalina Othman and Johor Baru Umno chief Tan Sri Shahrir Samad, have expressed their displeasure about the removals and appointments of the heads of the statutory bodies and GLCs.
So, amending the law could be touch-and-go.
FGV and MSM
Sources say some GLCs have put in place measures to prevent such appointments.
According to FGV Holdings Bhd's Board Nomination and Election Policy and Procedures, an active political person — defined as an MP, state assemblyman, supreme council member of a political party or a member who holds a position at a divisional level in a political party — cannot be appointed to the board.
It reads, "The considerations in determining the appropriate candidates for nomination and election to FGV's board include the following … not an active politician."
FGV is majority-owned by the Federal Land Development Authority (FELDA), which had direct and indirect interests of 33.66% in the company as at March 20, 2019. FELDA is a statutory body with immense political clout, as its settlers straddle 54 constituencies.
It is likely that sugar refiner MSM Malaysia Holdings Bhd, which is a 51% publicly traded unit of FGV, also has such measures in place.
It is understood that the measures were put in place after Tan Sri Mohd Isa Abdul Samad, former chairman of both FGV and FELDA as well as a politician and former Menteri Besar of Negeri Sembilan, stepped down. He has since been charged with criminal breach of trust.
Apparently, Datuk Sri Shahidan Kassim, MP for Arau in Perlis and former Menteri Besar of the northern state, has been lobbying hard for the FGV chairman's position. While he was sent congratulatory messages via social media for the appointment to FGV as chairman, Shahidan said he had received no such indication.
FGV chairman Datuk Azhar Abdul Hamid is an old hand in the plantation sector.
What about banks?
Another hurdle that may crop up is the appointment of MPs to banks and financial institutions, which are governed by Bank Negara Malaysia's "fit and proper" rules.
Under the fit-and-proper criteria, Bank Negara says "members of the board and senior management of financial institutions provide strategic leadership that influences the financial position and future direction of a financial institution. As such, persons in these positions must have the necessary qualities, competencies and experience that will allow them to perform the duties and carry out the responsibilities required of the position in the most effective manner."
Banks that fall into the GLC category include pilgrim fund Lembaga Tabung Haji's 53.82% unit, BIMB Holdings Bhd, which controls Bank Islam. BIMB has a 59.45% interest in publicly traded Syarikat Takaful Malaysia Keluarga Bhd.
Armed forces fund Lembaga Tabung Angkatan Tentera has 35.51% direct interest in Affin Bank Bhd and another 20.73% held under its 59.45%-controlled Boustead Holdings Bhd.
Meanwhile, Khazanah Nasional Bhd has a 23.77% stake in CIMB Group Holdings Bhd; Permodalan Nasional Bhd has a controlling stake of 48.23% in Malayan Banking Bhd; and the Employees Provident Fund holds 41.72% interest RHB Bank Bhd.