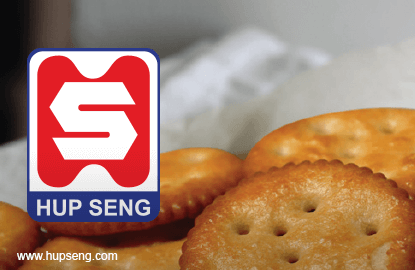 KUALA LUMPUR (March 9): Hup Seng Industries Bhd is acquiring two parcels of aggregate lands in Batu Pahat, together with buildings constructed on it from Syarikat Koon Fuat Industries Sdn Bhd (SKFI) for RM17.49 million cash, including Goods and Services Tax (GST).
In a filing with Bursa Malaysia today, Hup Seng said its unit Hup Seng Perusahaan Makanan (M) Sdn Bhd has entered into two separate Share Purchase Agreements (SPAs) with SKFI for the above acquisitions.
In the first SPA, Hup Seng intends to acquire a piece of 60-year leasehold land, measuring in aggregate, approximately 1.1875 acres, together with a 3-storey factory building cum office erected thereon, for RM4.39 million cash.
The second SPA, it said was the acquisition of a freehold land measuring in aggregate, approximately 15,428.62 square meters/sq m (166,072.23 square feet/sq ft), together with five units of buildings erected thereon, RM13.09 million cash.
SKFI is wholly-owned by Yong Tai Bhd, with a principal activity of dyeing and finishing, and textile products.
Hup Seng said the purchase consideration was arrived at on a willing-buyer-willing-seller basis, after taking into consideration, amongst others, the indicative market valuation of the said properties of RM16.5 million, as appraised by JS Valuers Property Consultant (Johore) Sdn Bhd, via its valuation report dated July 28, 2015, which adopted the Comparison Method of valuation.
"The comparison method entails analysis of sales and listings of similar properties in the locality and the value of the property is arrived at by comparison, after making adjustments for differences in location, size, neighbourhood and other relevant factors," it added.
On rationale, Hup Seng said the said properties, being adjacent to its current factory, would be ideal for future expansion in production capacities and also enable centralised management.
"The proposed acquisitions will increase the group's factory premises by nearly 57%," it added.
According to Hup Seng, its existing facilities are congested, and the current capacity may not be able to cope with expected increased demand in year 2017 and beyond.
"The proposed acquisition will enable the group to rationalise and modernise its production lines with the addition of new lines and corresponding support facilities, and improve the layout of its packaging areas for efficient production processes," it said.
Hup Seng pointed out that all of its production lines are housed in a factory which sits on a 60-year leasehold land, with a total land area of 20,234.11 sq m. metres, expiring on May 24, 2040, with a remaining lease of about 25 years.
"The property 2 (SPA 2) is [a] freehold industrial land, with a land area of 15,428.62 sq metres, which would help to ensure operational continuity for the group," it added.
Hup Seng expects to complete the deals within six months from the SPA.
The stock closed unchanged at RM1.28 today, after 1.05 million shares exchanged hands. It had a market capitalisation of RM1.03 billion.