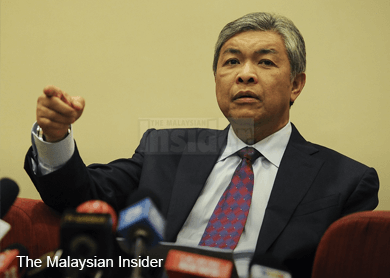 KUALA LUMPUR: Thai police have arrested the main suspect, believed to be the culprit behind the human trafficking cases in Wang Kelian, Perlis, near the Malaysian-Thai border recently, Home Affairs Minister Datuk Seri Dr Ahmad Zahid Hamidi said.
The suspect, identified as Yassin, a Rohingya ethnic, was picked up by Thai police and will be brought to Malaysia soon for questioning, said Ahmad Zahid.
"We thanked the Thai government for their cooperation and the arrests of several other suspects that we have identified, including Yassin," he said at the Kuala Lumpur police headquarters yesterday.
Inspector-General of Police Tan Sri Khalid Abu Bakar in a Bernama report on June 2 said police had identified an individual known as Yassin as the main suspect who acted as an agent of human trafficking syndicates in Wang Kelian.
He said investigations had been carried out to find all suspects believed to be involved, and further action would be taken to stop such syndicates.
"For your information, among the Rohingya, Yassin is a common name, like Aung [for the] non-Muslims ... for [the] Muslims, it is Yassin.
"So, we know who he (Yassin) is. Let us conduct our investigation and take further action," he told reporters, after attending an installation ceremony for senior police officers and handing over of duties of the Integrity and Standard Compliance Department (JIPS) director and JIPS Police Family Association chairman in Putrajaya.
On the discovery of another human trafficking camp on Malaysian soil, 100m from the border in Hutan Simpan Mata Aye in Perlis, Ahmad Zahid said the camp was only temporary, unlike the ones in Thailand.
"The semi-permanent camp is in Thailand. The one here was only temporary when they ran from Thailand," said Ahmad Zahid.
According to Utusan Malaysia, the second camp that can accommodate some 300 people looked more "proper" as it had access to clean water taken from the nearby hill and electricity from the generator hidden underground to avoid noises and detection by the authorities.
The camp was also equipped with a surau (Muslim place of worship), clinic and kitchen.
Also found were 30 graves believed to be of Rohingya refugees, who were part of those smuggled by the human trafficking ring. — The Malaysian Insider
This article first appeared in The Edge Financial Daily, on June 16, 2015.