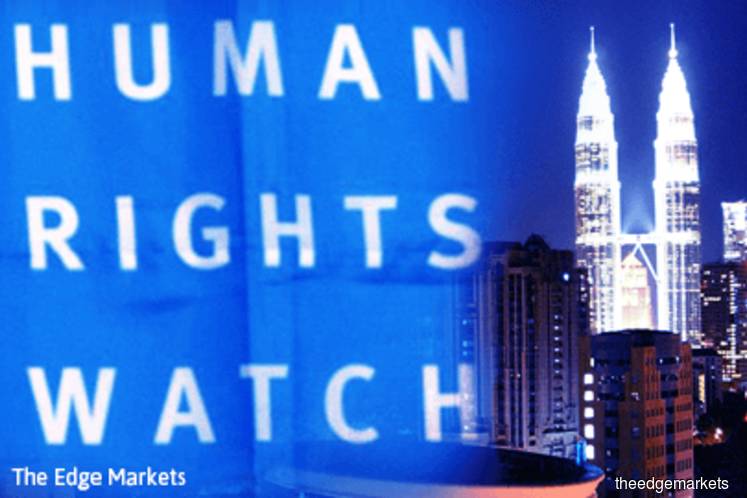 The Human Rights Watch (HRW) has said that it is hypocritical for Low to denounce Mahathir for human rights abuses when Low was more than happy to benefit from human rights abuses when it suited his personal interests.
HRW Asia deputy director Phil Robertson was quoted by Malaysiakini as saying: "No one should forget that Low was connected at the hip with former prime minister Najib and his rights-abusing government which charged anyone with sedition for daring to state what is widely known as true — that 1MDB was the site of a looting party by Najib and his cronies.
"The truth of the matter is, Low was more than happy to benefit from human rights abuses when it suited his personal interests, so he's a hypocrite to come out with this line now,"
 
Following news that his family home in Tanjung Bungah, Penang would be seized, Jho Low issued an open letter through his public relations firm.
 
A ruling by the High Court, that parties claiming to have an interest in any of the RM31 million worth of 1Malaysia Development Bhd (1MDB)-related assets which were seized by the government, have until Aug 30 to challenge the assets forfeiture.
 
The assets include monies amounting to RM18 million in several bank accounts, RM537,000 cash in 13 currencies, 27 Nissan Urvan vehicles, 263 handbags, 14 watches, 27 pairs of shoes, and the Penang bungalow belonging to Goh Gaik Ewe — mother of Jho Low.
In the letter, Jho Low wrote: "Importantly, I am not the only one concerned about Mahathir's anti-democratic leanings and disregard for the rule of law and basic human rights. Earlier this month, the Deputy Asia Director of Human Rights Watch called the Mahathir regime's approach to human rights a 'profound disappointment.' 
"In addition, just last month, Human Rights Watch condemned the Mahathir regime's recent decision to withdraw from its commitment to the governing body that prosecutes genocide, crimes against humanity, and war crimes, saying that such a decision makes a mockery of the Malaysian government's commitment to justice.
"Malaysians deserve better than what the Mahathir regime offers."
Robertson previously criticised the government for withdrawing from the Rome Statute of the International Criminal Court: "The Harapan government should re-sign the Rome Statute and join the International Criminal Court, ratify the UN human rights treaties as promised, and fulfil its other human rights-related pledges in its election manifesto.
"That way, people like Jho Low will have no room to criticise the government on human rights grounds," he was quoted as saying by the news portal. — EdgeProp.my
Reference: Human Rights Watch: Jho Low happy to benefit from human rights abuses when it suited his personal interests 
Click here to visit EdgeProp.my for the latest news on all things property