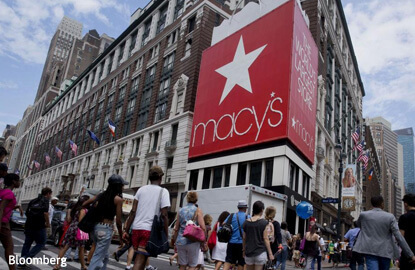 (Feb 3): Canadian department store operator Hudson's Bay Co has made a takeover approach for US department store chain Macy's Inc, according to a person familiar with the matter.
Shares of Macy's, which had a market value of about US$9.4 billion as of Thursday's close, surged 7.3% to US$32.96 in morning trading on Friday.
Shares of Hudson's Bay, which also owns the Saks Fifth Avenue store, were up 2.1% at C$10.26. The company had a market cap of C$1.82 billion  as of Thursday's close.
Talks between the companies are at an early stage, the person said.
Hudson's Bay could raise equity and debt against its real estate portfolio, which could be worth US$14 billion, to fund the deal, according to the Wall Street Journal, which first reported the news
Hudson's Bay said it does not comment on rumours or speculation, while Macy's was not immediately available to comment.
Activist investor Starboard Value held around 1% of Macy's stock as of Sept 30 last year, making it the company's 15th largest shareholder. The hedge fund had urged Macy's early on to separate its real estate from its retail business.
Last May, Starboard's founder and Chief Executive Jeffrey Smith said at the Milken Institute conference that the company had reduced costs and laid out a plan to monetize its real estate, but he admitted that Starboard invested too early.
Starboard has said Macy's real estate alone could be worth US$21 billion.
Starboard disclosed its investment in the company in July 2015, when Macy's stock was trading at around US$70 per share. Its stock has slumped since then to US$29 per share last week.
"Sometimes you don't get the timing right," Smith said at the time.
Macy's said in March last year it had tapped William Lenehan for its board. Lenehan is a real estate investment trust expert and a close associate of Starboard.
In January last year, David Einhorn's Greenlight Capital took a stake in Macy's and said it could be a takeover target.