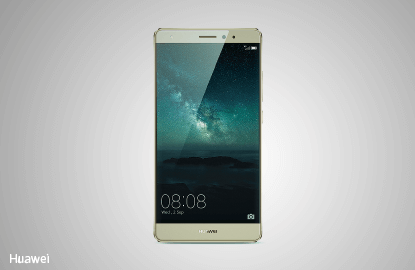 This article first appeared in The Edge Financial Daily, on October 29, 2015.
Some say that you never get a second chance to make a good first impression and if this is true, Huawei's Mate S mobile phone may have won its first battle. The latest addition to the Huawei Mate series is a gold-coloured device that sports a sleek metal design and boasts fourth generation gorilla glass, sapphire lens and diamond-cut edges. For maximum comfort, the Mate S is crafted in a curved design to fit the natural curvature of our palms.
"With our finger constantly on the consumer pulse, we know that device buyers today are increasingly demanding when it comes to design and performance, with the thinning gap between style and specifications, and device and accessory," said Gary Xu, Huawei Technologies Malaysia country director of consumer business group. 
The features on this device aim to provide for a wide range of consumers' needs. To indulge your selfie-taking purposes, you will find various beauty mode settings and eight megapixels (MP) front camera on the device. If you find yourself constantly misplacing your phone, you can now call out to it using a pre-programmed command, to which the phone will respond with "I'm here." 
The brand targets a premium segment of the market with this device as well as the individual needs of customers. It may take some getting-used to for a basic phone user, who may not always make full use of all the functions. All in all, the Mate S is created to understand and respond to real lifestyle needs, thinning the gap between style and specification.
The Mate S is now retailing at Huawei authorised centres for RM2,698 and comes with the brand's signature premium warranty, a two-year warranty, one-to-one exchange during the first year of warranty period, free door-to-door repair pick up and after-service delivery, one year LCD crack warranty and priority service at any Huawei authorised service centre. The first 3,000 customers will also receive a Mate S Bespoke Royal Selangor VIP Pewter Card while the first 1,000 will receive Huawei's exclusive noise cancelling earphones.