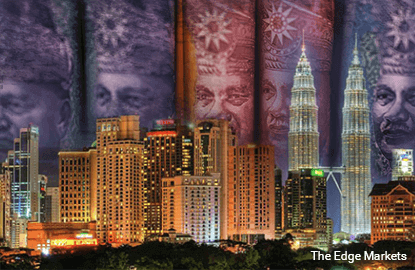 KUALA LUMPUR (Jan 19): Malaysia's economy is expected to slow to 3.6% this year from an expected 4.7% in 2015, according to HSBC Singapore's economist for Asean, Lim Su Sian.
"We are expecting growth in Malaysia to slow this year, quite possibly to below 4%. In other words, below the current official estimate," Lim told a media briefing on the economic and foreign exchange outlook here today.
Prime Minister Datuk Seri Najib Razak had revealed in his Budget 2016 speech in October last year that the country's gross domestic product (GDP) should grow by 4% to 5% in 2016.
Lim said headwinds are coming from lower oil prices.
"The expectation that oil price will breach the US$30 per barrel level, is low.
"However, the oil price assumption for Budget 2016 was US$48 per barrel (in October last year). (Since then), the slump in oil price has been so severe and it obviously will put pressure on Malaysia's exports and in turn, its current account balance. External vulnerabilities will grow," she added.
The other impact on Malaysia's economy is its fiscal budget.
Lim said some of the underlying assumptions in the budget will need to be changed, in order to be realistic with the current economic environment.
Lim also said domestic demand was hurt by the implementation of the goods and services tax last year. The weakened ringgit caused a further dent in consumer confidence.
"These (factors) will cause a slowdown in private consumption growth to below 3% throughout 2016," she said.
"One of the question posed was: Will the cheaper oil price mean more savings and spending for consumers? Unfortunately, we have not seen that come to data.
"As of the third quarter of last year, Malaysia's consumer confidence has dropped to the 2008-09 global financial crisis level," she added.