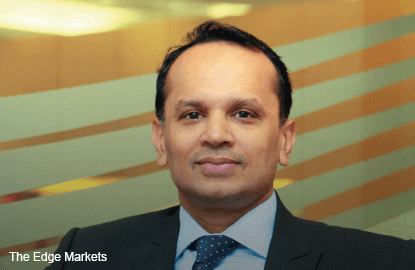 This article first appeared in The Edge Financial Daily, on September 23, 2015.
KUALA LUMPUR: CIMB Group Holdings Bhd is expected to appoint Rafe Haneef, who currently heads HSBC Amanah Malaysia Bhd, as the new chief executive officer (CEO) of its Islamic banking arm CIMB Islamic Bank Bhd, sources said.
It is understood that Rafe has tendered his resignation, after almost five years of helming the foreign Islamic lender. Officials at HSBC Malaysia could not immediately be reached for comment.
CIMB Group is in the process of seeking Bank Negara Malaysia's (BNM) nod for his appointment at CIMB Islamic Bank. "It's still in the process of getting BNM's approval," an industry source told The Edge Financial Daily.
CIMB Islamic Bank has been without a captain ever since Badlisyah Abdul Ghani resigned as its CEO and board member in July, following an internal probe into a controversial personal Facebook posting he made. In the posting, he made an incorrect analysis of documents used by the The Wall Street Journal (WSJ) in one of its articles relating to alleged fund transfers to Prime Minister Datuk Seri Najib Razak's personal bank accounts. CIMB Group chairman Datuk Seri Nazir Razak said Badlisyah had touched on a technical matter "on which he should not be commenting".
Badlisyah's resignation took effect Aug 15. CIMB Islamic Bank then appointed Mohd Shafri Shahul Hamid as the person in charge of the bank while it looked for a new CEO.
Rafe, a Malaysian in his mid-40s, is seen as "a good catch" for CIMB Islamic Bank, given his strong credentials and reputation in the Islamic banking industry. He has been the CEO of HSBC Amanah since November 2010, and was also the managing director of HSBC Amanah Global Markets in Asia-Pacific.
He had led landmark sukuk transactions for various governments — including Malaysia, Qatar and Indonesia — as well as large corporates such as Sime Darby Bhd, Axiata and Emirates.
Before HSBC, he was the head of Islamic banking for Citigroup Asia, based in Kuala Lumpur. He had also worked at ABN AMRO Bank NV in Dubai, where he helped set up the global Islamic finance department.Prior to becoming a banker, Rafe, a graduate of the International Islamic University in Malaysia, had practiced law at home, specialising in Islamic finance, before pursuing a Masters at the Harvard Law School in the United States where he then qualified to the New York Bar.
Meanwhile, Badlisyah has refuted market talk that he is joining Alkhair International Islamic Bank Bhd (formerly known as Unicorn International Islamic Bank). "This is not true. I'm still exploring my options," he told The Edge Financial Daily when contacted.