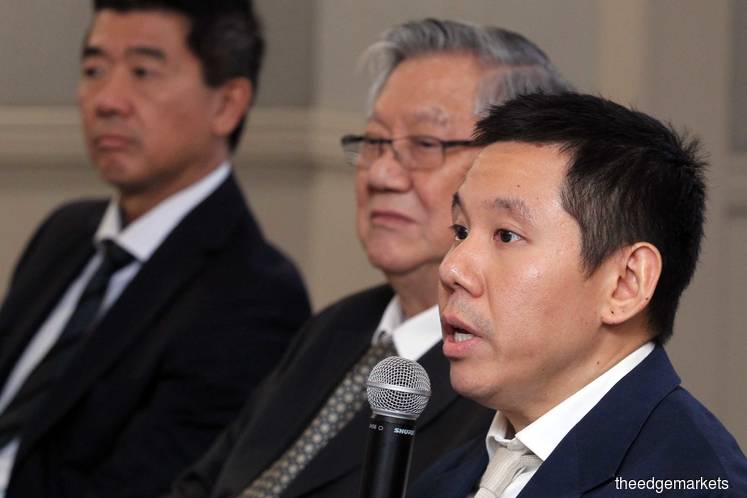 (From left): HLIB head of equity markets Phang Siew Loong, HPMT executive chairman Khoo Yee Her, HPMT managing director Khoo Seng Giap at HPMT's prospectus launch today. Photo by Kenny Yap /The Edge
KUALA LUMPUR (May 17): The institutional investors' portion of HPTM Holdings Bhd's initial public offering (IPO) shares is fully taken up, according to Hong Leong Investment Bank (HLIB) head of equity markets Phang Siew Loong.
While declining to reveal who the institutional investors are, Phang noted that the cutting tool manufacturer is "very well taken up" by local investment funds.
"If you look at the placement portion [of the IPO], it is not very big, so one fund can take the entire portion," Phang told reporters after the launch of HPTM's prospectus today.
He added that the IPO had been well received, and exceeded expectations by several times.
Moreover, HLIB — the principal adviser, underwriter and placement agent of this listing exercise — expects the IPO to be oversubscribed.
He added the recent volatility seen in Bursa Malaysia and across the region would not affect the group as much.
"They are very export-based, and the weak ringgit helps them," said Phang.
When questioned if the group's IPO shares for the public are expected to be oversubscribed, Phang responded in the affirmative.
HPMT is aiming to list on Bursa's Main Market on June 12, 2019, with an IPO of 116.6 million new shares at 56 sen apiece, bringing its market capitalisation to an estimated RM184 million.
Of the 116.6 million shares, 16.4 million shares are reserved for the public, 8.3 million shares are for the group's eligible directors and employees, 59 million are to be taken up institutional and selected investors, and 32.9 million are for International Trade and Industry Ministry-approved Bumiputera investors.
The IPO is expected to raise RM42.3 million, of which RM34 million is for the purchase of new machines, RM5.4 million for expected listing expenses and RM2.9 million for working capital.