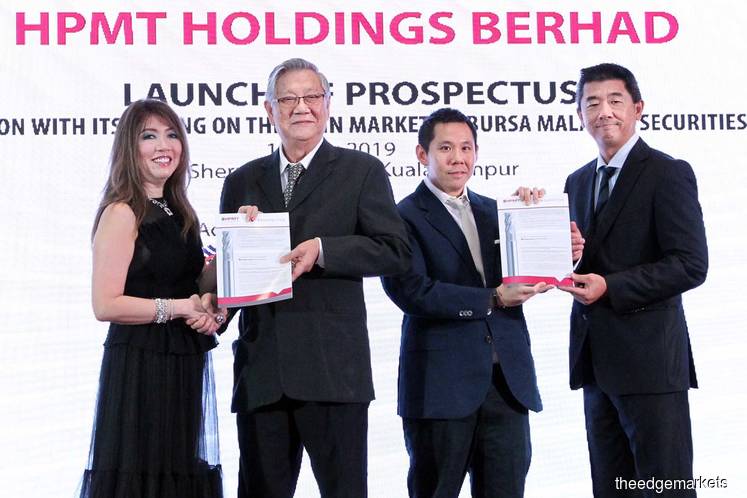 (From left): HLIB group managing director/chief executive officer Lee Jim Leng, HPMT executive chairman Khoo Yee Her, HPMT managing director Khoo Seng Giap and HLIB head of equity markets Phang Siew Loong at HPMT's prospectus launch today. Photo by Kenny Yap /The Edge
KUALA LUMPUR (May 17): HPMT Holdings Bhd's initial public offering (IPO) price has been set at 56 sen a share and the group is expected to list on Bursa Malaysia's Main Market on June 12, 2019.
In total, the group is looking to offer 116.6 million new shares, of which 16.4 million shares will be offered to the public, 8.3 million shares to its eligible directors and employees, 59 million shares to institutional and selected investors and 32.9 million shares to Bumiputera investors approved by the International Trade and Industry Ministry.
The group's estimated market capitalisation would be RM184 million.
Speaking after its prospectus launch today, HPMT managing director Khoo Seng Giap said the group was listing because it sees the need to expand capacity.
"We see the potential to grow and hence the need for fundraising to expand capacity in our operations in Malaysia, Germany and China.
"So yes, it is not the best time (but it is difficult to time), certain things are not under our control," said Khoo.
The group is looking to raise RM42.3 million from its IPO. From the proceeds, RM34 million will be used for the purchase of new machines and equipment, RM5.4 million for estimated listing expenses and RM2.91 million for working capital purposes.
When questioned further over the specific details of the machinery and equipment it is looking to buy with its IPO proceeds, Khoo replied that it is planning to buy grinding machines and auxiliary machines to boost its capacity, adding that the group is aiming to increase its capacity by 40% to 212,600 pieces a month by Dec 31, 2021 — from 148,200 pieces a month as of Dec 31, 2018.
In terms of expected topline and bottom line contributors post listing, HPMT chief financial officer Tan Kim Chuan said the group will be focusing on its core business of precision tool manufacturing.
"Our focus for both the topline and bottom line is still on core cutting tools business, so that will be our main contributor," said Tan.
He added that 30% of its revenue comes from five clients — two of which are in Germany, and one each from Denmark, the Czech Republic and Italy.
When asked about the potential impact of the ongoing US-China Trade War and uncertainty over the finalisation of the UK's exit from the European Union (Brexit) on the group, Khoo said surprisingly, the two events did not have much of an effect on the cutting tool manufacturer and distributor.
"Everybody is waiting and seeing. It does not mean that we are in bad times, it very much [depends] on what products you are producing. So [in] good or bad times, there is a need for our products. Our exposure is limited because we are in so many countries," said Khoo.
He added that in Malaysia, there is still potential and HPMT is looking at further fortifying its market share.
The group has an export market share of 23.6% of the total cutting tool industry's export revenue of RM68.3 million for the financial year 2018 (FY18).