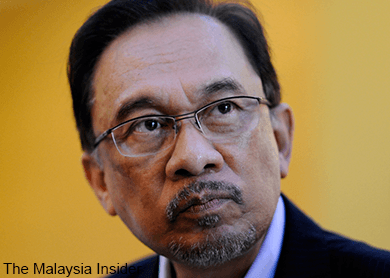 KUALA LUMPUR (Apr 4): As the Kelantan Shariah Crimes bill fractures Pakatan Rakyat, its component parties have to somehow pull together to decide on the single face it presents to Malaysians as a future prime minister.
This is because choosing a new parliamentary opposition leader was probably the less difficult part about deciding how to replace Datuk Seri Anwar Ibrahim, said one observer Khoo Kay Peng.
The bigger question is who would unify the three disparate parties – PAS, DAP and PKR – to bring PR forward and present the coalition as a viable choice to take over Putrajaya.
Glut of candidates
All three parties are not lacking in candidates capable of becoming parliamentary opposition leader, said political scientist Prof Shaharuddin Badaruddin.
The most senior chiefs have also done stints in the post, such as PKR president Datuk Seri Dr Wan Azizah Wan Ismail, PAS president Datuk Seri Abdul Hadi Awang and DAP parliamentary leader Lim Kit Siang.
Then there's secondary senior leaders, such as Selangor Menteri Besar Azmin Ali and DAP secretary-general Lim Guan Eng, who have the political heft and experience.
But if the matter was settled based on democratic norms, said PAS's Dr Dzulkefly Ahmad, the opposition leader would come from the DAP since the party has the highest number of seats in Parliament.
DAP has 37 seats followed by PKR (30) and PAS (21).
This was the same principle that saw former PAS president Datuk Fadzil Noor picked as the opposition leader after the 1999 general election, when the Islamist party had the most seats then.
"With due respect to PKR and PAS, but PR as much as possible must go back to the norms of parliamentary democracy," said Dzulkefly, who is PAS central committee member.
Anwar was exception to the rule in 2013, Dzulkefly said, because DAP had given up its privilege in the first place.
"DAP has the first right of refusal. I am not trying to curry favour with DAP and it is not based on ethnic considerations. It's about democratic norms."
But Shaharuddin of Universiti Teknologi Mara believes that the post would, in the end, go back to the PKR because of the strained ties between DAP and PAS.
Both parties are embroiled in a cold war after PAS announced it would table a private member's bill to amend federal laws so that it can enforce its Kelantan Shariah Criminal Code.
DAP then decided to cut ties with PAS' Hadi, a move which angered many of the Islamist party's other leaders.
"But if they chose a non-Malay opposition leader, there is a worry that it will be hard to get Malay votes," said Shaharuddin.
So in the end, Shaharuddin said the candidate will come from PKR since DAP will not agree on someone from PAS.
In PKR, Dr Wan Azizah and Azmin are the leading names.
Azmin, however, is the menteri besar of the busiest state in Malaysia and this argument could work against him, he said.
"So if (Dr) Wan Azizah decides to once again become Permatang Pauh candidate and win the seat, there is the possibility that the post will go back to her."
Replace, not substitute
The problem with Dr Wan Azizah, said Khoo, was that she did not inspire confidence as she was seen as Anwar's substitute.
Especially after she resigned as Permatang Pauh MP in 2008 to allow Anwar to contest and come back to Parliament.
This unresolved question, whether to replace or substitute Anwar, is one of the main things that holds PR back and which prevents it from being as cohesive as Barisan Nasional.
Khoo said Anwar has exhausted all legal avenues. Realistically, he will be out of politics for at least 10 years – five years in jail and five years barred from politics.
"So you need a candidate who can take PR forward until and past the next elections."
Choosing a substitute just to be a parliamentary opposition leader won't be so difficult since that post was more of a convention, said Khoo.
"The parliamentary opposition leader is not the same as being the leader of PR who can galvanise the coalition. This last part is even more difficult.
"The person must have charisma, leadership and able to draw all three parties together."
That person, Khoo said, must also offer a new unifying ideology that all PR parties could believe in now that they were splintering because of PAS's hudud.
This leader would also be PR's prime minister-designate, Khoo said.
Dzulkefly, however, said Anwar could still be that leader, even if he is in prison.
"In fact, when Fadzil Noor was parliamentary opposition Leader, he said Anwar was still the leader of coalition. Anwar's iconic status as our leader remains."
In the meantime, PR would use its principle of collective leadership in making decisions and charting policy, said Dzulkefly.
Shaharuddin also did not discount a comeback from Anwar.
"Anything is possible in politics, even if the person is in prison."
He cited the examples of Turkish President Recep Tayyip Erdogan and former South African president Nelson Mandela, who had been jailed but later became leaders.