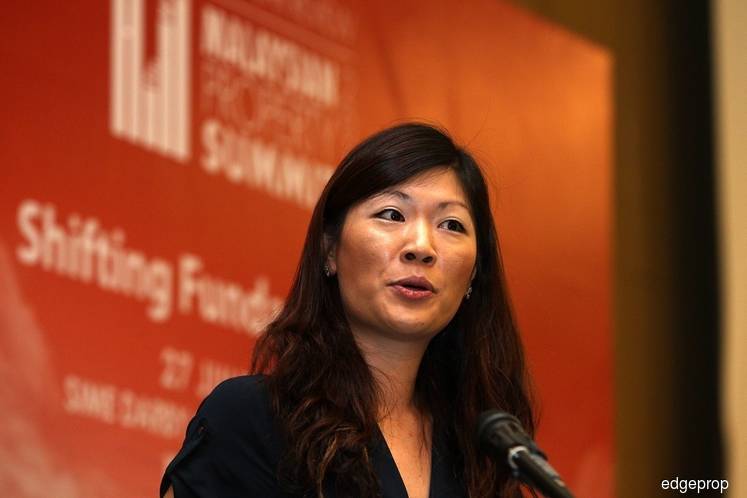 PETALING JAYA (Nov 2): Kenanga Head of Equity Research Sarah Lim (pictured) said it will be interesting to know how the current government will monitor the selling prices of new houses.
She was commenting on the Budget 2019 announcement that states the Real Estate and Housing Developers Association (Rehda) has offered its commitment to reduce prices of new residential launches that are not subject to price controls by 10%.
"I think what was interesting in the announcement was Rehda's commitment to reduce the selling price of new houses by 10%. Like I said previously, it is not a linear thing where the cost of building homes and the price of homes are directly proportionate.
"Companies have overheads to cover. What is interesting would be how is the government going to monitor these selling prices by the developers? The 10% rebate is already being given out by the developers as of now in rebates for the past few years.
"The Housing Price Index (HPI) is based on the Sales and Purchase Agreement price so these rebates have not been reflected in HPI. It will be interesting to know how it will be monitored because that will ultimately determine how impactful it will be," Lim told EdgeProp.my in a phone interview.
She also added that from a developer's stand point, it is not overly exciting.
"Whatever policies that were announced is more for the rakyat's benefit," she said.
Meanwhile, another point which Lim felt was an interesting point is the peer-to-peer funding.
"If it is for selected projects, then it will be good for the rakyat. But how many developers' projects are entitled to it? Can anyone do it in any form? Will it create a systemic risk because is this crowdfunding monitored and controlled?" she asked.
According to Budget 2019, the crowdfunding platform will be monitored by the Securities Commission under the peer-to-peer financing   framework.
As for the government's move to increase the real property gains tax (RPGT) on the profits from disposal of real estate and shares in property companies in the sixth year and the subsequent year, Lim said that it does not have much of an impact since the market is already moving slowly and less lucrative transactions are currently being made. — EdgeProp.my
Click here to visit EdgeProp.my for the latest news on all things property