This article first appeared in The Edge Malaysia Weekly, on August 20, 2018 - August 26, 2018.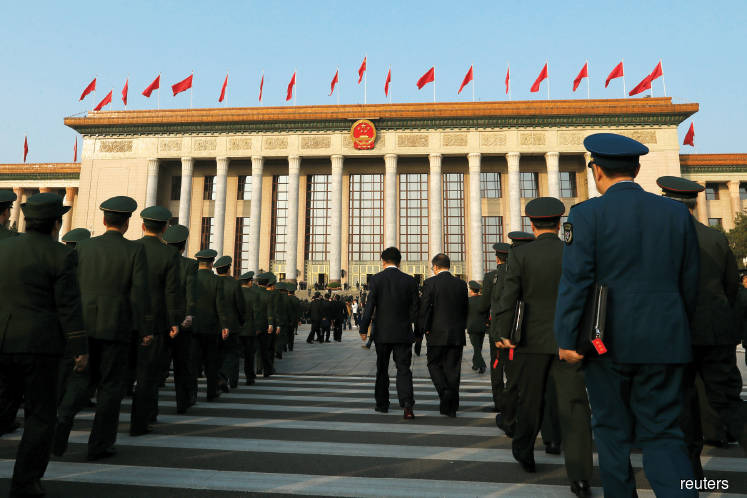 TUN Dr Mahathir Mohamad is in China this weekend for a five-day official visit. This is not his first official visit to the world's second biggest economy, but it is his first official meeting with Chinese President Xi Jinping as Malaysia's prime minister.
The diplomatic visit is expected to hog the limelight not only on the home front but also in the international arena. The world will be keen to know how the seasoned Malaysian politician will warm diplomatic relations with the Chinese leaders as it appears that they are a bit tense currently. On top of that, many — particularly neighbouring countries — will be observing whether Mahathir will continue with his neutral stance when it comes to dealing with the superpower. After all, he is known for promoting the Non-aligned Movement in the past — quite a contrast to Datuk Seri Najib Razak, who seemed to have leaned towards China.
Some quarters say it is a trip for Mahathir to mend ties with the super power after the Pakatan Harapan (PH) government said the values of several mega infrastructure projects, some of which Chinese contractors are involved in, have been inflated.
Among them is the East Coast Rail Line (ECRL), for which the Barisan Nasional government had budgeted RM60 billion. The new government has suspended work on the single-track rail project as well as two pipeline projects — the multi-product pipeline in Melaka and Trans-Sabah Gas Pipeline — due to their high construction costs.
To put it bluntly, the exposé by the PH government has put China in a bad light, although Finance Minister Lim Guan Eng has reiterated that the decisions were because of the provisions in the agreements, and were not aimed at any particular country.
This might have added fuel to the accusations that China had prompted countries to build infrastructure that they cannot afford with favourable financing schemes. Consequently, some countries, such as Sri Lanka, have run into fiscal problems.
When the PH government warned of the possibility of cancelling the ECRL and Kuala Lumpur-Singapore high-speed rail project, it gave Beijing a rude jolt. This is because logistics infrastructure — such as rail networks and sea ports across Asia — forms the backbone of China's Belt and Road initiative (formerly known as One Belt One Road) — Xi's brainchild.
In view of that, there are concerns that Malaysia might have angered China, and that might hinder Malaysia's economic growth going forward.
China is Malaysia's biggest trading partner. In contrast to the US, Malaysia has had a trade surplus with China for years. Trade volume between China and Malaysia shrunk to RM188.258 billion last year from RM240.96 billion in 2016 and RM230.8 billion in 2015, according to the 2018 Economic Report.
China is still striving to attract foreign investments to drive its economic growth. Nonetheless, it is also the world's biggest consumer of many countries' exports, ranging from base metals, liquefied natural gas and soft commodities, such as grains and edible oils, to expensive branded handbags and musang king durians.
The country's growing affluence has seen many Chinese tourists going on overseas shopping sprees so much so that locals, unfamiliar with their behaviour, may suffer culture shock. Still, there is an increasing number of countries going all out to woo these big-spenders. Indeed, China is boasting that its outbound tourism has helped drive growth in other countries.
According to the United Nations World Tourism Organization, China's outbound tourism expenditure ballooned to US$216 billion in 2016 — 11 times higher than the amount 10 years ago. Some 135 million Chinese went on overseas holidays that year, with about 2.12 million coming Malaysia.
The Chinese government, to some extent, does play a role in deciding which countries Chinese tourists visit as they need to obtain exit visas.
The 93-year-old Malaysian prime minister is among a handful of political leaders who shared firm handshakes with many Chinese presidents at the Great Hall of the People in the capital city of Beijing.
Mahathir's first official visit was more than 30 years ago in the autumn of 1985. During the trip, he met Deng Xiaoping, the late leader who initiated economic reforms by opening China's doors to the world. At the time, China's gross domestic product was only US$309.48 billion — less than India's and substantially smaller than Japan's.
It is not difficult to fathom why that Mahathir's "Look East" policy then mainly focused on Japan — he aspired to make Malaysia like Japan, a country with more than one successful homegrown carmaker.
Indeed, Japan is the first country he visited after he became prime minister the second time. In fact, he has already made two trips there so far.
Three decades later, China has become a superpower in terms of the size of its economy and its military. Its GDP expanded to US$12.23 trillion last year, according to World Bank's data.
Some quarters say Mahathir is now dealing with a vastly different China compared with when he was prime minister for the first time.
He knows full well the importance of having warm relations with China. Former prime minister Tun Abdul Razak Hussein established diplomatic ties with China in 1974, making Malaysia the first country in Southeast Asia to do so.
Nonetheless, ties between the two countries became stronger under Mahathir's first premiership. He made seven visits to Beijing when he was the prime minister between 1981 and 2003. It is said that he still made trips to the mainland often after he stepped down.
The country's strategic geographical location is Mahathir's trump card. Malaysia has the longest coastline facing China in the South China Sea. The Strait of Malacca — an important sea route for the shipments to China — also lies within its boundaries.
Mahathir had sent former finance minister Tun Daim Zainuddin, who is one of the five members of the Council of Eminent Persons (CEP), to China last month. This is viewed by many as a move to break the ice that has formed after PH took over Putrajaya.
Meanwhile, tycoon Robert Kuok, another member of CEP, could also help in easing any tense moments when the prime minister is in China.
Hangzhou, the home base of Alibaba group and carmaker Geely Automobile Holdings Ltd, will be Mahathir's first stop in China. From here, he will take a high-speed train to Shanghai. Will the journey of just over an hour make him change his mind on shelving the rail projects back home before he meets Xi in Beijing on Monday?
Save by subscribing to us for your print and/or digital copy.
P/S: The Edge is also available on Apple's AppStore and Androids' Google Play.