This article first appeared in The Edge Financial Daily, on April 20, 2020.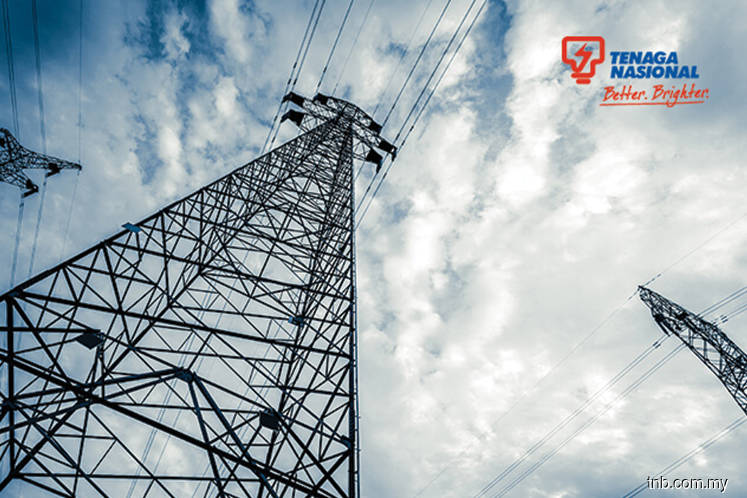 KUALA LUMPUR: Tenaga Nasional Bhd (TNB) is one of few FBM KLCI component stocks whose share prices have been able to recover from the recent global equity rout.
Year to date, TNB is the fifth-best performer among KLCI component stocks after Top Glove Corp Bhd, Hartalega Holdings Bhd, DiGi.Com Bhd and Maxis Bhd.
TNB shares have dropped 4.22% since the start of the year, compared to the 11.15% decline in the benchmark KLCI in the same period.
Based on last Friday's closing price of RM12.70, the utility giant is trading at a price-earnings ratio of 15.95 times, with a historical dividend yield of 3.94%, excluding the special dividend of 50 sen per share for financial year 2019 (FY19). TNB's market capitalisation is at RM72.22 billion.
Relative to other electricity companies in the Southeast Asian region as well as in the other developed economies, TNB's shares have also held well.
There is hope Malaysia's economic activities could rebound sooner than its neighbours' as the movement control order (MCO) appears to be paying off based on the declining daily new Covid-19 infection cases in the past week.
Analysts also see it as shielded from weaker electricity sales during the extended six-week MCO and the looming recession ahead. But how is TNB compensated if revenue from electricity sales falls below the level allowed by authorities?
Tariff increased if sales drop — but timing is a question
For FY19 ended Dec 31, 2019, TNB made RM4.53 billion in net profit from RM50.94 billion in revenue. About 85% of the bottom line or RM3.84 billion came from the Regulated Asset Base (RAB) business. That was after letting go of excess revenue of over RM1 billion from regulatory adjustments.
During the MCO, energy demand plummets as most offices, malls, hotels, businesses, and factories shut down, while household electricity consumption increases — albeit with lower average tariff incurred compared with other sectors.
Some 79% of TNB's sales in Peninsular Malaysia come from industrial and commercial customers.
The MCO lasts for six weeks. After the restriction is lifted, there may also be a digestion period before activities return to normal, as the public remains cautious of close contact.
When TNB sells less electricity than forecast due to an unexpected fall in demand, regulators can review and increase electricity tariff to make up for the shortfall.
This revenue-cap adjustment is applicable for its transmission and distribution segments, which make up the bulk of its RAB. The RAB business, in turn, contributed  to 85% of TNB's net profit for FY19.
Similarly, when TNB manages to collect more revenue than allowed by regulators, it channels back the excess revenue to the public via lower electricity tariff moving forward.
As stated in the Energy Commission's (EC) guidelines on electricity tariff determination under the incentive-based regulation: "The licensee may not earn more or less than the allowed revenue."
"Where it does so, the allowed average tariff is subsequently adjusted to offset the difference in revenues through an annual revenue-cap adjustment," said the EC.
TNB's RAB returns are up for another review for the next regulatory period (2021-2023), of which negotiations with authorities will commence in the third quarter.
An analyst said that any upward adjustments can be made across multiple regulatory periods, so as to not shock the market with a jump in electricity tariff.
While awaiting the adjustment, TNB's balance sheet will support the shortfall. TNB has current assets of RM25.77 billion against current liabilities of RM23.9 billion.
In recent note, HLIB Research said TNB would be compensated in the upcoming imbalance cost pass-through review, in order to address the shortfall of earnings due to lower-than-assumed power demand of 2% growth year-on-year.
"Hence, there will be minimal impact on profit and loss (accrual accounting) but delay in terms of cash flow into 2H20 (the second half of 2020)," the note said.
An open question is on the speed and scale of the adjustment, considering the weak economic prospects presently.
Being a government-linked entity, TNB has also participated in national service supporting the government in addressing the Covid-19 outbreak.
TNB has earmarked RM150 million to support electricity discounts by the government, and another RM10 million as contribution to the ministry of health — about the sum of 3.5% of FY19 net profit combined. The power discount support lasts until September.
Demand risk elsewhere
The demand risk is not cushioned in TNB's retail division, which makes up a minor 2% of base tariff, HLIB Research added.
Meanwhile, its Malaysian power-generation business is largely guaranteed capacity payments, to cover finance cost, fixed cost and margin, said PublicInvest Research in a note.
On that, TNB said in its report for the fourth quarter of FY19 (4QFY19) that the impact of two power plant outages here — TNB Janamanjung (Unit 2) and Kapar Energy Ventures (Unit 6) to the generation business will be reflected on 1QFY20. On the flipside, it will add 1,440MW generation in July via Southern Power Generation.
Meanwhile, the global lockdown may impact TNB's international operations. Low demand could hurt businesses in Turkey and India, raising the possibility of further impairments, moving forward. It impaired RM334 million last year, and nearly RM1 billion the year before.
Its renewable energy (RE) ventures in the UK should remain stable under RE tariff structure. TNB also operates in Saudi Arabia, Pakistan and Kuwait.
It is unclear if the global lockdown results in lower operating costs in the near term, considering the sizeable workforce with some 36,000 employees.