This article first appeared in The Edge Malaysia Weekly, on June 1, 2020 - June 07, 2020.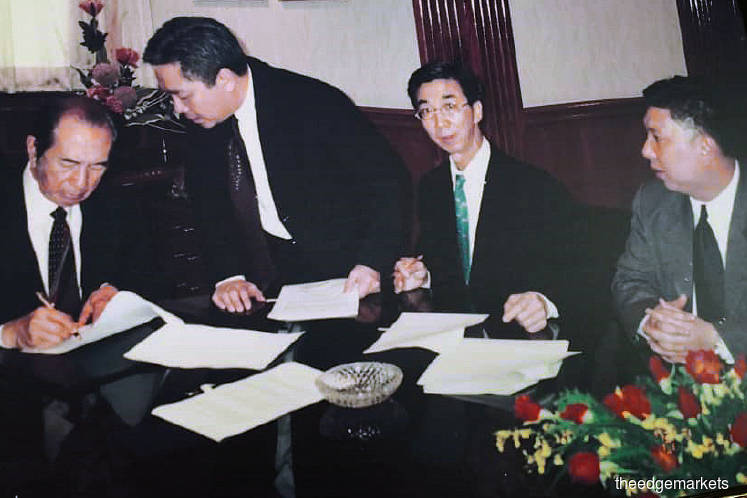 Ho (extreme left) signed the first contract with RGB at his Hong Kong office in 1996. Chuah is second from right. Photo by RGB
THE year was 1996. Casino slot machine distributor RGB International Bhd — then known as RGB Sdn Bhd — was in its 10th year of operations, having begun as a humble business in Penang.
Although the company was already fairly established, with customers in Singapore, Cambodia and the Philippines, its managing director and major shareholder Datuk Seri Chuah Kim Seah, then 43, was eyeing a major breakthrough overseas.
He seized the opportunity when Macau casino tycoon Stanley Ho Hung-sun's company came knocking.
"The late Stanley Ho was one of our earliest overseas customers. RGB has a business presence in Macau because of him. He gave us an opportunity to supply slot machines to his casinos in the early days," Chuah tells The Edge over the phone.
Main Market-listed RGB is an electronic gaming machine and casino equipment supplier, as well as a major machine concession provider in Asia. The company is currently 29.5%-owned by Chuah, who has more than three decades' experience in the gaming and amusement industry.
He recalls that in the mid-1990s, Ho's casinos were looking for an alternative supplier, as their previous American-made machines were difficult to maintain.
"All these machines and equipment needed to be maintained by qualified engineers, who were mostly from the US. On working days, that was not a problem. But during the public holidays, Christmas and New Year, they had a manpower problem," Chuah explains.
Ho's company approached RGB for a solution.
"They wrote to us, asking whether or not we could handle the job. Eventually, we found a Japanese slot machine manufacturer and a European systems provider and we managed to provide them with a good alternative. The newer machines and system were more simplified and reliable," he says.
And that was how RGB got its big break in Macau.
According to Chuah, the first contract RGB signed with Ho was to supply 200 to 250 machines to 14 to 16 casinos in Macau. In later years, the company supplied thousands of machines not just to Ho, but also to other casinos.
"The first contract was signed at Ho's office in Hong Kong around 1996. I can't remember the exact contract value, but it was considerably big and definitely one of the most memorable ones.
"This contract gave us a big opportunity to prove our capability. For a small Malaysian company to serve the Casino King of Asia, we take pride in that. It was a huge honour. [It was] a feather in our cap," Chuah recalls with pride.
RGB has since established its presence in Malaysia and also operates in Cambodia, Laos, Vietnam, Singapore, the Philippines, Macau, Timor-Leste and Nepal.
The first meeting
Chuah says he first met Ho, then 75, at the gambling king's bungalow in Hong Kong.
"Obviously, everyone had heard about this casino tycoon and we were very excited to meet him. He turned out to be a friendly person; he made us [feel] so welcome. He greeted us with 'Selamat Pagi' and even spoke a few sentences in Bahasa. It immediately [broke the ice].
"It showed that he already knew about our background before we went to see him. Bear in mind that we were just a small company and, also, in those days, it was not easy to get information without the internet and Google. Subsequently, we conversed in English and Chinese; everything was so comfortable and smooth," he adds.
Chuah, who idolised Ho as he was a pioneer of the Asian casino industry, says he learnt from Ho that "price is secondary". In addition, his dealings with the tycoon changed his business mindset.
"He asked us to quote a price, and he didn't even bargain for a single cent. All he asked for was good service from us and very minimal downtime for our machines. He didn't give us any pressure; he didn't talk to us in a hostile way. He was a very easy, approachable person. It really gave us a lot of confidence to do our work," he says.
Chuah goes on to say that even though RGB's contract was very small compared with the earnings power of Ho's casinos, the gaming magnate still respected him as a business partner.
"[Even though] the slot machine income was so small to him, he still personally signed our very first contract. That is something that I will remember forever.
"I hope he rests in peace. He was a very good person whom I admired a lot, not only for his business acumen, but also his personality. Despite being so wealthy, he still treated everybody so well. That is why we still maintain our business relationship until today."