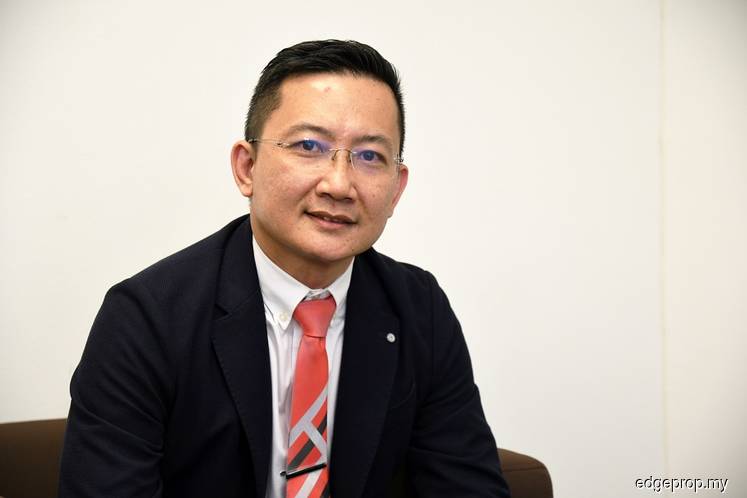 "LIFE was like a box of chocolates. You never know what you're going to get." This popular quote from the movie Forrest Gump very aptly describes Desmond Tho's journey in real estate.
"When you have a wife and two growing kids and your business is failing with a six-digit debt when you're only 30-something, you have two ways to find quick money — rob the bank or do some commission-based job," says Tho, the director of Hartamas Real Estate (OUG) Sdn Bhd. And since the former was not an option, he became a real estate negotiator.
Looking back, Tho seems amused by those difficult times. After taking a hospitality and catering course in 1996, he became a bakery outlet supervisor.
"I like food, so I chose the F&B industry. I applied to be a pastry chef after graduating but I was offered to be the bakery outlet supervisor instead. I decided to take on the challenge," he recalls. He did well and, after a few years, ventured out on his own as a pastry brand franchisor.
"But the business didn't work out so I returned to my ex-company and stayed for another six years. It was a fairly stable job but I needed more to support my growing family, so I did other jobs in between, dabbling in insurance and direct sales. I also did some stock trading," he says.
In 2007, Tho decided to once again start his own business. It failed after two years.
"I was in a lot of debt, partly because of the business and partly because of the stock trading. I had only RM5,000 in savings. I tried to figure out how to pay off my debt. The only thing I could think of were commission-based jobs such as being an insurance agent, direct selling and property agent," he recalls.
He chose the latter. "I had tried insurance and direct selling and they did not really work out so I put all my hope in real estate."
A fresh start
The first month was tough for Tho, as there was no one to guide him. "Back in 2009, the industry was still conservative and negotiators or agents were often left on their own, especially newbies like me. And because I couldn't afford to fail yet another time, I put in my 100% effort," he says.
To build his network, he attended almost every free real estate-related seminars and talks in town. "I had no other way to gain industry knowledge or widen my network. This is the cheapest and most efficient way I could think of."
He was happy to close his first deal in the second month although it was a co-broking rental deal and his commission was only RM300. But that was the turning point.
"I started to see hope in the third month. I realised it is a very fair industry, where you reap what you sow. I began to know more people and close bigger deals. A year and a half later, I cleared my debt and my boss offered me the opportunity to open my own branch," he says.
Coincidentally, he was also offered a similar opportunity by two other agencies — one of which was Hartamas Real Estate.
"When I first stepped into Hartamas Real Estate's headquarters, it looked nothing like the conventional shoplot agency. It is a corporation with proper meeting rooms and even a gym room for the staff. I was impressed. I never thought a real estate agency can be anything like a corporation. I also liked the agency's business development direction," he says, adding that the positive impression led him to join the agency from that very first meeting.
Three months later, the Hartamas Real Estate (OUG) branch was open for business in 2013 with only 11 negotiators. By early 2018, it had grown to 46 negotiators, with 12 of them already having earned accolades as the group's top sales agents and negotiators in 2017.
The Hartamas OUG branch had also gained 100% annual revenue growth in 2016 and 50% revenue growth in 2017. "Money simply will not drop from the sky. Real estate is something essential in both good and bad times — you need to find the market gap, be focused and be sensitive to changes in buyer behaviour.
"Most importantly, to all negotiators, don't take this job as 'just another sales job'. It is a profession that provides solutions and service to both property buyers and sellers," Tho advises.
This story first appeared in EdgeProp.my pullout on March 16, 2018. Download EdgeProp.my pullout here for free.