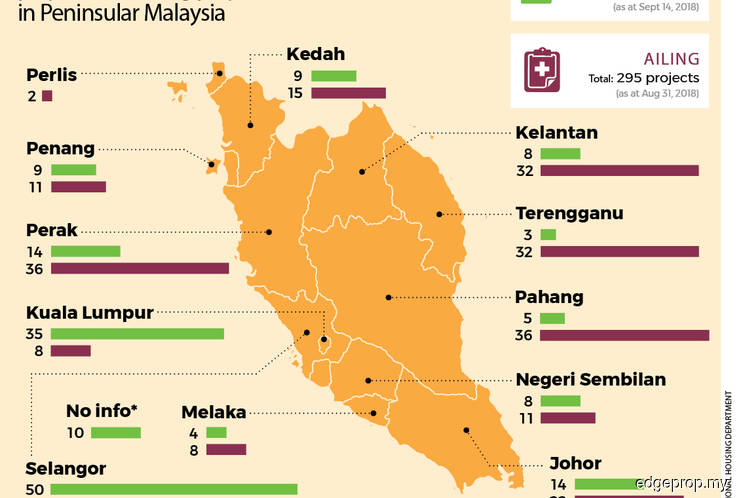 THE first question a homebuyer should ask is probably "who's the developer?" The biggest nightmare for a property buyer is when a project fails to be delivered or when it is delayed for a prolonged length of time. Prevention is definitely better than cure but how do you spot a bad apple? That's the tricky part.
For a start, the Housing and Local Government Ministry (KPKT)'s National Housing Department has a blacklist of property developers which one could refer to. A total of 1,046 developers have been named on the National Housing Department's blacklist. Up till Sept 14 this year, the list showed 169 developers involved in abandoned housing projects; 91 unlicensed developers; 474 developers who failed to pay compounds for breaking the law; and 312 developers who defied the Tribunal for Homebuyers Claims (TTPR).
Based on the list of developers involved in abandoned projects, EdgeProp.my trawled the web to find the names of the affected projects and the current status of each. Unfortunately, there was very limited information online as all the developers were registered as private limited companies.
Unlike public-listed entities, private limited companies have no obligation to disclose company information including directorship, financial results and ownership to the public.
Nevertheless, the public could request for a company's details from the Companies Commission of Malaysia (SSM) for a fee of between RM5.30 and RM105.30.
The National House Buyers Association's (HBA) Chinese division head Tan Chong Leng says it is normal for property development companies to register a private limited entity (Sdn Bhd) as a subsidiary, for joint ventures and accounting purposes, when undertaking the construction and marketing of a project.
The private limited company is deemed as a separate entity from the mother company or its owner, to protect the shareholders from personal liability.
The minimum requirement for setting up the private limited company is to have two directors. These directors may not be the owners of the company.
"There are loopholes in this system because in some cases, the real owners or investors use their employees' or someone else's name to set up the company; if anything happens, they could easily get away from any legal action," Tan says.
"Instead of stating the name of the private limited company, revealing the name of the directors or owners will be a more effective way in preventing unscrupulous developers from taking advantage of the loophole in the system as personal reputation matters in business," offers Tan.
According to Real Estate and Housing Developers' Association (Rehda) president Datuk Soam Heng Choon, Rehda will cancel the membership of the company which has been blacklisted by the government.
He opines that unlike two decades ago, current enforcement and penalties are sufficient to stop developers from breaching the law and regulations.
"A majority of the companies on the blacklist has been there for a while. I don't see a need to disclose the names of the directors of these old companies. However, if there are any new names [going forward], the authorities could consider revealing the names of the directors to alert homebuyers and even industry players," Soam says.
Ministry may review current penalties
KPKT Minister Zuraida Kamaruddin tells EdgeProp.my that the ministry takes the issue of rogue developers seriously, especially those responsible for abandoned projects.
"People use their hard-earned savings to purchase a property and that might be the only house they are buying in hope of owning a home. I think there is a need for a review on current penalties against these developers who fail to deliver on their promises," she says.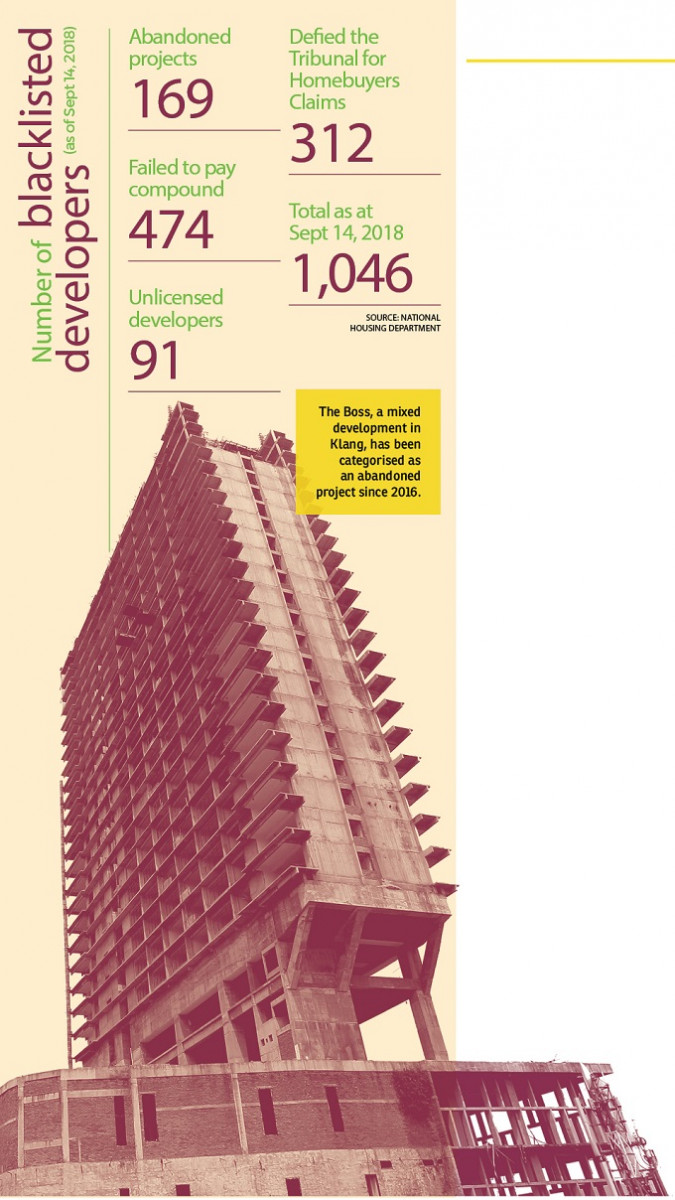 Under the amendments to the Housing Development (Control and Licensing) Act 1966 (HDA 1966), in order to enhance protection of homebuyers, all licensed housing developers who fail to complete a housing project or have caused a project to be abandoned shall be deemed to have committed a criminal offence.
Upon conviction, a developer is liable to a fine of not less than RM250,000 and not more than RM500,000, or jail of up to three years, or both.
Besides this, under section 8A of the HDA 1966, a purchaser who has obtained written consent from the end-financier could request to terminate the Sale and Purchase Agreement if they discover that a developer has not carried out, delayed or ceased work for a continuous period of six months.
Zuraida notes that legal action has been taken on the blacklisted developers involved in abandoned projects, and [the ministry will] find ways to revive the project or resolve the issue.
The ministry is now reviewing the list of abandoned projects and looking at shortening the time for white knights to take over these projects, she says.
A National Housing Department report dated June this year stated that a total of 14 developers or 30 directors from the blacklisted companies have been prosecuted.
The report stated that there are a total of 254 abandoned projects in Peninsular Malaysia with Selangor having accumulated 82 followed by Johor and Negeri Sembilan, which have 44 and 25 projects, respectively.
The department also has a list of ailing projects (Projek Sakit) in Peninsular Malaysia. As of Aug 31, 2018, there were 295 projects on the list.
Ailing projects are projects where their onsite works have fallen behind schedule by more than 30% or have fallen behind the stipulated date of completion as stated in the Sale and Purchase Agreement. Reasons for the delay are usually related to land problems or disputes, human resource and building material sourcing problems.
Selangor recorded the highest number of ailing projects (82 projects), followed by Pahang and Perak which had 36 projects each. Terengganu and Kelantan were next with 32 ailing projects each.
According to the report, some projects were behind schedule by a few months while others had been delayed for years. For instance, Empire Residence developed by Mammoth Empire Land Sdn Bhd in Damansara Perdana, Petaling Jaya is in the list as its original completion date should be in December 2014.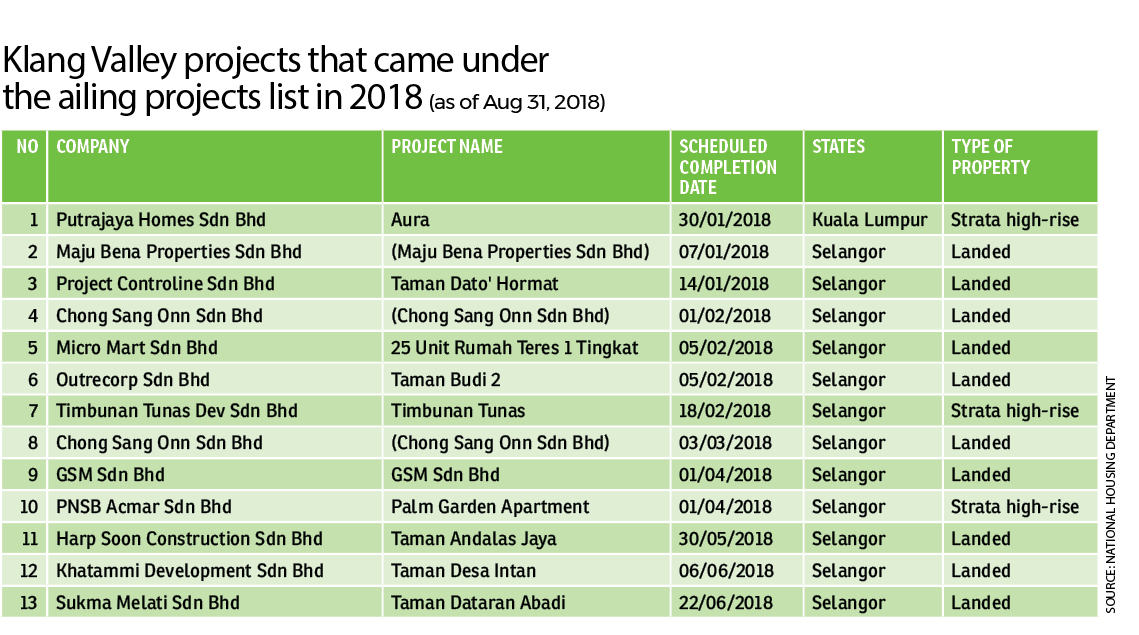 Property agents as gatekeepers
The Malaysian Institute of Estate Agents (MIEA) president-elect Lim Boon Ping explains that the number of developers on the blacklist has been accumulated from 20 years ago. Hence, the public should not worry about the numbers. They should however, be aware of the names of the companies involved in abandoned projects and the names of unlicensed developers, he says.
"Some unlicensed developers or small players have no track record or stable financial background. They like to spend a lot on advertisements in social media and brochures to attract buyers but buyers should beware as it could be dangerous for the buyer if they trust these developers," Lim warns.
To avoid buying dubious projects, Lim advises one to look out for the Advertising Permit & Developer's Licence (APDL) number on an advertisement. This is because property developers will need to apply for the licence before selling or advertising their projects on the local media.
"For those looking for residential properties in the primary market, the first thing is to search for the APDL number and its valid date to make sure that the project has been approved by the ministry," he adds.
He notes that there are quite a number of licensed real estate agents or registered negotiators who are focused on primary market products and they could act as gatekeepers for homebuyers.
According to Lim, there have been cases where the marketing agents have been confronted by buyers demanding refunds when the developer failed to deliver the property.
"Agents who are working with developers will need to do their due diligence to make sure that they do not represent problematic developers as that might cost them their reputations and sales commission if any problems arise with the developers," he says.
He adds that KPKT should take proactive action in educating homebuyers by frequently updating the blacklist.
It should also participate in property expos to inform the public and enable homebuyers to check the status of a developer on the spot, says Lim.
* Blacklisted developers involved in abandoned projects (as at Oct 13, 2018)
* The list of blacklisted developers which failed to pay compound (as at Sept 14, 2018)
* Unlicensed developers (as at Oct 12, 2018)
* The list of blacklisted developers which defied the Tribunal for Homebuyer Claims (as at Sept 14, 2018)
* The list of ailing projects in Peninsula Malaysia in 2018 (as at Sept 30, 2018)
* The list of ailing projects in Peninsula Malaysia (as at Sept 30, 2018)
This story first appeared in the EdgeProp.my pullout on Oct 19, 2018. You can access back issues here.