This article first appeared in The Edge Malaysia Weekly, on May 10, 2021 - May 16, 2021.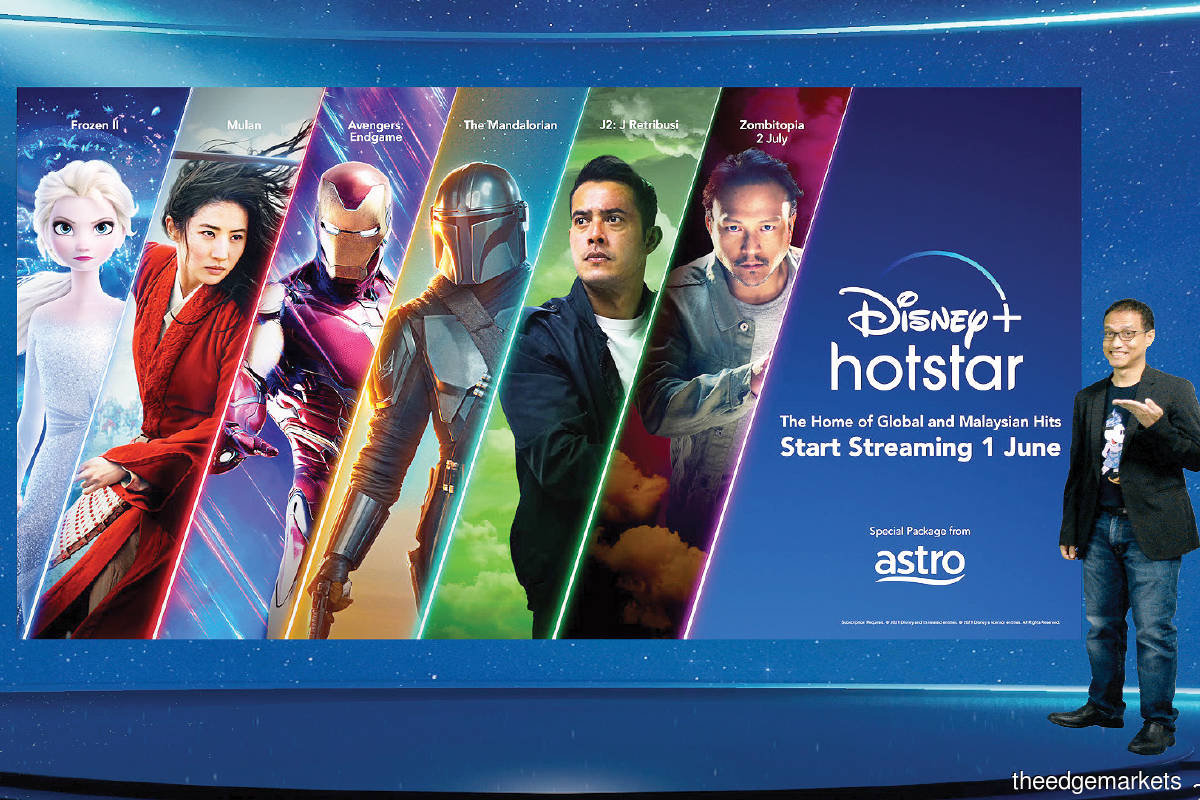 I feel a disturbance in the force" — the opening line by Malaysian actor Nazrudin Rahman, as emcee of The Walt Disney Company's online media day for Malaysia on May 4, may have been his way of celebrating Star Wars Day, commemorating George Lucas' Star Wars franchise, which Disney bought in 2012.
Yet, those words could prove prescient in the coming months for the Malaysian media scene, with Disney+ Hotstar streaming locally from June 1, if the services' performance in just five months in Indonesia is any indication.
Disney's announcement for Malaysia last week came a week after it announced the decision to stop 18 of 22 Disney-owned linear or conventional TV channels from Oct 1 in Southeast Asia and Hong Kong to signal the weight it is putting on its direct-to-customer streaming services. Only National Geographic, Nat Geo Wild, Star Chinese Channel and Star Chinese Movies remain for now, while those culled include FX, Fox Sports, Star Sports, Nat Geo People and SCM Legend.
Disney+ Hotstar, which entered Indonesia last September, is leading the pack with 2½ million subscribers, or 35.7% of the seven million subscription video-on-demand (SVOD), on the archipelago, according to data from Media Partners Asia in January. This is followed by PCCW's Viu (1.5 million), Indonesia-based Vidio (1.1 million) and Netflix (850,000). Between September 2020 and January this year, the net number of SVOD users rose by 3.6 million, a good sign for all players.
In Indonesia, where SVOD growth was driven by availability of cheaper mobile-only packages, Disney chose to partner Telkomsel, the leading mobile operator controlled by state-owned incumbent Telkom and Singapore Telecommunications Ltd. Free-to-air players in Indonesia also enjoy a very different value proposition with advertisers, owing to the large population, where pay-TV penetration is not as high as Malaysia.
For Malaysia, Disney+ Hotstar chose Astro Malaysia Bhd, which has 75% household penetration for pay-TV as "an official distributor". There was no mention of exclusivity, although Astro has said its Movie Pack subscribers need to pay only an additional RM5 a month to get Disney+ Hotstar, compared with an average of RM18.30 (RM54.90 for three months) for those subscribing directly to access more than 800 films and 18,000 episodes on Disney+ Hotstar.
Like the prominence given to Indonesian content when it was launched last Sept 2, local Malaysian content was highlighted, alongside Disney's iconic and envied library of brands, including Disney, Pixar, Marvel, Star Wars and National Geographic.
It is not just streaming wars that are about to hot up in Malaysia, where global video streaming leader Netflix is already present, alongside Asian over-the-top (OTT) players such as PCCW Ltd's Viu, Baidu Inc's iQIYI and Tencent Holdings Ltd's WeTV, which bought iflix.
Boost for Malaysian content
Competition for quality local content is already visible even before Disney+ Hotstar's impending launch. That is good for the local film industry and creative community, especially with local film studios needing an alternative platform to monetise their creative work after social distancing rules to battle the Covid-19 pandemic forced cinemas to shutter or operate at a fraction of their capacity most of last year. At the time, Astro group CEO Henry Tan told The Edge that the Astro First platform provided an alternative monetisation avenue for local filmmakers (see "Astro offers local filmmakers alternative monetisation platform" in The Edge, Issue 1343, Nov 2, 2020).
Now, at least three Malaysian films will bypass theatrical releases and premier directly on Disney+ Hotstar: J2: J Retribusi, Zombitopia and Ada Hantu; while Ejen Ali: The Movie 2 will stream exclusively on Disney+ Hotstar, following a theatrical debut.
Top-rated local primetime drama series such as TV3's Single Terlalu Lama and Kekasih Hati Mr Bodyguard will also premier first at 7am on the same day as the linear telecast, or 15 hours earlier, on Disney+ Hotstar. That has been made possible by "a series of multi-year agreements with leading Malaysian studios such as Skop Productions, Revolution Media Films, Primeworks Studios, WAU Animation, Act 2 Pictures, Les' Copaque Production [and] Red Films", Disney+ Hotstar said in a statement dated May 4.
Ahmad Izham Omar, executive director of content and creative of Disney+ Hotstar Southeast Asia, says: "In addition to being able to bring amazing content from Disney's incredible brands from all around the world, it has been such a privilege to collaborate with homegrown studios and creators to bring Malaysian stories to Disney+ Hotstar and drive the growth of our creative community.
"Through Disney+ Hotstar, we look forward to continuing our deep-rooted support of Malaysian-made content and shining a well-deserved spotlight on inspiring Malaysian stories, filmmakers and talent." Before his appointment on Nov 17 last year, Ahmad Izham was CEO of Malaysian production company Primeworks Studio, which is owned by Media Prima Bhd, whose stable of free-to-air channels includes TV3 and 8TV.
Netflix partnership after Disney?
Astro, which is mulling the introduction of a new OTT streaming platform that cancels out the need for TV channels and set-up boxes altogether by the middle of this year, is positioning itself as a "super aggregator" of content. While it is hard to change the TV-watching habits of a number of Astro subscribers, Tan acknowledged that there was also a growing demand for streaming services that the group wanted to cater to (see "Giving traditional TV audience the next-generation streaming experience" in The Edge, Issue 1343, Nov 2, 2020).
He also told The Edge last year that partnerships with OTT platforms, which offers them access to Astro's reach of 75% of Malaysian households, is a "win-win" proposition that reduces their marketing costs while reducing content cost for Astro. He said these savings could be reinvested into producing more original content.
"We are delighted to aggregate the best of the best to be the undisputed entertainment destination for Malaysians. Our customers deserve great entertainment, and the addition of Disney+ Hotstar to our much-loved hits, local signatures and unparalleled sports would delight them," Tan said in the same statement, adding that Astro was "working towards making Disney+ Hotstar available to our Ultra and Ulti connected boxes later this year".
Now that a partnership with Disney+ Hotstar has been announced, attention is on whether Astro will also announce a deal with Netflix soon. It would be even more interesting if Netflix has a linear channel with Astro, something that Netflix is reportedly experimenting in France to cater for a segment of customers who may want to watch only what is on the TV screen rather than choose for themselves on a streaming platform.
In Singapore, pay-TV and mobile service provider StarHub Ltd introduced a broadband and pay-TV bundle that allows customers to add a Netflix subscription. Netflix also has a dedicated channel (Channel 525) on the StarHub box. It is not immediately certain whether this is the same as the linear channel that Netflix was reportedly testing in France late last year.
Netflix does not provide a breakdown of how many streaming subscribers it has in Malaysia, but Statista estimates that there were 336,100 active Netflix subscribers in Malaysia in 2020. That works out to about 1.25% of its 26.85 million customers in Asia-Pacific and 0.16% of its 207.64 million global base (see "Streaming wars hot up in Malaysia" on Page 65).
Astro had 5.69 million subscribers at end-January, or 74% of 7.68 million households in Malaysia; three million are estimated to be on the premium paid platform and the rest on the free NJOI platform. Astro does not provide a breakdown.
Astro is already a partner for WarnerMedia's HBO Go and iQIYI, which debuted its first linear TV channel on Astro (Channel 300). Astro is looking to add five or six SVOD partnerships this year and more next year to bring the number of partnerships to as many as 15 by early 2023, Tan was quoted by ContentAsia on April 21, citing what he said at the recent APOS 2021 conference. It is understood that "Sooka", which will reportedly target younger audiences with a focus on local content and sports, is just the tentative name for Astro's OTT platform that it is mulling.
The additional revenue from additional packages, such as RM5 a month for Disney+ Hotstar, should be a boost to Astro's revenue if it can keep existing subscribers happy by charging the same price as its own stable of content. Astro has not said whether it will be adjusting the prices of its packages when Disney's linear channels are taken off air in October. It may well choose to add other content to make up. It is not immediately known, however, how much the potential top-line gains would translate into better earnings.
As more and more content owners launch their streaming service in the region, analysts and investors will be looking out for how well Astro is able to keep its paying customers happy even as it takes on more partnerships with content owners such as Disney that will favour their own streaming service over their partnerships with pay-TV rivals such as Astro, despite long-lasting business-to-business content partnerships. They will also look at whether Astro's cost structure will indeed change into one that can result in better profits and, in turn, divi­dend payments for shareholders.
For now, analysts are overwhelmingly positive on Astro, owing to their expectation of its dividend-paying capability. According to Bloomberg data, a poll of 13 analysts has consensus dividend per share (DPS) of 7.5 sen for the current financial year ending Jan 31, 2022, which implies a 7% yield at its RM1.05 close last Thursday (May 6). Even the lowest forecast of 5.5 sen implies a 5.2% yield at current levels. Astro, among the handful of stocks that pay a dividend every quarter, has paid at least 1.5 sen DPS every quarter in recent years.