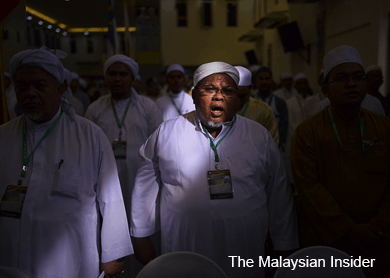 (June 4): Two things happened at the PAS Dewan Ulama assembly yesterday that could sway how its members vote in the crucial party elections today, which will determine the future of opposition politics.
One is the circulation of a list of candidates that the ulama or Muslim scholars endorsed as their favoured leadership line-up to take over the party.
The other is the emergency motion for PAS to cut ties with its coalition partner, DAP, that was unanimously passed with applause from its delegates.
Unlike other parties, whose wings are more likely to support sections of the main organisation, PAS's ulama are a guiding force for how rank-and-file members are supposed to behave.
Through the Syura Council, which is made up of the most learned and senior of scholars, the ulama of PAS can even rule over what its executive leaders can do or cannot do.
Because PAS is first and foremost a movement to implement its version of Islam in the country, the ulama are there to determine whether PAS's actions and decisions are in the end "Islamic".
The principle of leadership by the ulama, which was formally instituted in 1982, made sure that every PAS president since then was an ulama.
That means, only an ulama will have a reasonable chance of replacing Datuk Seri Abdul Hadi Awang, himself a renowned religious scholar.
"Due to the party's nature, PAS members tend to hang on to the words of the ulama," said an elected member of the party's central executive committee (CEC), who requested anonymity.
For instance, it was PAS ulama which fashioned the concept of tahalul siyasi (political cooperation) that allowed the party to work with and form governments with non-Muslims such as the DAP in the first place.
So when the ulama comes out with a list saying that these candidates are more pro-ulama than the others, many members are expected to pay attention and block vote.
This worries candidates such as PAS CEC member Dr Dzulkefly Ahmad, who is vying for another CEC term.
Such lists have rarely been seen in previous PAS elections and members tend to choose a mix of ulama, professionals and activists to the CEC.
"I have never been as worried as before. In the past, it was enough for you to work hard and you will be recognised," said Dzulkelfy, who heads the party's research arm.
"This time, if they block vote, I don't know what will happen."
The ulama have also waged a ferocious campaign against leaders they criticised as being disloyal to the president and conflated this dissent to mean that they are anti-ulama.
Though these leaders are not named, there were enough hints dropped during the ulama assembly yesterday to point to who they are.
Dewan Ulama member Mokhtar Senik (pic), for instance, referred to a leader who he questioned Hadi's decisions during the Selangor menteri besar crisis last year.
The campaign against leaders critical of Hadi dovetailed with the motion to cut ties with DAP, which Mokhtar tabled.
"DAP is brave enough to do this to us, to come into our house to try and change our father the president, because some of our leaders are allowing it to happen," said Mokhtar.
DAP's severance of ties with Hadi was seen as a personal attack against the PAS "family" and they were accused of trying to dominate the PAS household.
Although the motion still has to be debated by various levels of the leadership, such as the CEC and the Syura, before it is adopted, the fact that an ulama proposed gave it heft, said Dewan Ulama member Nazri Che Zin.
"This is the collective opinion of the party's Dewan Ulama, who are looking at it not just from the stand point of politics, but from Islamic principles.
"Because PAS is not just about politics and pragmatism, it is about Islamic principles." – The Malaysian Insider