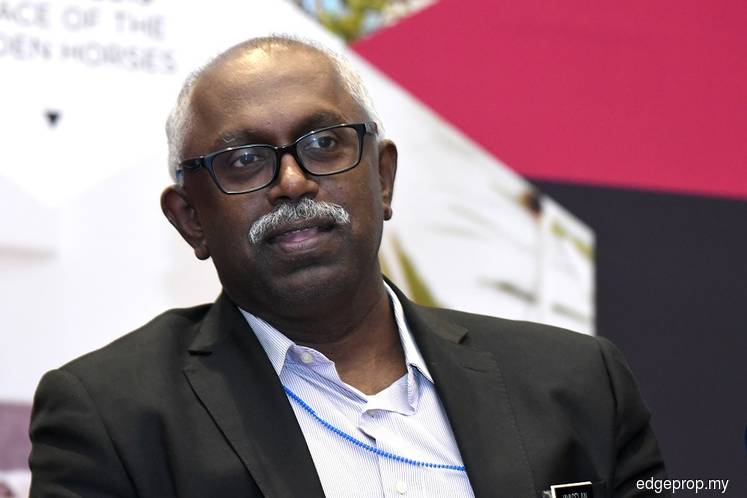 SERI KEMBANGAN (April 23): "Unsold units" would be more appropriate a word than "overhang" to describe the current state of unsold completed properties in the country.
"Overhang means the industry is in dire straits and unable to absorb any new supply," said National Housing Department director-general Jayaselan Navaratnam.
According to the definition by the National Property Information Centre (Napic), overhang is defined as residential units which have received Certificate of Completion and Compliance (CCC) but remained unsold for more than nine months after launch.
Napic's Property Market Status Report for 2018 showed that there is a total of 32,313 units of unsold completed residential properties valued at about RM19.8 billion in Malaysia in 2018.
Speaking to EdgeProp.my on the sideline of the National Housing and Property Focus Summit 2019 today, Jayaselan said the nine-month period that is being used to define overhang is "too short".
"You see, loan processing period usually takes about two to three months. For landed property, we can consider nine months as too long, but [not] for high-rise property that have yet to obtained their strata title, it is too short," he said.
He explained that overhang is only used to define a situation where supply has exceeded demand and resulted in a dangerous oversupply situation.
"For example, demand is 500 units but I went and built 1000 units - that is overhang. But the situation now is not that. People still want to buy houses, just that they are facing issues like financing and others," he explained.
On top of that, developers are still launching new projects, which indicates that unsold properties are still within manageable levels.
"If developers could not sustain their projects [with unsold units], why are they still launching? That means the unsold units are within their means to control.
"Hence, you cannot say it is overhang. If you say overhang, it means the industry is in a danger where developers cannot launch any more new projects because all their investments are hanging in the balance and they cannot move forward," he said.
In order to address this issue, the Ministry of Housing and Local Government has joined hands with Napic to standardise the definitions by crafting a single form for developers to fill in relevant data.
"Currently, Napic is collecting its own data. We will merge both our data together, then we will have a total picture," he said.
He added that the two agencies have been working on this for a year and it will probably take another year to complete the process.