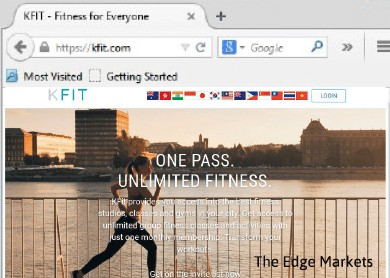 WANTING to be healthy and getting more exercise are  a perennial resolution — this is why gyms register the most number of new participants in January, although that doesn't mean people regularly go. The reasons for letting things slip in the fitness department vary, and are often justified. Plus, being tied down for a lengthy period of time and forced to settle for a fitness regime at a gym you don't entirely like anymore can be quite a punishing experience. Enter KFit, Asia's new kid on the fitness block and a possible solution to the age-old problem of wasting money on gym memberships that you end up not utilising.
Started by the co-founder of Groupon Malaysia, Joel Neoh, KFit claims to be the answer to high gym membership fees. Instead of paying for a year's subscription, all users have to do is sign up for a monthly membership on KFit's website, start searching for classes that they're interested in— the list includes yoga, weightlifting and hundreds more — make a reservation and then off you go. It's like a Netflix for fitness, if you will.
With just several clicks of a button, users will have access to a comprehensive list of exercise options, so that workout sessions are varied and full of new and exciting challenges. Apparently, about 90% of Asians do not have gym memberships, and this is exactly what makes KFit so appealing. Now available in Malaysia, Hong Kong and Singapore, the website is a tantalising offer for the majority of people wanting to dabble in various fitness options instead of committing to a single gym for an entire year.
By the end of this year, KFit aims to become available in Australia, New Zealand, the Philippines, Taiwan, Korea, Japan, China and India as well. Monthly subscription prices in these cities will be dependent on the cost of living and fitness activities, respectively. Here in Malaysia, it costs RM99 per month to become a part of KFit — the upsides are that there are no upfront fees, no contracts and memberships can be terminated at any time.
The cost of the monthly membership is split between KFit and the participating gyms, depending on where members utilise their memberships. It claims to be the answer for small gym owners that only have one or two outlets – KFit helps promote them to the masses and reach a wider target audience than they normally would.
KFit not only links gyms, but also dance studios, sports complexes, such as futsal and badminton courts, and all sorts of fitness activities around the city in its quest to make fitness accessible and enjoyable to everyone. For the bigger players in the fitness industry, KFit helps gym and studio owners fill up classes. The list of options made available provides for different training levels to cater to various needs in addition to enabling people to invite friends to join classes with them, making workouts even more enjoyable.
Within just a couple of months of KFit's launch, almost 100,000 people have already registered their interest in the service, which is only website-based at the moment but will soon be coming to mobiles in the form of apps. For more info on KFit or to request an invite to join, visit www.kfit.com.
This article first appeared in The Edge Financial Daily, on May 19, 2015.