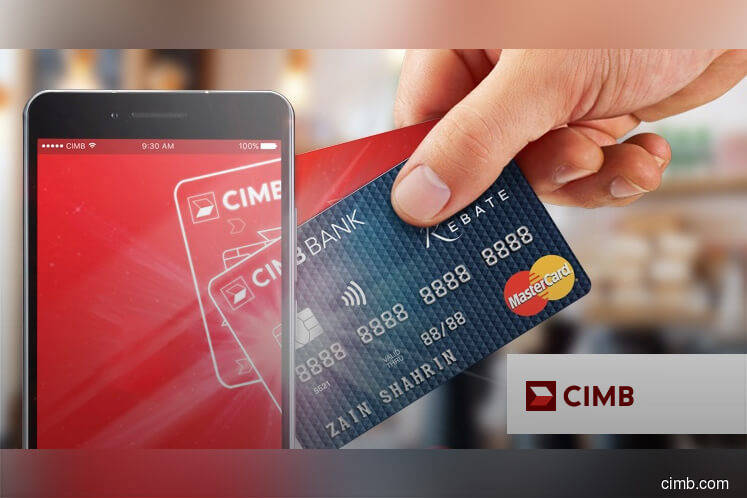 KUALA LUMPUR (March 21): Hong Leong Investment Bank Bhd said today CIMB Group Holdings Bhd's risk-reward profile remains balanced despite the latter's inexpensive valuations amid anticipation of downside risk to analysts' CIMB earnings projection for financial years ending Dec 31, 2020 (FY20) and FY21.
Hong Leong analyst Chan Jit Hoong said in a research note today that the investment bank reckons there is still scope for CIMB FY20 and FY21 earnings downgrade by the street.
Chan said Hong Leong reckons that CIMB is "too bullish with their projections but we (Hong Leong) are already 3-8% more conservative versus them".
Chan said Hong Leong retained its hold call on CIMB shares with an unchanged target price (TP) of RM6. At Bursa Malaysia, CIMB shares settled down seven sen or 1.3% at RM5.32 at 12:30pm.
Chan said the TP is premised on, among others, CIMB shares' estimated price-to-book ratio at 1.04 times for 2019.
He said the price-to-book ratio at 1.04 times is in line with CIMB's five-year mean at 1.08 times but below the sector's 1.18 times.
"In this report, we delve deeper into 'Forward23', CIMB's new 5-year strategic plan, which aims to accelerate growth and future-proof its business; this supersedes the 'Target 18' (T18) blueprint that helped to lay the foundation from 2015-18. Besides, we examine whether its financial aspirations for 2023 are attainable.
"In our opinion, their strategies are compelling but not necessarily can hit its 2023 financial targets. Regardless, these efforts should yield some positive outcomes like T18, turning CIMB to be a more well-oiled machine," said Chan, who maintained Hong Leong's CIMB earnings forecasts for FY19 and FY20.