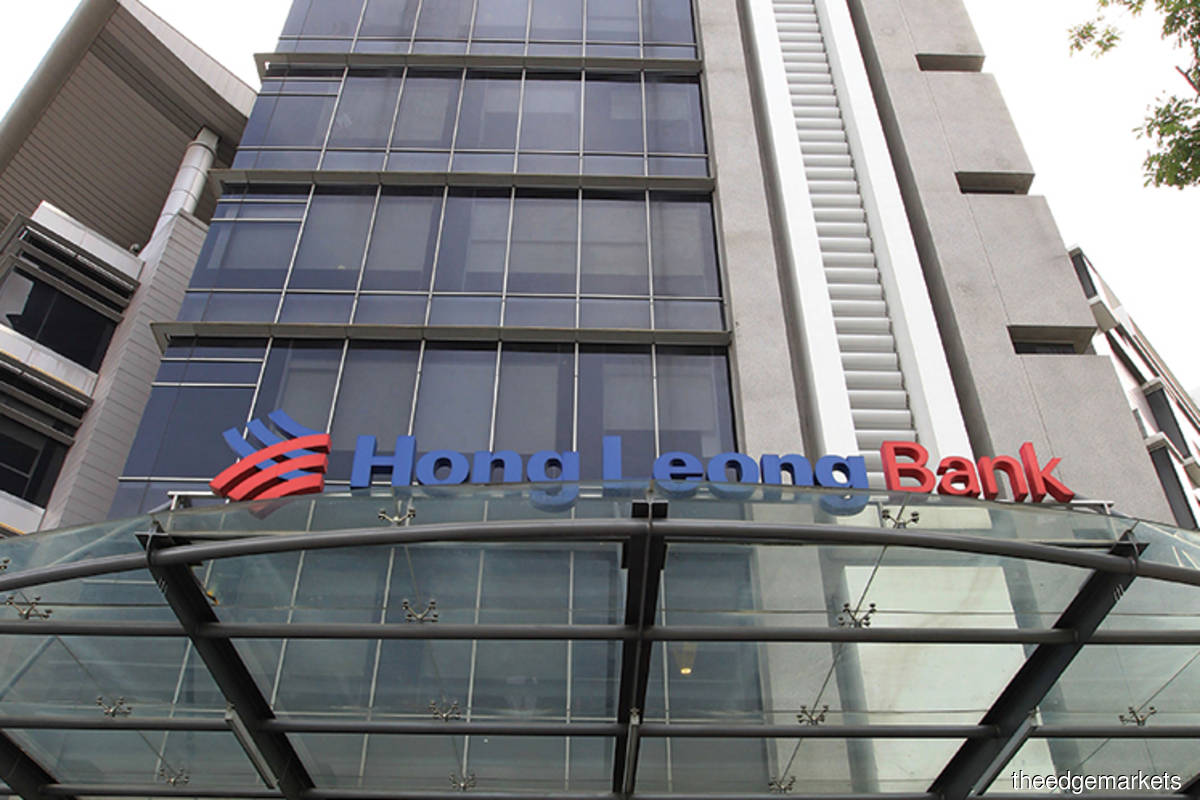 KUALA LUMPUR (Nov 27): Hong Leong Bank Bhd's (HLB) net profit rose 28% for the first quarter ended Sept 30, 2020 (1QFY21) to RM728.9 million or 35.6 sen per share, from RM569.42 million or 27.82 sen per share for the immediate preceding quarter, it said in a Bursa Malaysia filing today.
Revenue also rose 12.7% to RM1.35 billion for the quarter under review from RM1.2 billion for 4QFY20.
According to the bank, the group's pre-tax profit rose 37.22% to RM890.2 million from RM648.7 million for 4QFY20 due mainly to a higher net income of RM152.2 million, lower allowance for impairment losses on loans, advances and financing of RM86.9 million, and a higher share of profit from associated companies of RM2.7 million.
On an annual basis, its net profit was up 5.9% from RM688.68 million or 33.65 sen per share, while revenue was 11.01% higher from RM1.22 billion.
HLB did not declare any dividends for the quarter.
In a separate statement, the bank's group managing director and chief executive officer (CEO) Domenic Fuda said the operating environment remained challenging amid the ongoing Covid-19 pandemic and cautious consumer and business sentiment.
"Nonetheless, our strategic and tactical plans provided us with a strong foundation to start the financial year on a positive note, delivering a net profit of RM729 million for the quarter, up 5.9% y-o-y (year-on-year), underpinned by a reasonable top-line performance, prudent cost control and robust contributions from our associates.
"Gross loans and financing sustained our growth momentum, with a 6.8% y-o-y expansion buoyed by signs of an economic recovery during the quarter, coupled with funding disbursed to support SMEs (small and medium enterprises) and corporate businesses. We continue to closely monitor our asset quality during this period of uncertainty, ending the quarter with a healthy GIL (gross impaired loan) ratio of 0.48%.  
"In view of  the prolonged recovery situation, to err on the side of caution, we continued to proactively build up pre-emptive credit loss buffers during the quarter," he said.
Meanwhile, it noted that gross loans, advances and financing continued to grow by 6.8% to RM148.1 billion from a year ago, led by an expansion in mortgages, SME and commercial banking, and its overseas operations.
Its personal finance services segment saw a pre-tax profit drop to RM303.6 million from RM344.9 million a year ago.
On the other hand, its business corporate banking segment's pre-tax profit rose to RM231 million from RM175.4 million.
Meanwhile, its global market segment saw its pre-tax profit jump to RM255.7 million from RM144.1 million,
Its international banking segment also enjoyed a higher pre-tax profit of RM189.9 million from RM157.9 million.
On its prospects, the bank said it sees signs of an economic recovery but will continue to monitor the situation as Covid-19 cases continue to rise locally and abroad.
"While supply is expected to slowly normalise after the lifting of movement restrictions, overall demand is expected to remain soft given the new procedures in place to ensure social distancing compliance and the still cautious consumer sentiment. Concerns over job security and a shift in consumer spending behaviour will also likely affect business sectors. Barring the outbreak of a second wave of infections, we expect trade and domestic consumption to improve along with improved consumer sentiment as job prospects and business investments return," it said.
At 2.30pm today, HLB was down two sen or 0.12% at RM17.06. Its market capitalisation stood at RM36.85 billion.
Read also:
Hong Leong Financial Group's 1Q profit up 19.75% on stronger contributions from all core businesses