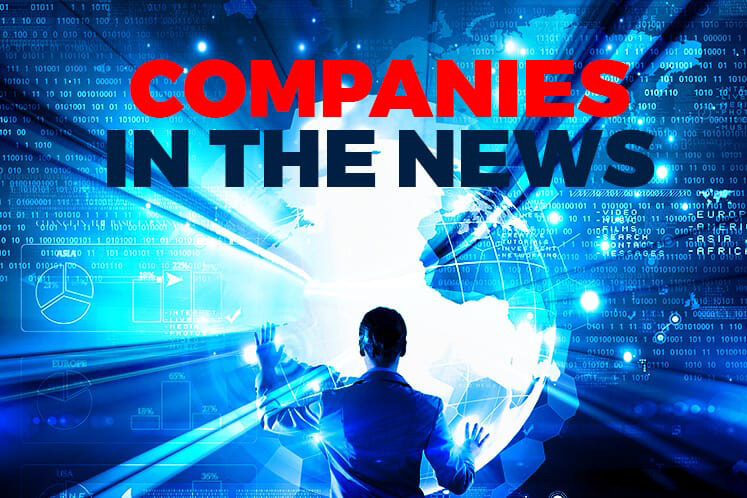 KUALA LUMPUR (Aug 28): Based on corporate announcements and news flow today, stocks in focus tomorrow may include Hong Leong Bank Bhd, FGV Holdings Bhd, QL Resources Bhd, Elsoft Research Bhd, MMS Ventures Bhd, Bonia Corp Bhd, Affin Bank Bhd, IJM Corp Bhd, Lafarge Malaysia Bhd, Karex Bhd and Watta Holding Bhd.
Hong Leong Bank Bhd is targeting a gross loan growth rate of 5% for its financial year ending June 30, 2019 (FY19).
Hong Leong Bank group managing director and chief executive officer Domenic Fuda said this would be in line with the expected industry growth rate within the period.
Hong Leong Bank's gross loan growth for FY18 came in at 3.1%. Total deposits grew 1.4% year-on-year in FY18 to RM157.4 billion, supported by strong Current Account Savings Account (CASA) expansion of 6.3% y-o-y to RM41.2 billion, resulting in an improved CASA ratio of 26.2%. However, fixed deposits (FD) only grew 0.3% y-o-y to RM88.22 billion in FY18.
Fuda explained that this was a reflection of the bank's FY18 loan growth of 3.1%.
FGV Holdings Bhd said six transactions and investment decisions undertaken previously had exposed the group to significant financial loss, forensic investigations initiated in January this year found.
Out of the six transactions, FGV said the forensic investigators have completed the probe on four transactions, including the RM628 million acquisition of Asia Plantations Ltd (APL) in 2014, investment in FGV Cambridge Nanosystems Ltd and the acquisition of luxury condominiums at The Troika in Kuala Lumpur City Center.
FGV said its board is reviewing all the findings and has sought legal advice on the possible legal recourse, adding that it will make further announcements on the next course of action after it has been duly advised.
Meanwhile, it slipped into the red in the second quarter ended June 30, 2018 (2QFY18), with a net loss of RM23.23 million, compared with a net profit of RM37.26 million a year ago.
Quarterly revenue dropped 18.42% to RM3.44 billion from RM4.21 billion previously.  
The poor performance was attributable to lower productivity which missed targets, lower average crude palm oil (CPO) price realized, higher production costs and higher share of loss from joint ventures and associate companies, it said.
QL Resources Bhd has earmarked RM300 million for capital expenditure (capex) in the current financial ending March 31, 2019 (FY19) to build more poultry farms, fish processing factories, aquaculture ponds and expand its FamilyMart convenience store operations.
QL Resources is targeting an additional 50 FamilyMart stores, bringing the total to 89 in FY19 from 39 in the Klang Valley currently.
Elsoft Research Bhd, which is involved in the development of test and burn-in systems, has proposed to undertake a one-for-five bonus issue and two-for-one share split, at an entitlement date to be determined later.
The group said it is offering a bonus issue of up to 56.4 million bonus shares on the basis of one bonus share for every five existing shares. The bonus issue shall be capitalised from the share premium account.
The proposed share split will be implemented upon completion of the proposed bonus issue.
MMS Ventures Bhd, is planning to undertake a bonus issue on the basis of one bonus share for every four existing shares held on an entitlement date to be fixed.
The proposed exercise will involve up to 40.75 million new shares and will be capitalised up to RM4.08 million from the company's share premium account, based on a par value of 10 sen per bonus share.
The group expects both proposals to be completed and implemented by the fourth quarter of this year.
Separately, the group announced its net profit fell to RM2.77 million in the second quarter ended June 30, 2018 (2QFY18) from RM9.14 million a year ago, on lower orders received from smart devices customers; revenue slumped 59% y-o-y to RM12.24 million from RM29.66 million.
The group declared a first interim dividend of 1 sen per share, payable on Oct 18.
For the first six months of FY18, MMS' net profit declined 49% y-o-y to RM6.76 million from RM13.19 million, as revenue retreated 37% y-o-y to RM28.16 million from RM44.41 million.
Bonia Corp Bhd founder Chiang Sang Sem will leave his position as group executive chairman and chief executive officer effective Sept 1.
Sang Sem, 65, will remain with the group as executive director. His daughter Chiang May Ling, 30, will assume the role as alternate director to Sang Sem.
Bonia said Datuk Mohamed Khadar Merican, 62, will assume the role of senior independent non-executive chairman on the same day.
Datuk Chiang Heng Kieng, 56, brother of Sang Sem, will step down from the position of group managing director of Bonia on Sept 1. He will be re-designated as a non-independent non-executive director.
Heng Kieng was appointed to the board of Bonia on June 16, 1994.
Chiang Fong Chyen, 38, a nephew of Sang Sem and Heng Kieng, will assume the role as the alternate director to Heng Kieng.
Meanwhile, three directors, namely Datuk Shahbudin Imam Mohamad, 75, Datuk Ng Peng Hong @ Ng Peng Hay, 66, and Chiang Sang Bon, 63, have resigned, citing a change in commitment at their personal level.
Bonia also announced the appointment of Lim Saw Imm as independent and non-executive director.
Affin Bank Bhd's net profit fell 38% to RM73.31 million in the second quarter ended June 30, 2018 (2QFY18) from RM118.18 million a year ago, mainly due to higher allowance for credit impairment losses of RM91.87 million.
Quarterly net income, however, rose 31.5% to RM494.18 million from RM375.77 million a year ago.
For the cumulative six months (1HFY18), the group's net profit increased 3% to RM214.77 million from RM208.42 million, while net income grew 39.1% to RM970.8 million in 1HFY18 from RM697.8 million in 1HFY17.
Builder and property developer IJM Corp Bhd expects a lower order book replenishment of up to RM2 billion for its financial year ending March 31, 2019 (FY19).
Chief executive officer cum managing director Datuk Soam Heng Choon said this was because some jobs have already been awarded to the group earlier in FY18, underlying its strong order book of RM3.8 billion in FY18.
IJM Corp also announced that net profit for its first quarter ended June 30, 2018 (1QFY19) fell by close to half to RM62.76 million from RM121.17 million a year ago, as it booked in higher net unrealised foreign exchange losses.
Quarterly revenue fell a marginal 1.2% to RM1.44 billion from RM1.46 billion a year ago, tracking lower contribution from its construction, manufacturing & quarrying, plantations and infrastructure divisions.
Lafarge Malaysia Bhd today commissioned the new bag filter installed at the Kanthan plant in Perak to enhance sustainability, consistent with efforts to care for the environment and community.
Lafarge Malaysia said this RM20 million investment in the plant is part of the RM80 million group-wide allocation to optimise operational efficiency while controlling dust emission in all three of its integrated cement plants across Malaysia.
Karex Bhd, the world's largest condom maker, saw its net profit for the fourth quarter ended June 30, 2018 (4QFY18) fall 49.83% to RM1.46 million from RM2.9 million previously, due to rising production costs which outpaced adjustments to its selling prices.
Revenue for the quarter inched up 1.95% to RM93.42 million from RM91.63 million a year ago, due to higher volume of condom sales, particularly from the sexual wellness and medical segments, Karex said.
For the full year (FY18), Karex said net profit plunged 63.85% to RM10.1 million from RM27.95 million a year earlier.
This is despite revenue rising 12.88% to RM408.01 million from RM361.45 million in FY17.
Karex said lower earnings in FY18 were due to a less favourable economic climate and higher distribution and administrative costs, despite higher revenue.
Loss-making Watta Holding Bhd, whose share price jumped to a record high of 74.5 sen during yesterday's trading, said today its deputy group executive chairman and chief executive officer Datuk Lee Foo San was "exploring certain corporate proposals previously, which had been aborted".
This is in response to an unusual market activity (UMA) query from the bourse regulator that was issued yesterday.